Waking up to 'birdies' chirping outside our window and the smells of fresh baked bread from the bakery below us; afternoons of cava and siestas; and roaming through thin historic streets filled with flower stands, tapa bars, and street performers, these memories mark our journey in Barcelona.
Our trip to Barcelona, Spain, was just so magical that I can't help but spill over a little details here to you about it. Though I've shared all of my tips and tricks for traveling abroad with a toddler and flying with kids, now I'd love to share with you a little sweet taste of Barcelona. Hopefully, some recipes inspired by the trip will eventually be shared too!
My first thoughts on Barcelona is just how easy it was to be there. After the jet lag wore off and we got rest from traveling with a toddler, we settled in so easily there that we almost forgot we were abroad. We've traveled a lot over the years, to Brazil, Greece, Russia, Italy, France and even China, and this trip to Spain was by far the most seamless (even with a toddler in tow!). Barcelona is a perfect city if you're traveling abroad for the first time, hesitant on speaking another language, or if you're like us and are a bit nervous about traveling abroad with kids for the first time.
We slipped right into the culture of Catalonia, eating pastries and drinking cafe con leche every morning, taking on the city streets for long strolls mid day and eating a big meal for a late lunch before siesta.  We enjoyed the time of rest everyday even if sleep wasn't a part of it.  Somedays we took turns going for jogs as Everett napped, and other days we slept too or took the time to journal.
Food was a big part of our trip, as it is wherever we travel. I love that the food of a culture, the way it's prepared, served and enjoyed speaks so loudly of the local people.  In Spain, they often eat a big lunch, sitting down with family and friends for a needed break in the work day.  In the early evening people pop into bars for small bites, catching up with friends and neighbors as they enjoy the food and drink that will hold them off until dinner.  The very liveliness of the culture is clearly seen by how late everything happens. Tapas are usually around 8 and dinner 9 or 10pm. There were a few times that we showed up to restaurants around 8 or 8:30, and they weren't even open for dinner service yet.
We thoroughly enjoyed the distinct neighborhoods (or Barrios) of Barcelona and spent much of our mornings just taking in the cultures of each. Most neighborhoods even have their own farmers markets and cultural centers. And we found new playgrounds around just about every corner.  Our favorite neighborhoods were El Born, Sant Antoni and Poble-Sec. The Gothic Quarter, which is the historical heart of the city, was fascinating to walk around and soak in ancient architecture while the Eixample neighborhood was great for shopping and just a good big-city feel.  The streets of Sant Antoni and Poble-Sec made me feel like a local. And the revitalization and community surrounding Raval was exciting to experience (a neighborhood once known for being the red-light district of Barcelona is now home to many indie shops restaurants and even a fun kids play area). Every neighborhood had it's own possibilities and discoveries.
We made so many unforgettable moments on this trip. I'll treasure the memory of taking Everett into a tiny and crowded tapas bar and sitting him up on the bar as we nibbled. We ate, slightly uncomfortably, until the kind restauranteur brought out a few wine boxes for him to stand on so he would be tall enough to stand at the bar. Also, I won't soon forget to bright mouthfuls of romesco sauced squid, the sweet sugar covered ensaimada that powdered all of our faces, frothy cafe con leche every morning and afternoon, and the paella with grilled lemons and plentiful seafood that we all enjoyed in the very oldest part of town. Oh and the sweets, from a raspberry torte to pistachio cronut and profiteroles made with local cream and chocolate – those tastes will not be forgotten.
The generosity of the Catalonian culture was pervasive as well. From that waiter who brought out boxes for Everett to stand on as well as the countless other waiters who helped us navigate menus or carry our stroller up stairs, to the people on the metro who would make silly faces at Everett.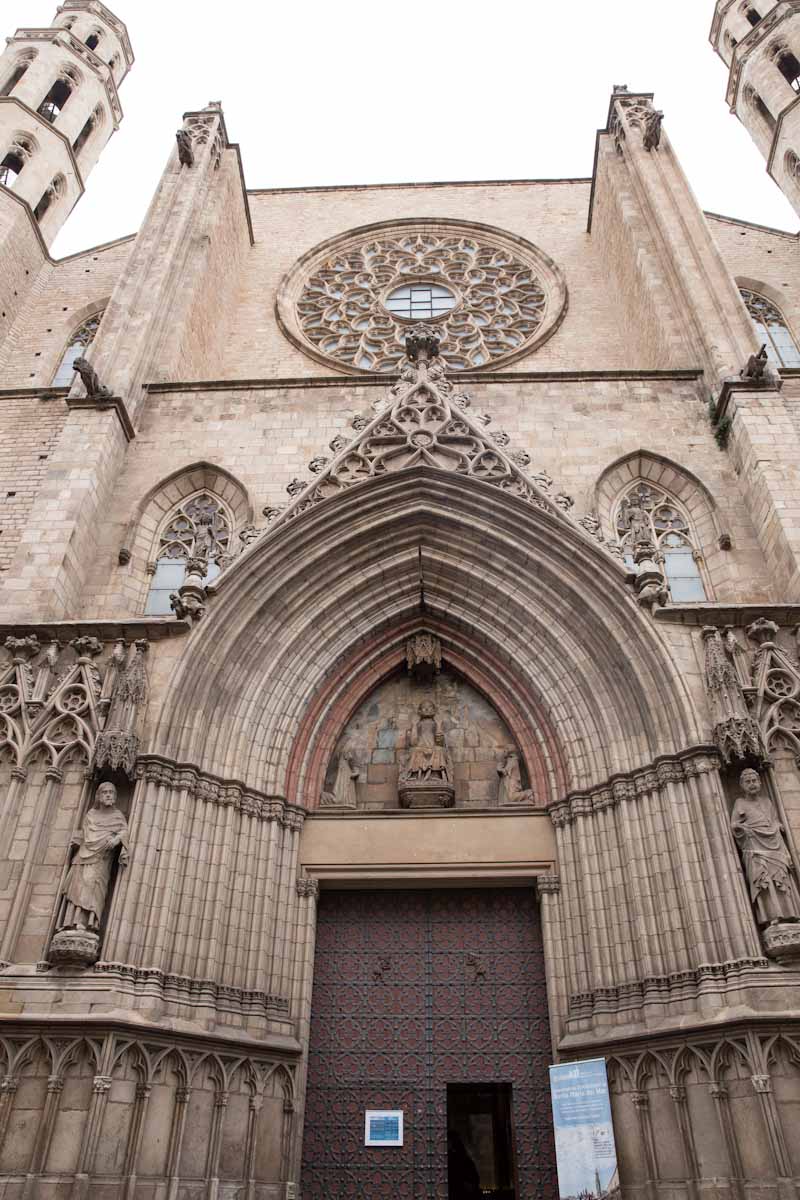 Our trip was so easy and so calm that it just flew by and almost seemed like a dream. But now that we've had a couple of weeks to regroup, it's fun to relive our adventure. Though there are sights to see in Barcelona I think its a city best enjoyed to just live in for your time there. See a site or two a day and for the rest of the day just enjoy the culture as a local – stroll, eat, sip and soak in some Spain.
For those sites you must see (in-between cafe con leches and afternoon wine breaks), here is our list:
Must Do & see:
tour the Segrada Familia church (make a reservation online to beat the long lines)
picnic at Montjuïc (or if you're a jogger, it's a great place to run stairs!)
stroll down the Ramblas
train to Montserrat Monastery (only an hour train to a monastery tucked into the mountains)
wander by some of Goudi's famous works (Casa Milá, Block of Discord, and Park Güell)
take a walking tour of the Gothic Quarters and El Born, two fascinating neighborhoods filled with history and interesting sights (if you don't have a Rick Steves guidebook handy just getting lost in these two neighborhoods would be fun enough!)
Picasso Meseum (It's free Thursdays after 7:30pm)
Barceloneta neighborhood by the beach
Santa Maria del Mar Basilica (this church is nestled in a fun neighborhood with lots of shops selling locally made goods, cute restaurants and the chocolate shop Bubo is right beside it and it's free to enter before )
Boqueria Market and the El Born Market (both great food markets to roam around – grab some small bites, fresh fruit or juice. Thought Boqueria is the more famous market we enjoyed )
Must Eats:
Though I must give you some of our finds, I implore you to find your own as you wander the city.  Our favorite spots ended up being those we happened upon!
Crusto for pastries (we loved their almond croissants and their ensaimada)
Quimet and Quimet (tiny tapas bar in Poble Sec neighborhood. I loved their salmon with truffled honey while Josh just about died over their beef cheek)
Can Miserias (old school Spanish restaurant serving up local and seasonal fare – our favorite meal was had here!)
Copesetic (Gourmet American-style brunch served at Spanish -style hours)
Taranna excellent cafe serving brunch with local and fresh foods
La Chirusa nice for coffee and toast in the morning or dinner and dessert, with cocktails (next door to Taranna)
Bubo for chocolates, macaroons or desserts of any kind
Oriol Balaguer for chocolates and dessert
Chök more chocolate and more pastries (they make an amazing pistachio cronut)
Tapas 24 (great for pinxos at the bar, also known for their foie gras burger)
Also, here's a great Barcelona pinterest board by my friend Josh of lots of cool Barcelona spots.