I don't know about where you live, but it's full on Spring here in Utah.  My daffodils and tulips are in full bloom already and we've been jacket-less playing at the park on most days.  Everett and I have gone out on multiple occasions to snip fresh flowers around the yard to put in jars around our house. He always takes a big sniff, inhaling the smells of spring.  Oh and our dinner table is all Spring too, peas in our pasta, mushrooms over our salads, and asparagus in just about everything.
Today I hope to give you some great inspiration for Spring, wherever you are.  And check back next Monday for more Spring recipe ideas from around the web. Follow #eatseasonal on instagram for even more ideas of what to do with Spring produce!
Artichokes
Kale Artichoke Dip with Greek Yogurt 
White Bean Artichoke Rosemary Dip
Stuffed Artichokes with Thai Shrimp Salad by Foodie Crush
Quinoa Stuffed Artichokes by Simple Bites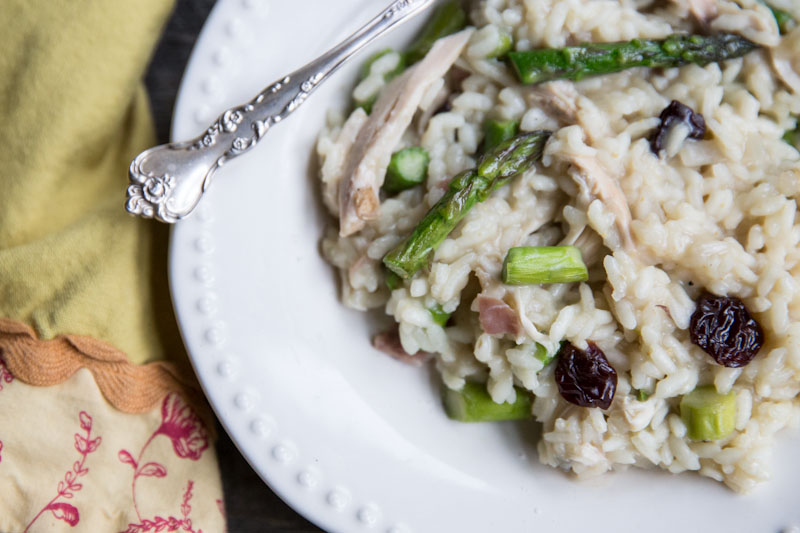 Asparagus
Asparagus Goat Cheese Sauce over Gnocchi
Asparagus and Sun Dried Cherry Risotto (pictured above)
Quinoa with Asparagus and a Fried Egg
Spring Panzanella Salad with Asparagus and Peas by Two Peas and Their Pod
Roasted Asparagus with Pistachio Mint Pesto by Floating Kitchen
Quick Pickled Asparagus by Project Domestication
Avocado
Honey Lime Avocado Salad Dressing
Avocado and Goat Cheese Picnic Sandwiches
Bacon and Avocado Eggs Benedict
Smashed Chickpea Avocado Pesto Salad Sandwich by Two Peas and Their Pod
Beets
Beet Banana Raspberry Smoothie
Farro Salad with Beets, Avocado, Oranges and Kumquats
Roasted Beets and Goat Cheese with Fennel, Orange Slaw by The Lemon Bowl
Beet and Kale Rice Pilaf by Cookin Canuck
Roasted Beet and Plum Salad by Floating Kitchen
Broccoli
Roasted Broccoli Stuffed Shells
Slow Cooker Cheesy Broccoli and Chicken with 3 Grains
Healthy Broccoli Salad (pictured above)
Cheesy Baked Quinoa with Chicken and Veggies
Cauliflower
Cauliflower Couscous Greek Salad
Quinoa Crusted Cauliflower Steaks
French Cream of Cauliflower Soup
Chicory
Chicory Soup with Barley and Lemon by Letty's Kitchen
Fava Beans
Fava Bean and Asparagus Orzo Pasta Salad
How to Cook Fava Beans by Flavor the Moments
Fava Bean, Burrata, and Mint Crostini by Flavor the Moments
Kumquats
Chopped Salad with Avocado, Tomato, Kumquats and Candied Nuts (pictured above)
Farro Salad with Beets, Avocado, Oranges and Kumquats
Kale Sprout and Kumquat Slaw by Letty's Kitchen
Kumquat Lemongrass Rum Cocktail by Kitchen Confidante
Lettuce
Kale and Coconut Chicken Salad
Lime
Key Lime Pie with Gingersnap Crust
Honey Lime Avocado Salad Dressing
Jicama Fruit Salad with Cilantro and Lime by Letty's Kitchen
Winter Fruit Salad with Coconut Key Lime Poppyseed Dressing by Flavor the Moments
Cilantro Lime Turkey Taco Lettuce Wraps by Mountain Mama Cooks
Lime and Graham Cracker Ice Cream by Naive Cook Cooks
Coconut Lime Rice with Tofu by Simple Bites
Black Bean and Farro Salad with Cumin Lime Vinaigrette by Simple Bites
Mushrooms
Sweet Potato and Mushroom Hash (pictured above)
Biscuit Topped Chicken Pot Pie with Asparagus Mushrooms and Leeks by Cafe Johnsonia
Roasted Mushroom Beef Stroganoff by Foodie Crush
Creamy Goat Cheese Pasta with Spinach and Mushrooms by Two Peas and Their Pod
Creamy Mushroom Chestnut Bisque by Floating Kitchen
Mushroom Ragu with Cheesy Polenta by Completely Delicious
Barley Risotto with Mushrooms and Spinach by Well Plated
Oranges
Chicken and Chickpea Tacos with Citrus and Avocado
Butternut Squash Carrot and Orange Soup
Farro Salad with Blood Oranges, Kumquats, and Beets
Winter Chopped Salad with Pears, Avocado and Kumquats (the best winter salad there is!)
Papaya
Papaya Quinoa Breakfast Bowl by Floating Kitchen
Papaya Seed Vinaigrette Dressing by Kitchen Confidante
Filipino Papaya Relish by Kitchen Confidante
Peas
Spring Vegetable with Herbed Ricotta Dumplings (pictured above)
Cauliflower Fried Rice with Peas
Easy Sautéed Spring Vegetables
Israeli Couscous with Pesto and Spring Veggies
Green Pea Salad with Bacon and Almonds by Well Plated
Baked Spring Vegetable Risotto with Peas by Floating Kitchen
Rhubarb
Strawberry Rhubarb Coconut Crisp (gluten free)
Strawberry Rhubarb Skillet Pie (gluten free) and/or Strawberry Rhubarb Pie with Gingersnap Crust
Baked Strawberry Rhubarb French Toast
Shallots
Herb Roasted Striped Bass with Shallots by Simple Bites
Apple Cider Vinegar Salad Dressing with Shallots by Healthy Seasonal Recipes
Meyer Lemon Quinoa with Shallots by Healthy Seasonal Recipes
Caramelized Shallot and Gruyere Quiche by Food for My Family
**radishes should be on the list above but somehow got missed!  They are in season in select areas across the country right now.
Also, here's an image to save to your iPhone or Pinterest for this month! The top image is perfect for your computer desktop as a reminder of what to eat as you plan you meals this month.