It's hard to believe that Spring is right around the corner when we're still having heavy snow days, eating chili and sipping wassail.  There are a few tulip greens poking their heads up even through the snow though, so I know its nearing. Spring is a hopeful time of year isn't it?!  For our family now even more so after the winter we had last year and then coming out of recovery in the Spring. It's all new greens and breaths of fresh air and I'll take it!
The early Spring months of the past I've mainly loaded up on artichokes and asparagus like in these recipes: Spinach Artichoke Pizza, Fava Bean and Asparagus Orzo Pasta, Chicken and Asparagus Gratin, Asparagus and Sun Dried Cherry Risotto, and Quinoa with Asparagus and a Fried Egg.  This year, I'll branch out a little and embrace some of the other foods on the list so stay tuned!
Artichokes
Kale Artichoke Dip with Greek Yogurt 
White Bean Artichoke Rosemary Dip
Stuffed Artichokes with Thai Shrimp Salad by Foodie Crush
Quinoa Stuffed Artichokes by Simple Bites
Asparagus
Asparagus and Baked Ricotta Tart
Spring Veggie and Goat Cheese Pasta
Asparagus Goat Cheese Sauce over Gnocchi
Asparagus and Sun Dried Cherry Risotto
Quinoa with Asparagus and a Fried Egg
Avocado
Honey Lime Avocado Salad Dressing
Avocado and Goat Cheese Picnic Sandwiches
Bacon and Avocado Eggs Benedict
Broccoli
Roasted and Charred Broccoli with Pasta
Broccoli and Chicken Quinoa Casserole
Roasted Broccoli Stuffed Shells
Slow Cooker Cheesy Broccoli and Chicken
Cheesy Baked Quinoa with Chicken and Veggies
Brussels Sprouts
Butternut Squash and Brussels Sprout Galette
Pesto Pasta with Crispy Brussels Sprouts and Bacon
Easy Brussels Sprouts with Bacon
Shredded Brussels Sprout Salad with Walnut Vinaigrette
Sweet Potato Mushroom and Brussels Sprout Hash
Sautéed Brussels Sprouts with Hazelnuts
Cauliflower
Cauliflower Chickpea and Crispy Kale Tacos
Cauliflower Couscous Greek Salad (pictured above)
Quinoa Crusted Cauliflower Steaks
French Cream of Cauliflower Soup
Celery Root
Chicken and Root Vegetable Pot Pie
Celery Root Potato Au Gratin by Cafe Johnsonia
Chicory
Chicory Soup with Barley and Lemon by Letty's Kitchen
Greens
Kale Caesar Salad (pictured above)
Kale and Coconut Chicken Salad
Chopped Salad with Tomato, Avocado and Pear
Garlicky Swiss Chard with Chickpeas by Foodie Crush
Escarole with White Beans by Letty's Kitchen
Kiwi
Kiwi Lime Mojito by Kitchen Confidante
Coconut Kiwi Banana Smoothie Bowl by Flavor the Moments
Leeks
Soft Scrambled Eggs with Goat Cheese and Leeks
Leek and Mushroom Bake with Polenta Crust by Simple Bites
Bacon Leek Dip by Kitchen Confidante
Lemon
Lemon Ricotta Pancakes (pictured above)
Lemon Beignets with Strawberry Vanilla Sauce
Lime
Key Lime Pie with Gingersnap Crust
Honey Lime Avocado Salad Dressing
Jicama Fruit Salad with Cilantro and Lime by Letty's Kitchen
Cilantro Lime Turkey Taco Lettuce Wraps by Mountain Mama Cooks
Coconut Lime Rice with Tofu by Simple Bites
Mushrooms
Mushroom and Arugula Pasta Salad Recipe
Sweet Potato and Mushroom Hash
Biscuit Topped Chicken Pot Pie with Asparagus Mushrooms and Leeks by Cafe Johnsonia
Roasted Mushroom Beef Stroganoff by Foodie Crush
Creamy Goat Cheese Pasta with Spinach and Mushrooms by Two Peas and Their Pod
Mushroom Ragu with Cheesy Polenta by Completely Delicious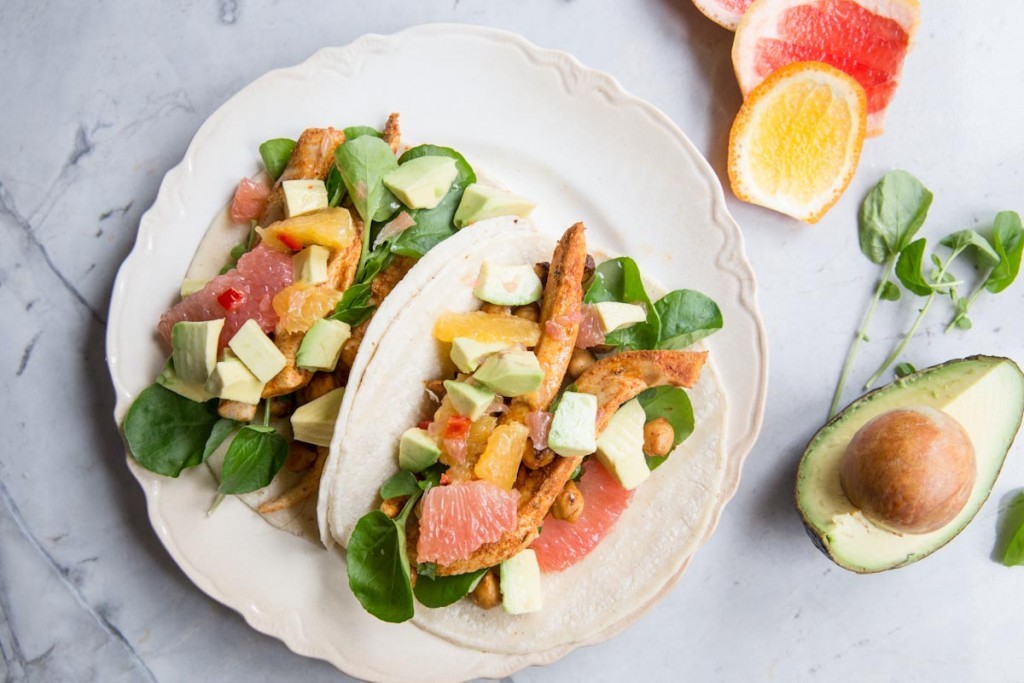 Oranges
Chicken and Chickpea Tacos with Citrus and Avocado (pictured above)
Butternut Squash Carrot and Orange Soup
Farro Salad with Blood Oranges, Kumquats, and Beets
Winter Chopped Salad with Pears, Avocado and Kumquats (the best winter salad there is!)
Parsnips
Chicken and Root Vegetable Pot Pie
Caramelized Pear and Parsnip Soup by Cafe Johnsonia
Root Vegetable Mash by Mountain Mama Cooks
Maple Roasted Carrot and Parsnip Fries by Flavor the Moments
Peas
Fresh Pea Carbonara Pasta (pictured above)
Cauliflower Fried Rice with Peas
Easy Sautéed Spring Vegetables
Israeli Couscous with Pesto and Spring Veggies
Radishes
Chicken Lettuce Wraps with Shaved Radishes and Carrots
Farro Pesto Salad with Edamame and Radishes
Radishes with Vegan Coconut Butter by Cafe Johnsonia
And if you're new to our seasonal eating extravaganza.  Here are the deets:
The image at the very top of this post is to save to your computer desktop as a lovely reminder of what produce is fresh to eat this month. What's in season not only tastes better but is better for the budget and the environment as it doesn't have to travel as far to get to your local grocer.  The below image is to save on your phone just as a pretty screensaver.  If you make seasonal recipes using any of the ingredients from the produce list above, please share them on instagram with the hashtag #eatseasonal so we can all be inspired by one another!