Every year in October we join the online community seeking to eat completely unprocessed for one month (see the October Unprocessed full guide for details).    Having a whole month dedicated to eating unprocessed foods has challenged us and broadened our horizons in so many ways.  Now, when I think of October I think of making things from scratch like nut milks, yogurt, pita bread, ricotta cheese or english muffins.  Many of these I had no idea would be so easy to make at home.  For the last few years, the month of October has inspired so many new ideas and recipes.
Here's what the creator of October Unprocessed defines unprocessed foods as – "Unprocessed food is any food that could be made by a person with reasonable skill in a home kitchen with readily available, whole-food ingredients." – Andrew Wilder.
If you're interested in taking on the challenge this month, here is my unprocessed meal plan guide from past Octobers and my Unprocessed Recipe Pinterest Board.  I'd love to hear what you trying through the month and how you are challenged.  I plan on jumping right back into the October Unprocessed challenge for the second half of the month so any inspiration you have, I'd love to hear!  Many of the seasonal recipes below (if not all) are unprocessed so you can eat seasonal and unprocessed this month!
Apples
Salmon with Apple, Cucumber, Avocado Salsa
Sweet Potato, Apple, Cranberry Saute with Hazelnuts
Maple Walnut Apple Butter Oatmeal by The Lemon Bowl
Beet Apple Lemon Juice by Project Domestication
Beets
Beet, Honey and Walnut Energy Cookies
Beet, Goat Cheese and Hazelnut Galette (pictured above)
Beet Berry Kale Smoothie Bowls
Beet Banana Raspberry Smoothie
Broccoli
Roasted and Charred Broccoli with Pasta (vegan)
Roasted Broccoli Stuffed Shells
Slow Cooker Cheesy Broccoli and Chicken with 3 grains
Cheesy Baked Quinoa with Chicken and Broccoli
Cabbage
Thai Chicken Cabbage Wraps with Peanut Sauce by Floating Kitchen
Lean Grilled Hamburgers with Hot Sauce Cabbage Slaw by Cookin' Canuck
Asian Cabbage Slaw with Mint and Scallions by The Lemon Bowl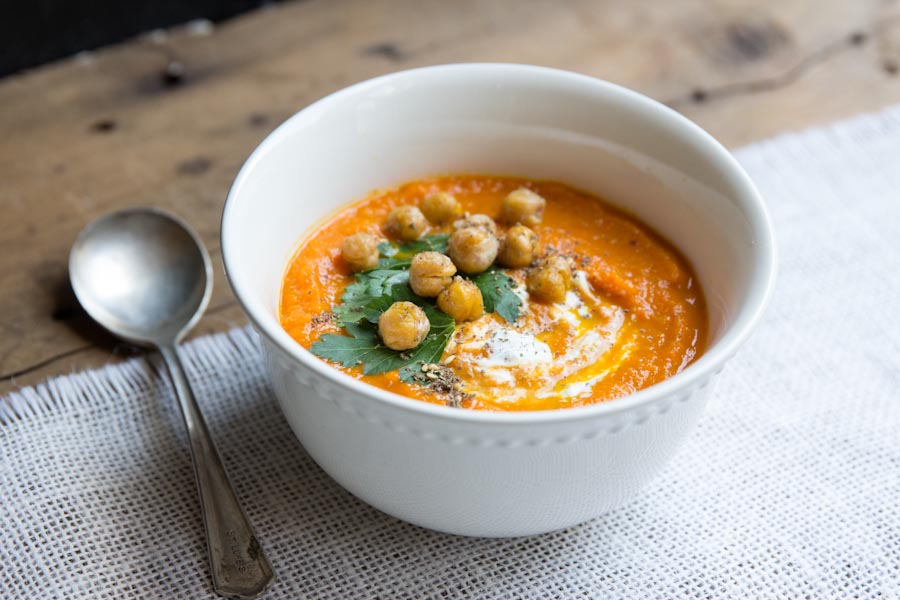 Carrots
Butternut Squash, Carrot and Orange Soup (vegan and dairy free)
Spanish Carrots with Fennel and Toasted Hazelnuts
Creamy Carrot Soup with Crispy Chickpeas (dairy-free, pictured above)
Carrot Cake Cookies (vegan and gluten free)
Cauliflower
Quinoa Crusted Cauliflower Steaks
Cauliflower Couscous Greek Salad
Chilies
Slow Cooked Chicken with Roasted New Mexico Green Chilies
Green Chili Cream Cheese for Bagels by Project Domestication
Corn
Fresh Corn Cakes with Pulled Pork and Cherries
Sweet Potato Black Bean and Corn Salad
Farro Risotto with Squash and Corn (pictured above)
Cucumbers
Greek Yogurt Cucumber Salad Dressing
Cucumber and Chickpea Salad with Creamy Za'ahtar Dressing by Project Domestication
Quick Refrigerator Pickles by Mountain Mama Cooks
Eggplant
Eggplant Rollatini with Pancetta and Spinach by Kitchen Confidante
Quinoa Crusted Eggplant Parmesan by Kitchen Confidante
Grilled Eggplant with Corn Chimichurri by Kitchen Confidante
Grilled Eggplant Parmesan Stacks by Flavor the Moments
Ratatouille Polenta Stacks by Project Domestication
Grapes
Roasted Chicken and Grapes over Polenta (pictured above)
Roasted Grape and Walnut Rice Pilaf
Chicken Salad with Grapes and Almonds
Kale
One Pan Farro with Tomatoes Sausage and Kale
Kale Caesar Salad with Blueberries and Lemon Ricotta
Kale and Collard Green Gratin (great for a Thanksgiving side-dish)
Kale and Coconut Chicken Salad
Mushrooms
Sweet Potato Mushroom and Brussels Sprout Hash
Wild Mushroom Buckwheat Kasha Recipe
Polenta with Sausage Chard and Oyster Mushrooms
Pears
Chocolate Pear Tartlets (pictured above)
Mashed Rutabaga with Ginger Roasted Pears
Chopped Salad with Tomato, Avocado and Pear
Pumpkins
Pumpkin Oatmeal Chocolate Chip Cookies
Pumpkin Bread with Maple Icing
Pumpkin Yogurt Waffles (pictured above)
Radicchio
Fava Bean and Fennel Risotto with Sautéed Radicchio
Spaghetti with Radicchio and Chèvre by Cafe Johnsonia
Radishes
Chicken Lettuce Wraps with Radishes and Carrots (gluten free)
Quinoa Primavera with Radishes (gluten free)
Farro Pesto Salad with Edamame and Radishes
Radishes with Vegan Coconut Butter by Cafe Johnsonia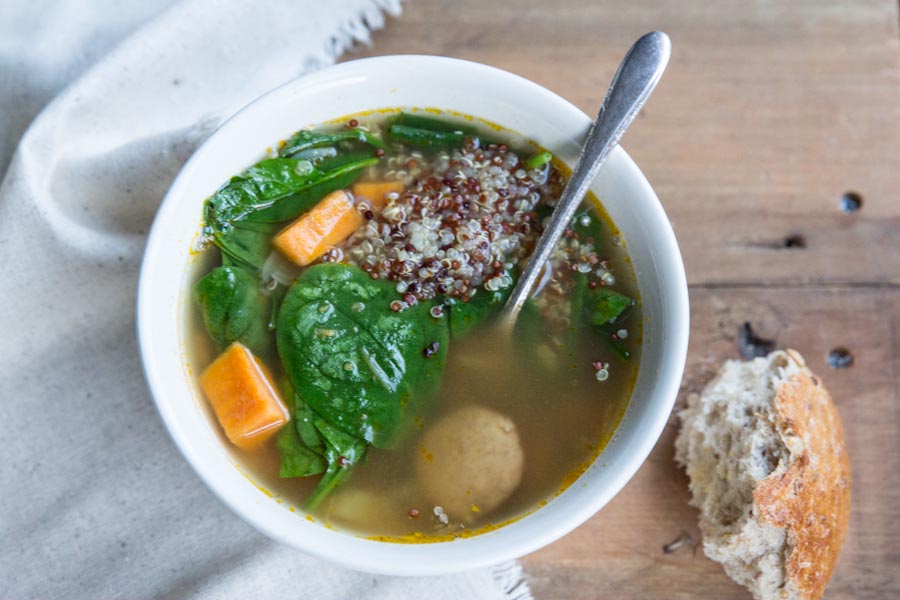 Spinach
Saag Paneer (gluten free)
Sweet Potato, Spinach, Sausage and Quinoa Soup (pictured above)
Veggie Nuggets with Easy Spinach Pesto 
Wheat Berry Salad with Spinach, Bacon, Pecans and Sun Dried Cherries
Summer Squash
Savory and Sweet Summer Squash Custard
Farro Risotto with Squash and Corn
Summer Squash Gratin by Project Domestication
Tomatoes
One-Pan Farro with Tomatoes, Sausage, and Kale
Strawberry Tomato Dessert Sauce
Zucchini
Greek and Italian Zucchini Noodle Salads
Zucchini Chocolate Chip Cookies
Hazelnut Zucchini Bread (pictured above)
Zucchini Noodle Salad with Spicy Peanut Sauce
Quinoa Primavera with Zucchini