Kung Pao Cauliflower is a quick weeknight meal, great for Meatless Mondays or a perfect meal to satisfy cravings for authentic Chinese food. This recipe is inspired by my Authentic Kung Pao Chicken Recipe given to me in a casual cooking lesson while we visited China.
I traveled to China a few years back and got a few authentic Chinese recipes to keep in my repertoire. My thoughtful sister set me up with a cooking lesson from a chef friend of hers and we cooked together for an afternoon.  I remember a hot (tiny) kitchen, a large wok, an unknown pepper paste, and a big, delicious meal with lots of dishes to share around the lazy susan topped table. This Kung Pao recipe comes from that memorable meal in China.
When I dip into old recipes inspired by my travels I get the travel bug, big time! I have had the pleasure of traveling to China twice and my time there was unforgettable.  We visited ancient palaces, walked miles along The Great Wall, shopped in neighborhoods dating back to 256 BC, tasted unfamiliar foods, and experienced being a true foreigner. I'll admit I get a natural high from traveling, especially to foreign cultures. Its addicting, exciting, and captivating.  I hope my kids get this passion for the world too.  The cultures, cuisines and terroir of the world that God created is too vast not to go exploring.  I find I am more in awe of Him the more I travel.
About the Recipe
This recipe requires a few more rare ingredients (oyster sauce and sesame oil) but I promise the flavor isn't too unfamiliar. They can be found at most grocery stores and the sesame oil can also be used in fried rice. The oyster sauce can also be used in Kung Pao Chicken or other stir frys.  I urge you to give it a try… sometimes its a thrill to try something totally new!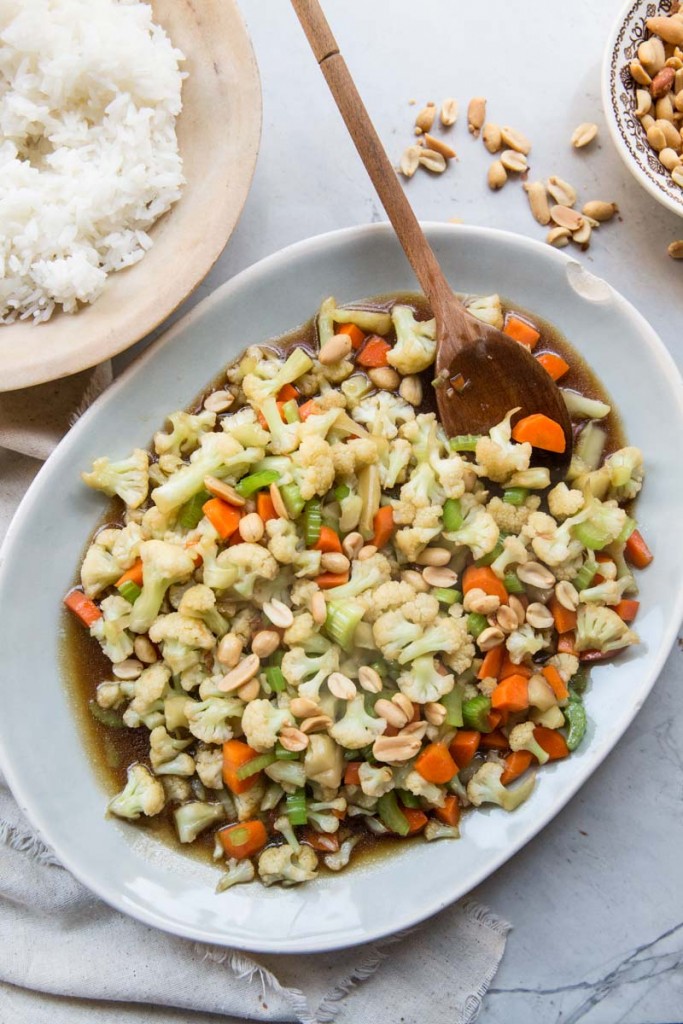 Kung Pao Cauiflower
Try this fun vegetarian version of Authentic Kung Pao Chicken using Cauliflower instead of meat.
Ingredients
1

large

head of cauliflower,

broken up into bite sized florets

1

teaspoon

salt

1

teaspoon

cornstarch

1

teaspoon

soy sauce

1

large

carrot,

diced

1

stalk

celery,

diced

¼

cup

cooking oil,

(I use grape-seed)

3

tbsp

Chinese oyster sauce

1

tbsp

sugar

½

tsp

sesame oil

1

tsp

Sichuan hot pepper paste,

(optional)

½

cup

roasted unsalted peanuts

Rice
Instructions
Heat a large pot of water up to a boil. Set a colander in the sink with a few ice cubes in the bottom Add in the cauliflower florets to the pot of boiling water and blanch for 3 minutes. Then, transfer the cauliflower to the colander with ice to cool.

Once cauliflower is cool remove the ice and in a medium bowl, combine the cauliflower with the salt, cornstarch, and soy sauce. Mix thoroughly and let sit a few minutes. Meanwhile, dice the celery and carrot.

Heat cooking oil in wok or large skillet over med/ high heat till oil begins to ripple or shimmer. Add cauliflower and stir-fry 2-3 minutes.

Add carrots and celery and stir-fry 1-2 minutes till just beginning to turn tender-crisp. Add oyster sauce, sugar, sesame oil, and hot pepper paste (if you want the dish to be spicy). Add a little water to thin sauce if desired.

Top with the peanuts and Serve over rice.