My sweet baby girl turned one!!  We celebrated her with this simple Cherry Birthday Party and a tiny Cherry Cake that we knew wouldn't make her sick. Her baby smash cake was a cherry cake that is sugar free and gluten free and frosted with a cashew cream frosting.  It was so good that we all snuck a few bites of  it!
We first discovered Ruthie's love for cherries as I pitted a whole bag full for a galette I was making this Summer. She wanted to eat all of my hard work before I could even make it into a pie. Then throughout the Summer her affection (sometimes a very serious passion) for cherries continued, snatching them from our hands at picnics and basically always have a smear of bright red cherry juice across her sweet face. Everett calls it her cherry lipstick.  So we felt it only appropriate that her first birthday would be cherry themed.
It was a simple party in our home, with our closest friends.  We put up a few balloons, made some drinks and cake in advance then just enjoyed celebrating our little lady for a few hours.  Her bashful nature really was exacerbated at her party, as she wanted to be held tight the whole time then once it was cake time, she slowly and methodically enjoyed her cake, as to not cause a big ruckus to draw attention from the crowd.
Here are a few shots of little Ruth shyly enjoying the festivities.
We had this simple little gathering at our home with a few folks who love on Ruthie so well.  It was a casual party but, of course, filled with good food.
Simple Cherry Birthday Party Menu
Cherry Limeades
Cherry Cake with Mascarpone Cream for the adults
Fresh Cherries
Cherry Pie Ice Cream
Ruthie's Cherry Cake (recipe below)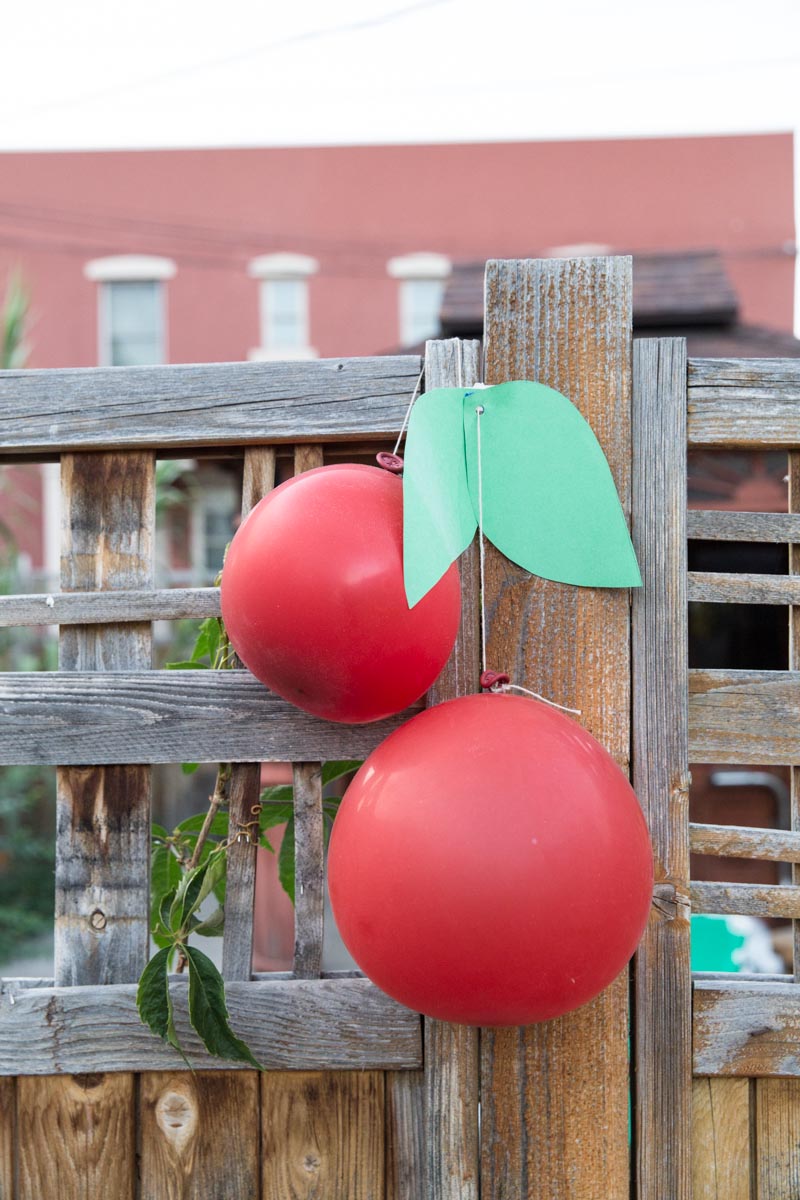 We decorated with just a few balloons that Everett and I made into little cherry clusters. It was a perfect celebration of our girl and yet not overwhelming to pull off as a mom.
I'm all about serving a lightly sweet cake to my baby's on their first birthday party.  I had heard stories of babies throwing up on their first birthday and I certainly didn't want that.  I found this cake to be perfectly sweet for our little 1 year old. For Everett's first birthday we made him this baby carrot cake with the same cashew cream frosting. He loved it as well!
About the Baby Smash Cake
• This cake is both gluten free and sugar free and perfectly crumbly for a smash cake.  It's sweetened by maple syrup and tastes sweet enough that the whole family liked the flavor.
• I made this in advance and froze it then pulled it out of the freezer to ice it about 1 hour before serving it. Since it's small it defrosted quickly.  Cakes are just much easier to frost when they are frozen and they stay moist.
• I frosted the cake with a cashew cream frosting (dairy free and sugar free) that can be make in 5 minutes in a blender.  The cashews need to soak over night and the frosting does need to set for 45 minutes in the freezer so allow time for that.
Gluten Free and Sugar Free Cherry Baby Smash Cake
This cute Cherry Cake for a baby's first birthday is gluten free, sugar free and paleo making it perfectly healthy for any baby.
Ingredients
2

tablespoons

coconut flour,

+1 teaspoon

1/4

cup

almond flour

1/4

teaspoon

baking powder

1/6

teaspoon

baking soda

1/4

teaspoon

salt

1

ripe banana,

about 1/2 cup

2

tablespoons

coconut oil,

room temp

2

tablespoons

almond butter,

room temp

1

large

egg,

beaten

1

tablespoon

pure maple syrup

1/2

teaspoon

pure vanilla extract

1/2

cup

cherries,

pitted and chopped
Instructions
Preheat the oven to 375 and grease two small ramekins* with coconut oil.

In a small mixing bowl combine the dry ingredients: coconut flour, almond flour, baking powder, baking soda, and salt.

In a separate, medium-sized, bowl mash the banana then add in the coconut oil, almond butter, maple syrup and vanilla. Stir in the egg.

Combine the dry ingredients to the wet and mix only until combined and smooth.

Toss the chopped cherries with a teaspoon or so of coconut flour. Stir these into the batter. Spoon batter out into ramekins and bake at 375 for 20-25 minutes.

Let cool 5 minutes in the pan then remove to a wire rack to cool completely. Wrap in plastic and freeze.
To frost the cake
About 1 hour before serving, remove cakes from freezer. If the cakes are puffed up at the top slice off the top to even them out and make it flat to layer the cakes.

Dap a small amount of frosting under the first cake on the plate so it won't wiggle as you ice it then add a spoonful on top of the cake to place the second layer on top. Frost gently around the sides of the cake and on top. Top the cake with a few fresh cherries.
Notes
If you don't have ramekins these can be made in a muffin pan though you'll have to use more icing to make straight sides on the cake.  If using ramekins or a muffin pan you may have leftover batter with which you can make one or two extra muffins/cupcakes.
This recipe was adapted from Joy Food Sunshine's Paleo Blueberry Banana Muffins. For another Baby's First Birthday Cake Recipe idea check out my son's carrot cake.
For the cashew cream frosting I soaked 1/2 cup cashews over night.  Rinse and drain them next day then, in a high powdered blender, add 2 tablespoons coconut cream, 1 tablespoon maple syrup, 1 tablespoon melted coconut oil, 1 teaspoon lemon juice, 1/2 teaspoon vanilla extract, and a pinch of salt. Blend everything together until smooth, then, place in the freezer to chill for 45 minutes. Use a small whisk to whip the icing before frosting the cake.