We celebrated our baby's first birthday party in full cherry theme. These Homemade Cherry Limeades were given to our friends and family upon arrival then we enjoyed Cherry Cake, Cherry Pie Ice Cream, and fresh cherries galore.  It was a perfect celebration for our cherry loving little gal.
Between Ruthie's love of cherries and the tradition my mama and I had of enjoying cherry limeades together, I knew they had to be a part of our celebration.  They were a perfect sweet sip to celebrate our sweet little gal.
The day before the party, during Ruthie's nap time, Everett and I set out to prep for the party.  We blew up balloons (well I blew them up and Everett puffed a lot of air trying to blow them up), and we juiced a lot of limes (Everett was super helpful with this). It was fun to have a partner to party plan with.
Once it became time for the party, Everett awaited our guests at the window and I held Ruthie while getting all of the last minute things ready. The afternoon party started with these simple homemade Cherry Limeades to which, Everett's adopted grandma, Gigi, added a few heavy glugs of vodka to. Guests quickly got comfortable with a strong drink in hand! 🙂
Here's a little teaser of Ruthie at the party… more photos to come soon!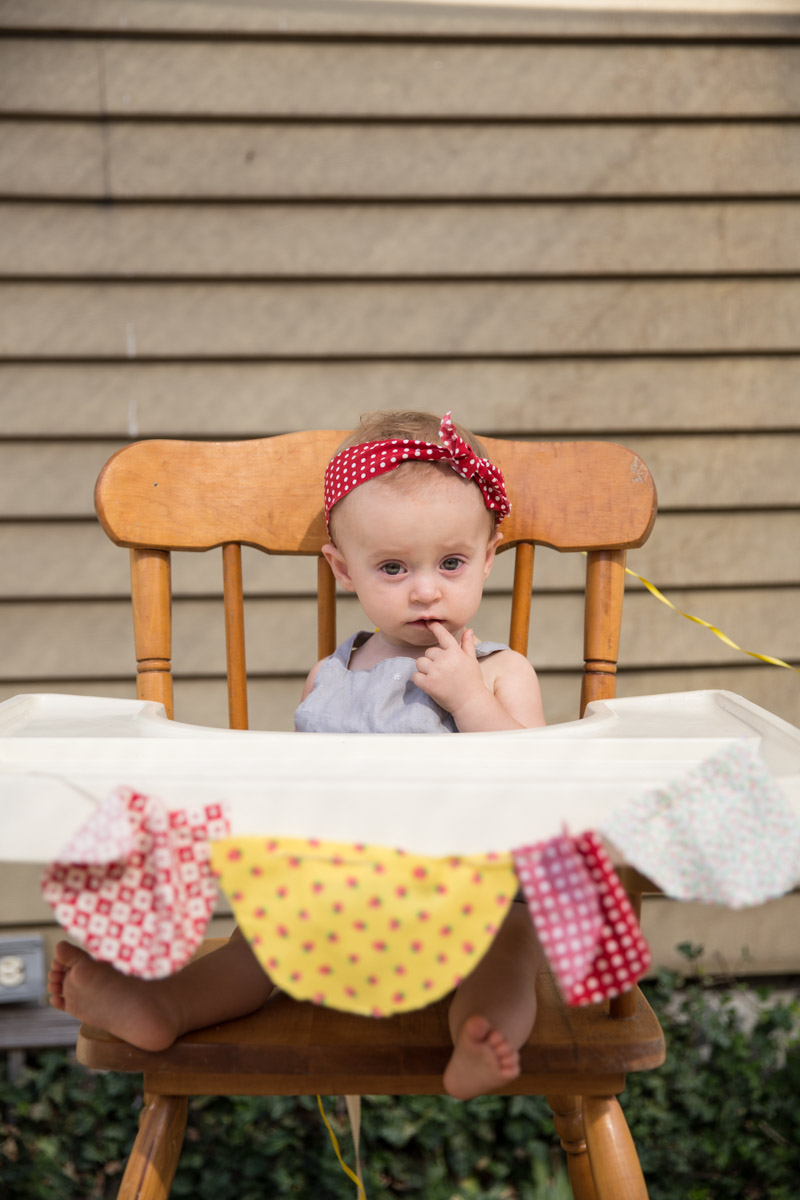 I'd say the cherry limeades were a hit and I was super glad to have my little kitchen helper to juice all of the limes.  I'll forever think of Ruthie and her first birthday when I sip a cherry limeade.
Cherry Limeade Recipe
A simpel homemade recipe for cherry limeade.
Ingredients
1

cup

water, plus 3-4 cups

1/2

cup

sugar

1/2

cup

sweet cherries,

pitted

1/2

cup

lime juice

vodka or amaretto*,

optional for boozy limeades
Instructions
Bring water, sugar and cherries to a simmer and cook just until sugar is dissolved and cherries have given off their color and flavor (about 10 minutes).


Pour the simple syrup into a pitcher along with the lime juice, and 3 cups of water (adding an additional cup of water if necessary). Refrigerate for 1 hour or until ready to serve.

Serve the limeade over ice, garnished with slices of lime and a cherry from the syrup.
Notes
For garnishes you can also soak some extra pitted cherries in sugar and honey for 30 minutes (or up to a day) and use these to top off each drink. 
For adding liquor, add a 1/2 shot to each drink of either vodka or amaretto.