These Blueberry Almond Energy Bites are the perfect snack food to fuel Sumer activities like hiking, swimming, biking, traveling or chasing kids around the playground.
Thank you Bob's Red Mill for sponsoring this post! Check out more delicious healthy recipes, snag coupons and find stores near you at BobsRedMill.com!
Just when I thought Energy Bites couldn't get any better… I made these Almond Blueberry Energy Bites and just like that I have a new favorite healthy snack to fuel our Summer activities.
Before these I literally thought I had created the best possible energy bite with this Energy Bite recipe.  Like, look no further because you'll just be disappointed, that kind of pridefulness.  While my original energy bites are definitely tasty and still a tried-and-true recipe that I'll keep going back to, it was time to change things up.
My friend Melissa and I get together occasionally to make food in bulk while our kids play together.  We always make one big batch of energy bites.  I had mentioned wanting to try creating a blueberry almond version of my originals and when she said she had the ingredients we needed, we went for it. Let me tell you, what we created that day may be even better than my originals.  These little bites have the flavor of a blueberry muffin and are so satisfying.  Now, no one in my family will get outdoors for a hike or bike ride without throwing a few of these in their bag. I often bring a jar filled with them if we're going on a all day excursion, like the zoo, swimming, or camping. And I always make a batch before we travel as a healthy travel snack that I know my whole family enjoys.
About the Recipe
Energy Bites don't have caffeine in them and are not at all dangerous to give your kiddos.  I found out recently that some parents avoid giving their kids energy bites because of their title but really these are healthy snacks loaded with nutrition and without any processed sugar.  So actually, these are a way better snack for your kids than most processed sweet snacks you find at the store.
I like to grind up the nuts and oats in the food processor before adding in the rest of the ingredients. Just grind them until they are processed into a flour-like powder then continue with the rest of the additions.
Dates. I LOVE dates!  For energy bites I use medjool dates, always.  They are the right size and quantity for the recipe, plus they just taste better and give the right consistency.  You can find them in bulk bins or packaged up sometimes near the produce areas of grocery stores.
The only time consuming part of this recipe is rolling them into balls.  My smart and very efficient friend, Melissa, came up with the idea to spoon them out into mini silicone muffin trays and put that in the fridge or freezer for a short time before rolling them out. Or you can press them into the silicone molds and then just pop them out into a bag or jar for storing.
I have another friend who has an aversion to eating tiny bites or balls of food so if you're like him, you can also roll this out between two sheets of parchment and then cut into bars for a raw granola bar.
Bob's Red Mill Ground Flax Seeds are easy to digest and give a mild-nutty flavor with tons of omega-3 fatty acids.  Other uses for flaxseed mill – smoothies, cereal, baked goods, egg replacement.
Bob's Red Mill Chia Seeds are packed with antioxidants, omega-3s, and fiber. While many use these for chia puddings, I love throwing chia seeds into energy bites, granola bars, and granola.
Bob's Red Mill Old Fashioned Rolled Oats are thick and chewy and so substantial in comparison with other oats.  These make the energy bites filling and sustaining for Summer activities.  Pick up the gluten free version if you diet requires.
Weather you're running in a race, camping, hiking, or just chasing your kids around at the park, you're going to want to stock up on these for a healthy snack this Summer.
Blueberry Almond Energy Bites
These Blueberry Almond Energy Bites are easy to love as they taste like blueberry muffins and yet are perfectly healthy.
Ingredients
1 1/4

cup

Old Fashioned Rolled Oats

1 1/4

cup

raw almonds

2

tablespoons

ground flaxseed meal

1

tablespoon

chia seeds

10

medjool dates,

pitted and roughly chopped

1/2

cup

dried blueberries,

divided

1/4

teaspoon

salt

2-3

drops

almond extract,

optional

3-4

tablespoons

honey,

or agave for vegan
Instructions
In a food processor, grind up the oats and nuts until they are a flour-like powder. Add in the seeds, dates, 1/3 cup of the blueberries, salt, and almond extract (if using). Pulse until well incorporated. Add honey until a ball forms (should be 3-4 tablespoons worth). Taste and adjust sweetness or saltiness to your preference. Add in remaining dried blueberries and pulse just a few times to incorporate but still leave a few large chunks of blueberries throughout.

Roll into balls, or press into silicone mini muffin pan and refrigerate until hard then pop out. Store in an air tight container in the fridge.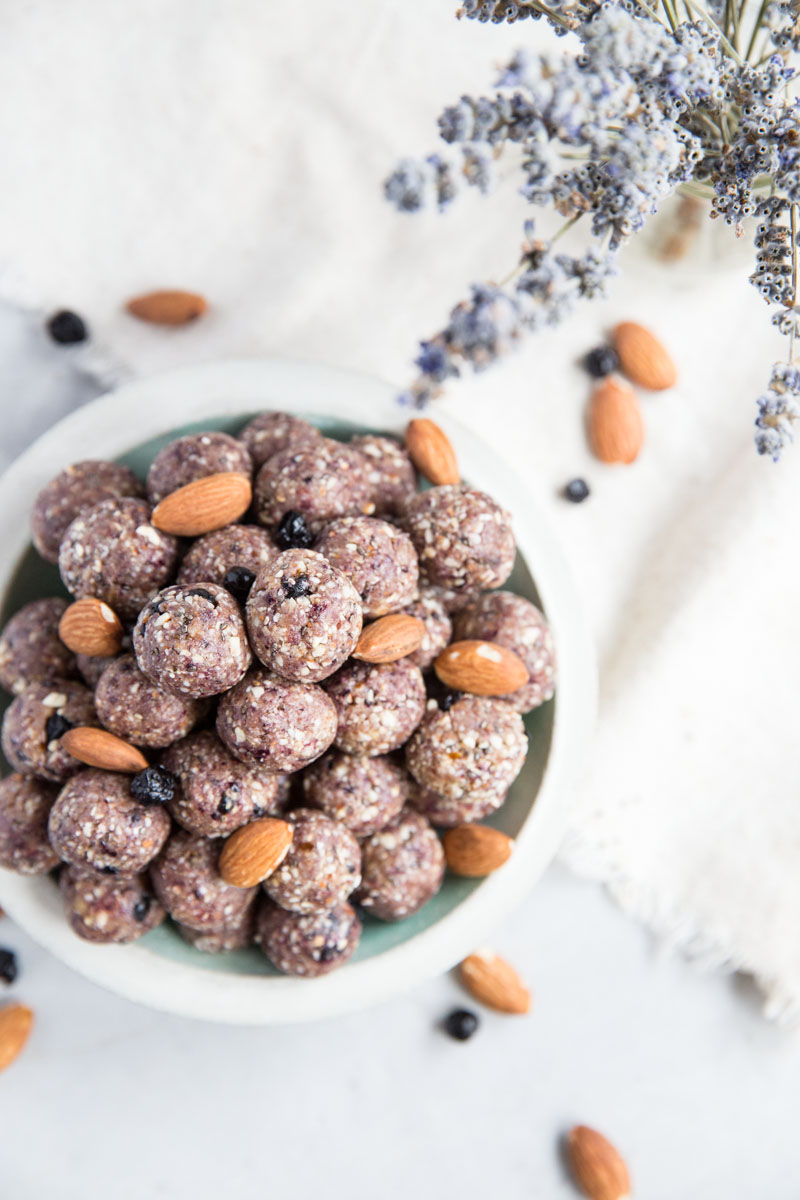 Similar Recipes
Healthy Peanut Butter and Chocolate Bars with Date Caramel
Peanut Butter Oat Energy Bites
Healthy Raw Cookie Dough Bites
Equipment I used in this recipe