As we spent last month eating mostly unprocessed foods, I was put to the challenge to start making more bread products at home. My most successful challenge was making homemade whole wheat pita bread. For this, I simply followed a recipe, exchanged some of the flour for whole wheat and increased the water ratio due to the dryness of whole wheat. And the result…after less than an hour, out came lovely puffed pita bread, perfect for a mediterranean meal or snack.
There's just something about making your own breads that makes you feel proud in the kitchen. Pita Bread is an easy ego boost from my experience at least. We ate these pitas filled with warm lamb meat balls, and muhammara, a walnut red pepper spread by Laziz. Here are some more ideas of how to use pita bread – slice into wedges and dip into hummus or muhammara, make a sandwich with turkey or ham and veggies, fill with falafel or black bean burger patties, or re-warm in oven and cover with honey, cinnamon and sugar for dessert. Once you make them you'll be finding all kinds of uses for them. Believe me, they won't be left around the kitchen long.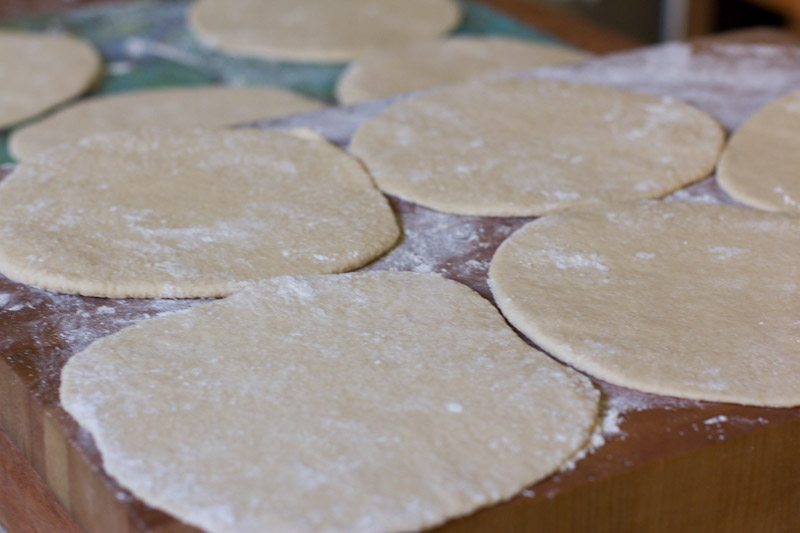 The recipe is quite simple and only takes about an hour. There are 4 steps in the process of making pita bread – assembling the ingredients, forming and divide the dough, rolling out dough into flat circles and letting it rise, then baking the dough. Then, magically, the little flat pancake-like rounds puff into perfectly round pitas. The only hard part is then deciding what tasty ingredients to fill them with.
What would you fill your pita bread with?
Whole Wheat Pita Bread Recipe
Homemade Whole Wheat Pitas are great for lunches or a greek meal.
Ingredients
1

tablespoon

active dry yeast

1 1/2

cup

warm water

1

teaspoon

salt

1.75

cups

whole wheat pastry flour

1.75

cups

all purpose flour
Instructions
Dissolve yeast in water for about 5 minutes in the bowl of an electric mixer, watch for yeast to bubble up, showing it's active.

Add salt and half of the flour, beat with a dough hook to make a batter. Add additional flour until a rough, shaggy mass is formed. Knead 8 minutes until dough is smooth and elastic. Add more flour if it is too sticky.

Turn dough onto a lightly floured surface and divide into 8 pitas for medium sized pita bread.

Form dough into balls, then flatten with a rolling pin into ¼ inch thick discs. Try and keep an even thickness as this is what helps them 'puff'.

Let rest on the floured surface 30-40 minutes until slightly puffed. Preheat oven to 425 degrees.

With a large spatula, flip the rounds of dough upside down on to a baking sheet. Bake 10-15 minutes until light golden. Stick around to watch for the first five minutes of baking when the pitas perform their magic and puff up from flat pancakes to proud, four inch high pitas!
Notes
Because you're using whole wheat flour you may need more water. If you decide to use all-purpose flour for the whole recipe, use 1/2 cup more flour than the recipe calls for.
This recipe is adapted from Simple Bites. Special thanks to Aimee for her inspiration to make more things from scratch.