This Vegan Kale Caesar Salad Recipe is so full of flavor that you'd never know it was a vegan salad. Using nutritional yeast in a vegan salad is the secret to making it so cheesy and delicious. I use Bob's Red Mill Nutritional Yeast and Red Quinoa for this recipe.
An early recipe on this blog, and one of my first videos, is a massaged kale salad recipe.  I keep coming back to this way of making a kale salad because its just THE BEST WAY, maybe the only way, you should ever make a kale salad.  Massaging the dressing into the kale is more than therapeutic (and believe me when I say it is), but it transforms the kale into something completely new.
Maybe you've had a kale salad before and been totally turned off then tried it again but couldn't explain why you liked it? There are basically two types of raw kale salads, one that has been softened and one that has not so the leaves remain tough and bitter.
How do you soften kale for a salad?
There's only one way to do this and you must get your hands a little messy.  If you're like me, you don't mind working with your hands in the kitchen.  This is totally a hands on, put the utensils down, type of task.  You must 'massage' your kale. Which is basically rubbing the oils of the dressing into the leaves to wilt the greens and soften them.
Why Massage your Kale Salad
There's a bitterness and toughness to kale and massaging the dressing into the leaves takes that edge off. It takes a few minutes to cover all of the leaves well and you must use your hands.  It's therapeutic, for me (and the kale) and the result is shiny kale without the rough texture. The kale will even reduce in size, like it would if you were sautéing it. It actually wilts.
The other secret to this salad is nutritional yeast, which adds a cheesy flavor and just boosts the overall taste of the salad.
What is Nutritional Yeast
Nutritional Yeast is much more than a vegan substitute for cheese.
Nutritional Yeast is a deactivated yeast related to brewer's yeast, which is used as a fermentation agent in beer making. While brewers yeast is bitter, nutritional yeast is savory.
It's called nutritional because it has actually nutrients: protein, fiber and tons of Vitamin B.
I prefer a large flake nutritional yeast and buy it from Bob's Red Mill.
Other Uses for Nutritional Yeast
Use nutritional yeast as a substitute for chicken broth
Use it as a savory boost to any sauté or even on meat
Toss with popcorn to add a cheesy and savory flavor
Add to pasta dishes
Use in place of Parmesan cheese
Though this salad is totally perfect on it's on I also feel like this salad is the perfect pallet to add any seasonal veggies to.  Fresh cherry tomatoes, sliced cucumbers, diced avocado, or thin cut radishes would all be perfect additions. Or, if you're not vegan, soft boil an egg on top for a real delicious treat.   This kale salad recipe is a totally game changer as far as kale salads go!  Enjoy.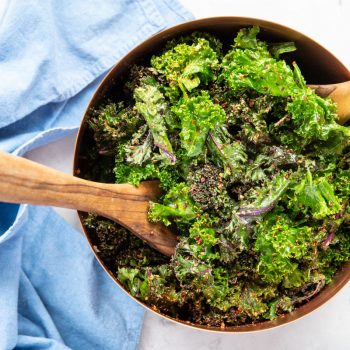 Vegan Kale Caesar Salad with Crispy Quinoa
A super flavorful vegan kale caesar salad that is absolutely irresistible.
Ingredients
2

bundles

kale

1

cup

cooked quinoa

2

small cloves

garlic,

roughly chopped

2

tablespoons

red wine vinegar

4

tablespoons

olive oil

1/4

cup

nutritional yeast
Instructions
Turn oven on high broil and move a shelf to the top lavel.

Remove stems from the kale and tear into bite sized pieces. Wash the leaves thoroughly then dry using a salad spinner or paper towel.

Spread out the cooked quinoa out onto a baking sheet. Once oven is hot, broil the quinoa for 5-7 minutes. Set a timer and watch carefully after 4 minutes to prevent from burning but get it perfectly crisp. I had to rotate my pan to get all of the batch crispy. Remove from oven and let cool.

As quinoa cooks, start making the dressing. Using a mortar and pestle crush up the garlic until its a paste. Then add in the red wine vinegar, and oil. Stir to combine (you can also use a blender for this :)).

In a large salad bowl add in the kale and season with salt and pepper (about 1/2 teaspoon of salt and a few grinds of fresh pepper). Add in the dressing and use your hands to massage the dressing into the kale. Take your time, it may take a few minutes to get all of the kale well dressed (it should wilt the kale a bit).

Add the nutritional yeast and quinoa into the bowl of dressed kale and toss.