These vegan and gluten free Almond Butter Cookies are almost like sandies but chewier and absolutely irresistible.  Being on the healthy side of desserts I find myself having a couple of these a day and not thinking twice about it!
After a quick beach vacation this summer I found a recipe for Almond Sandies that perfectly reminded me of the soft and squishy sand under our feet. It took me a few rounds to alter the recipe but now it's perfect and the few rounds of alterations were greatly appreciated at my house.  Everyone LOVES these cookies.  One of my main alterations was making a bigger quantity because the original recipe only produced 8 cookies, which just lasted a day or so.  Then I found myself making multiple batches of these in a week.  Now, we have the perfect recipe for the perfect amount of cookies and I am so excited to share them with you!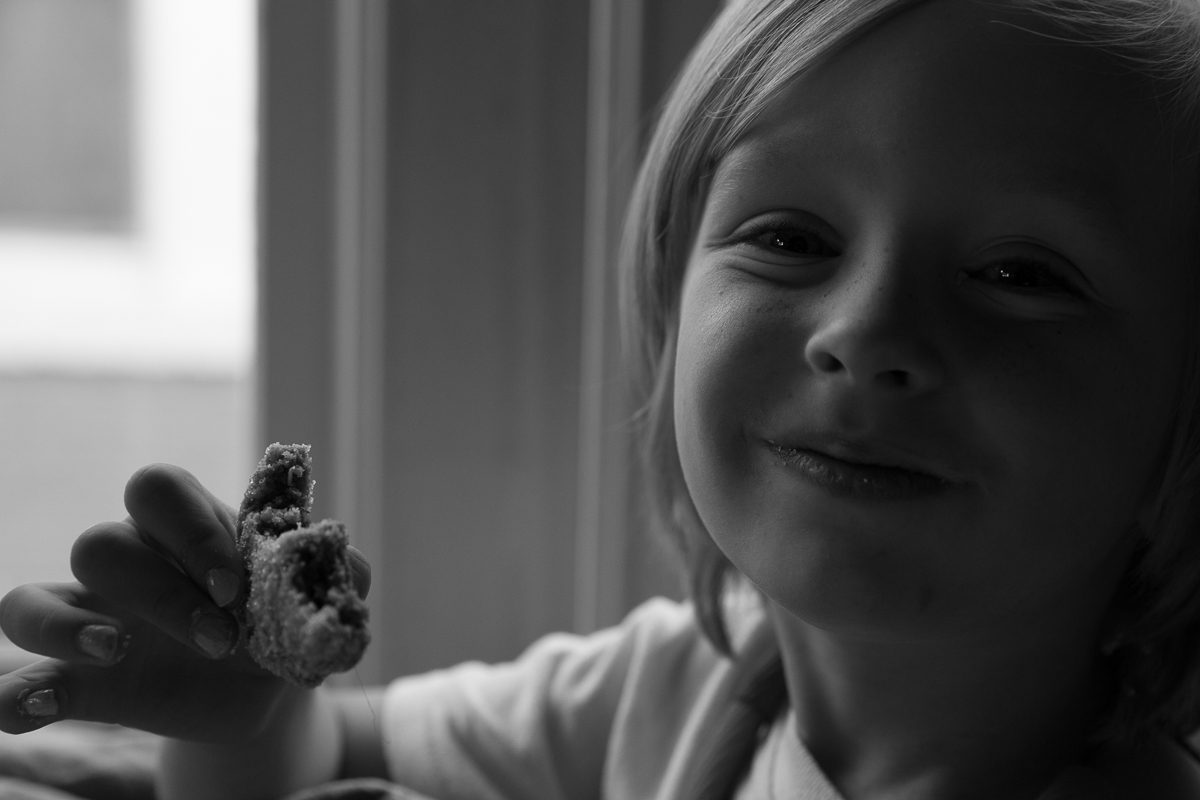 These are absolutely our latest favorite cookie.  We love cookies at our house and while we still enjoy the classics, salted chocolate chip and chewy chocolate, (butter, flour, sugar and all!) it is also nice to have a recipe or two that is on the healthier side, these being gluten free, vegan, and nearly sugar free too.
I can go a long while without finding a favorite of something.  Like a long stretch without liking any books, any new recipes, or not finding any new shows to watch.  Dry seasons I guess you'd call it, but lately I've struck gold with several favorite things.  I've fallen in love (again) with Shauna Niequist's writings, diving head first into her book Present Over Perfect (you must read this if you are in a weary season). And then these cookies!!!  Still looking for a new favorite TV show, so taking recommendations but I'm so happy to have landed a few new favorites.
The best thing about finding favorites is giving them away.  You know I want to keep all of these cookies to myself but I also love getting to share a special new recipe with a dear friend.  I have a few friends who are either vegan or gluten free and it's always nice to have something to share with them.  Also, I love having books that I've loved that I can recommend or gift to friends.  I'll for sure be sending copies of Present over Perfect in the mail for dear friends in the same season as me. These thoughtful gifts, of things I've enjoyed seem to carry more meaning as a gift than just finding something random to share.
About the Recipe
• These cookies are completely vegan and gluten free.  They can also be made sugar free by skipping the step of rolling them in the dusting sugar before baking.
• I use gluten free old fashioned oats for this recipe but if you don't need to use gluten free you can use regular old fashioned oats.  Also 1 cup of them need to be pulsed into an oat flour before mixing and you can also use oat flour or quick oats for this portion of the oats. I just find it easier to use the whole oats and just grind them before mixing all of the ingredients together.
• For the almond butter I use a creamy salted almond butter because I like the cookies a little more on the salty side but feel free to use unsalted.
What recipes or cookies are you sharing with friends and neighbors these days?  What books are you recommending?  I'd love to hear yours too!
Vegan and Gluten Free Almond Butter Cookies
These magical vegan almond butter cookies are crispy on the outside and chewy in the center.
Ingredients
1 1/4

cups

old fashioned oats,

divided (gluten free if needed)

2

cups

almond flour

1

teaspoon

baking soda

1/4

teaspoon

salt

1/4

cup

coconut oil

1/2

cup

almond butter,

creamy

1/3

cup

maple syrup

1

tablespoon

pure vanilla extract

2

tablespoons

organic cane sugar*,

for dusting
Instructions
Preheat oven to 350 degrees and line a baking sheet with parchment

In a high powered blender, add in 1 cup of the oats (reserve the extra 1/4 cup of oats to stir in at the end). Pulse or blend on low until they are partially broken and some are powdery (they should be more like quick oats at this point).

Add in all of the remaining ingredients to the blender except the sugar and 1/4 cup of oats. Blend until smooth.

Stir in the 1/4 cup of oats. Roll the dough into 2 tablespoon-ful balls. Place the 2 tablespoons of sugar in a small bowl and roll each ball in the sugar before placing them on the prepared baking sheet.

Space cookie dough balls about 1 1/2 inch apart (these don't spread too much). Bake for 8-9 minutes or until cookies barely start to crack at the top).

Remove from oven and use the bottom of a measuring cup to flatten out the cookies. Let cool on the pan for 5 minutes then transfer to a wire rack to cool completely.
Notes
For a completely sugar-free cookie you can skip the step of rolling the cookies in sugar before baking.