I have a couple special bottles of honey that I horde for a special recipe. You know the honey you buy at your local farmers market or specialty foods store but are afraid to use in just ordinary recipes, well because it's "special honey" or expensive. My go to recipe for this "special honey" hiding in my cupboard is Utah Honey Madeleines. The flavor of the rich, pure honey stands out perfectly, and you're left with a local taste unlike any other treat.
I've been making madeleines for years now. They quickly became one of my favorite treats to bake for friends or guests. I started with a simple traditional madeleine recipe but have since transitioned to this recipe from the Hummingbird Bakery in Portland, as it lends itself better to one of my favorite local products – honey.
Utah honey stands out amount the crowds of honey on the shelves. We have high altitude bees that make delicate wildflower honey with flavors unique to our area. Each specific honey will lend new flavors to these little cake-like treats. Simple choose your favorite specialty honey and whip up a batch of these for guests visiting your area. I find this to be the perfect food gift to give someone a taste of Utah.
As far as the world of madeleines goes, I find the best pan to use is a traditional madeleine pan (not a non-stick pan), one you have to grease and flour. But do make sure you grease and flour your pan well or use a quality spray that has both flour and butter in it, otherwise the small cakes will stick to the pan. The traditional pan lends to a crispy exterior causing the little cakes to melt in your mouth when you take a bite. Also, madeleines are best when you use browned butter. This is a simple task that only takes a few extra minutes but adds a brilliant nutty aroma to the cake.
As I said before these are one of my favorite treats to bake for friends. The word madeleine actually means: something that triggers memory or nostalgia. And I've found exactly that. When a friend comes over for coffee and I have a batch of these baking in the oven, the browned butter and honey aroma fills the house with a magical smell. We chat and dip the hot little shell cakes into our coffee as we catch up on each others lives.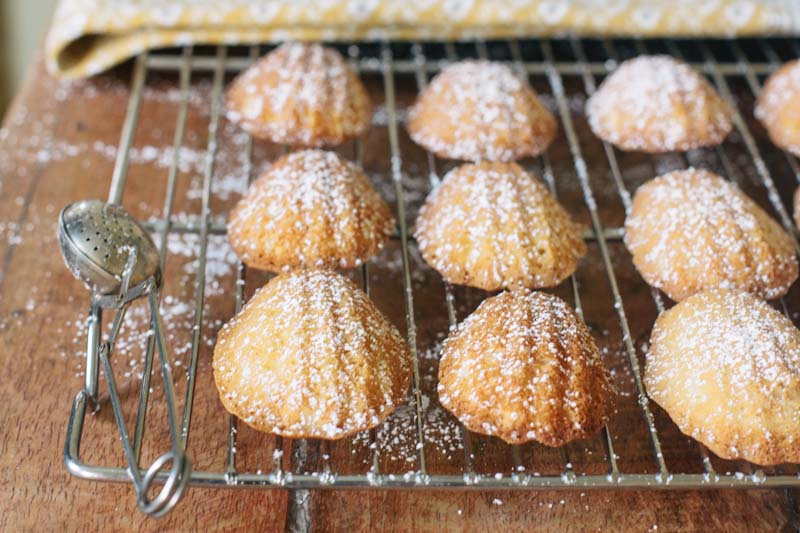 Some choose to dunk their madeleines in chocolate but with this recipe I keep it simple, letting the honey be the highlight. My final touch
is just a few shakes of powdered sugar and they're ready to eat! If you find yourself with a special jar of honey, you must try these little treats!
Utah Honey Madeleines Recipe
Traditional Madeleines with the perfect taste of honey.
Ingredients
1/2

cup

unsalted butter,

sliced into 1-inch cubes

1 1/2

cups

all-purpose flour

1

teaspoon

baking powder

3

eggs,

at room temperature

1/2

cup

sugar

1/2

cup

honey,

I used local Utah wildflower honey

1/4

cup

powdered sugar

for dusting
special equipment
1

full sized Madeleine pan
Instructions
Heat a heavy-bottomed skillet on medium heat, and add the sliced butter, making sure to whisk frequently to prevent the butter from burning. The melted butter should start to foam up a little bit, and then subside. Watch the butter carefully as lightly browned specks begin to form at the bottom of the pan.

Once the butter has turned into a lovely light amber color and is emitting a nutty aroma, remove from heat and place on a cool surface to help stop the butter from cooking further and burning. Set aside to cool.

Combine 1 1/2 cups flour and 1 teaspoon baking powder in a medium bowl, whisking together. Set aside.

Use an electric mixer with a whisk attachment (or, use a handheld whisk) on medium-high speed to beat together the eggs, sugar, and honey. This should take about 5 minutes, and the mixture should increase in size and become pale in color by the end of the beating process.

Sift the flour and baking powder mixture over the top of the egg/sugar/honey mixture, before using a rubber spatula to gently fold the flour into the egg/sugar/honey mixture until just combined. There should be one or two flour streaks still in the mixture.

Once the flour has just been combined into egg/sugar/honey mixture, fold in the cooled browned butter and mix until just combined.

Cover the batter and refrigerate for about 1 hour or until completely chilled.

Preheat the oven to 375 (F). Generously butter your madeleine pan, making sure that all the interior surfaces of the shell molds are well buttered. Use a cookie scoop to spoon batter into the molds, filling each only about 2/3s of the way. My pan required about 1 tablespoon of batter per mold.

Bake for about 12 - 15 minutes until the edges are golden brown. Transfer the pan to a cooling rack for 5 minutes before unmolding the cakes onto a cooling rack.

Dust the madeleines with powdered sugar just before serving.
Notes
If you're using a traditional madeleines pan make sure to grease your pan well so the cakes don't stick to the pan and to give a crispy exterior to the cakes.
Recipe from Hummingbird Bakery Cookbook.