It's tomato season! One of my tomato plants grew so tall that its peeking over the fence into my neighbors back yard. One thing I love about this season is the preparation for winter. I'll be making fresh tomato sauce to freeze for cold-day pasta dinners, and I'll be slow roasting tomatoes to add to salads or over baked chicken. But I can't just preserve these lovely tomatoes, I must eat a few at their perfect ripe moment…. so, we made some bright Tomato Tarts to kick off the season. The vibrant tomato tarts above came about after a couple friends had a tomato tart-off in my kitchen one afternoon. After tasting a bite of these I more completely understand why competition often creates a new height of deliciousness.
What started off as a friendly day of cooking with seasonal produce in the kitchen, I slyly turned into an afternoon of competition among friends. Two blogger friends were in from out of town, one being the creator of The Tomato Tart, Sabrina, and the other, one of the three of Three Many Cooks, Maggy. We first asked Sabrina to indulge us in her secrets to the perfect tomato tart, then Maggy decided she too would make a tart with same ingredients but different uses of them. When I challenged the two into a competition, I called up my buddy Mike, who loves to eat and is always good for a party, to be the tomato tart judge… and the Tomato Tart-Off began!
As they cooked, my kitchen got crazier and crazier… flour flying, ingredients and kitchen utensils strung out all the way into the dining room, and even a minor smoke alert when one of the tarts leaked and started burning in the oven. All of this in the name of delicious food, friends who love to cook, and a bit of friendly competition. And I wouldn't have it any other way. Contrary to some, I wouldn't rather be doing anything else on a Sunday afternoon than making a complete mess of my kitchen while simultaneously creating something purely delicious.
When it became time to taste and vote, we set the table, filled our glasses with some local brew, and dug in (after a few photos of course). Mike, being the joyful and compassionate guy that he is, decided that the tarts were too different to set up against one another, ending in a tie. Sabrina's Tomato Tart was fresh, with obvious flavors of the tomatoes, herbs, and marinated feta, while Maggy's Tart screamed creamy cheese and indulgence. They were both incredible and I felt blessed to enjoy them not only that day but for leftovers the day after.
The two tarts shared a spelt pastry crust and the similar ingredients of tomatoes, onions, olives, and cheese. Here are the two recipes for the Tomato Tarts and how they differentiated themselves…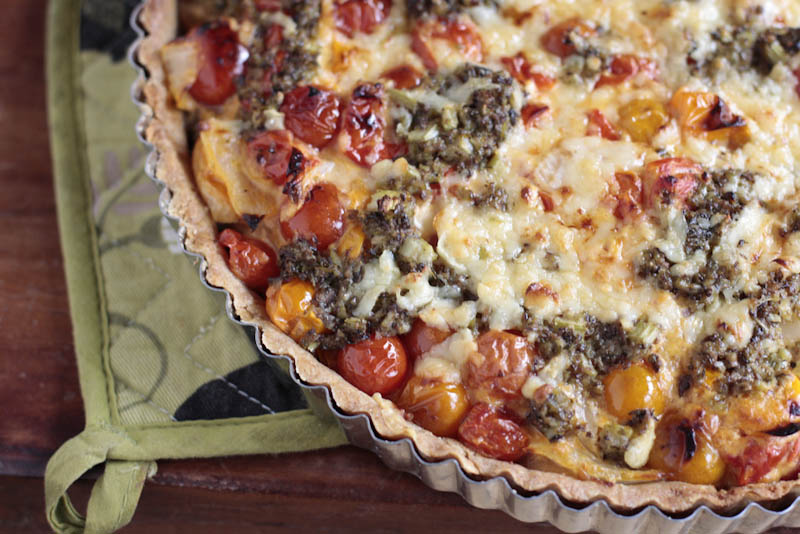 Maggy's Tomato Tapenade Tart. A rich tart with roasted red and yellow cherry tomatoes and yellow onions, two layers of olive tapenade, and a generous mixture of sharp cheddar and goat cheese.
Sabrina's Mediterranean Tomato Galettes. Individual sized galettes with roasted heirloom tomatoes in a variety of colors with red onions, kalamata olives, and feta cheese marinated in olive oil, lemon juice, garlic, and fresh cayenne pepper from my garden.
Which would you choose?!