Some advice I've recently been given: If you have beans on hand then you have a meal. This Tuscan Bread and BeanSoup recipe can really feed the crowds and they'll enjoy every bite. My friend Halen, who weekly feeds a big group of her friends, once told me that if she was going to have a few extra people over unexpectedly, she'd just throw in a few extra cans of beens to the soup, stew, or tacos she made. I found this to be sound advice for when I make a big meal now and again.
Around the same time as hearing my friend's advice, I picked up a book my sweet husband gifted me last year, An Everlasting Meal. I poured over every chapter underlining and earmarking many pages.  Much of the advice in this book falls in line with my friend Halen's good sense.  First of all the byline of the book, Cooking with Economy and Grace, should tell you a lot about the style of Tamar Adler's writing.  She looks to tell her readers how make a delicious meal with even the humblest ingredients. Her philosophy being:  cook fresh ingredients right after you purchase them, make use of the bones, skins, and peels that we often discard, and almost all kitchen mistakes can be remedied.  Ideas I hope to live by in my kitchen!
The ingredients for this soup are simple: beans, broth, vegetables, and bread.  It's a hearty peasant dish from Italy that's affordable to make and improves if made a day ahead. I found beautiful cranberry beans at Liberty Heights Fresh, and asked for a loaf of their day-old Rustic Italian bread, which made for the perfect addition to this soup.
As far as beans are concerned, Tamar dedicates a whole chapter on this simple and often overlooked ingredient.  She explains that beans were used to feed gladiators in ancient Rome and that beans only get better after a few days, 'sitting, gorged, and swelled, like a happy fat boy' (a word picture that must make you smile).  I must admit that I wasn't giving beans the proper attention they deserved in my cooking.  Much like stale bread that often gets regarded with suspicion, beans are easy to disregard.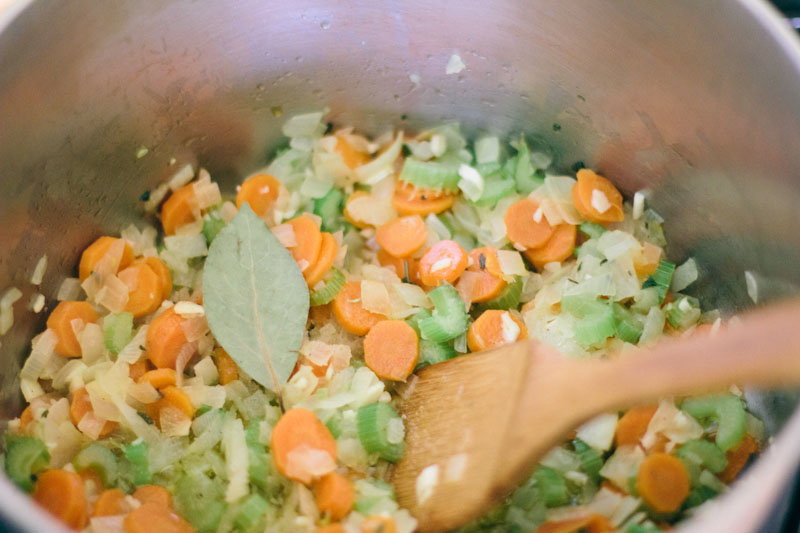 This recipe makes good use of both of these overlooked ingredients, beans and day-old bread, and places them at their rightful place, in a tasty, timeless soup. This Bread Bean Soup Recipe is a treasure found in The Chez Panisse Cafe Cookbook, a cookbook written by Tamar Adler's mentor, Alice Waters. I've altered the recipe slightly to include more seasonally fresh ingredients which I found at Liberty Heights Fresh.
Tuscan Bread and Bean Soup
A traditional Tuscan Bread and Bean Soup Recipe.
Ingredients
1

pound

fresh cranberry beans

extra virgin olive oil

1

shallot,

diced

1

teaspoon

thyme,

chopped

salt

4

stalks of celery

4

carrots

2

medium onions

1/4

teaspoon

chopped rosemary

1

teaspoon

chopped sage

1

bay leaf

5

cloves

of garlic

1

bundle of kale,

washed and torn into 1 in leaves

3

ripe tomatoes

6

cups

chicken broth

1

loaf day-old Italian-style bread,

cut into 1 in pieces

pepper

Parmesan Reggiano Cheese for garnishing
Instructions
Soak cranberry beans over night, covered in water by 1 inch. The next day, drain the beans. Sauté a diced shallot in a couple tablespoons of olive oil, add the beans and thyme and a dash of salt, then cover with water by 1 inch and cook for about 30 minutes, or until soft but not falling apart. Reserve cooking liquid and set aside.

While beans are cooking, dice the celery, carrot, and onions. Warm 1/2 cup olive oil in a heavy-bottomed soup pot. Saute the diced vegetables, stirring occasionally, until softened, about 10 minutes. Add the rosemary, sage, bay leaf, garlic and 2 teaspoons of salt. Cook for a couple of minutes. Finely chop the tomatoes and add into the mixture cooking for another 5 minutes. Cover with the broth and simmer for 30 minutes. Add the beans and 1 cup of their cooking liquid -save any extra liquid in case more is needed later. Taste for saltiness. Cook for an additional 5-10 minutes then remove the bay leaf.

Meanwhile, coarsely chop the kale or tear into bite sized pieces, and cut the bread into 3/4 inch cubes- you will need about 6 cups of loosely packed cubes. Day-old (or several days old) bread is best; otherwise dry the cubes in a low oven. Add the kale to the soup, cooking just until it's wilted. At this point you can also add the bread or serve the soup with the bread to be mixed in with each portion. I personally like to toss a handful of bread into my bowl, then ladel the soup over the bread. I top it all off with grated Parmesan-Reggiano.
Notes
This soup is even better the day after it's made. A few tips - for more flavor add a piece of meaty prosciutto bone or a thick slice of pancetta to the beans. To thin the soup, add more broth or bean liquid, or water. The bread can be added in even if you're serving the soup the next day, or you can store the bread and mix it in right before serving.