Okay so this post isn't really going to be all about healthy sweet potato muffins.  BUT I will start by saying that the muffins are perfectly sweet, with a super most center, and crunchy streusel topping.  You want to make these and then you'll want to make them again and again. Done I said it.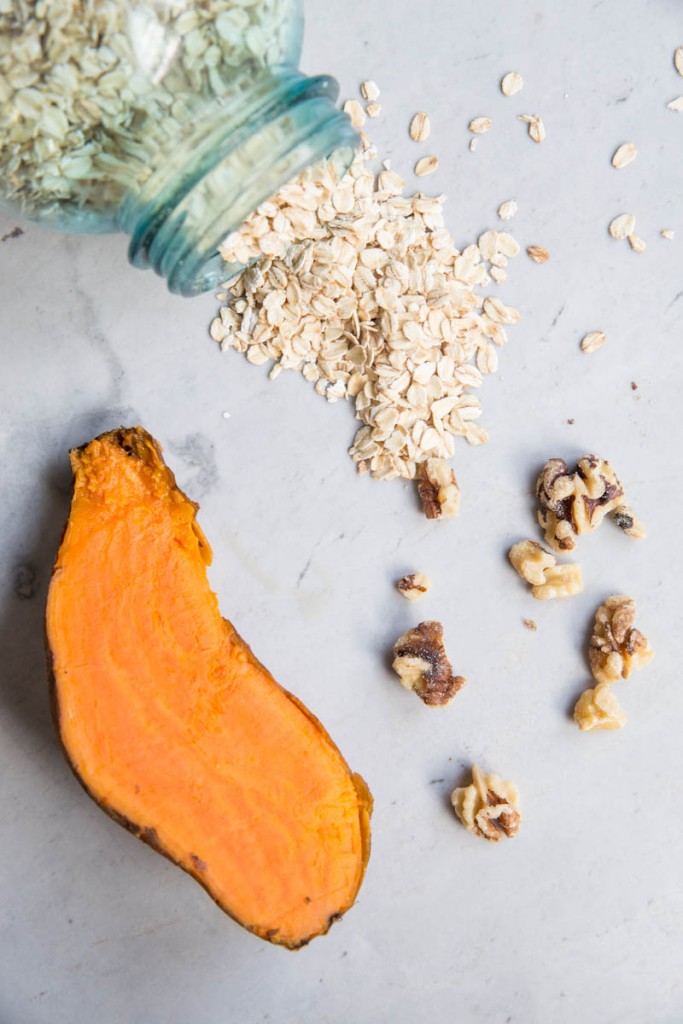 What this post really is about is some family news.  We're selling out house and moving.  Not too far away we hope.  We'll be staying in Salt Lake and we even hope to stay around our same neighborhood but we just need a different set up as our home. For years we've been on the cusp of selling our little bungalow but just couldn't pull the trigger.  There was travel, lots and lots of travel.  And new projects (like writing a cookbook), coffee shop openings, among so many other things that drove us to just stay put.
But now, we have something to really light the fire under us.  I'm pregnant!  Yes, that's the real news of this post.  I'm about 13 weeks along, feeling much better after a dreadful 1st trimester, and excited to share this news with all of you.  We are thrilled to grow our little family, to see Everett become a older brother (he's already busting with plans), and to meet the new person that we are blessed to parent and participate in life with.  Everett is pulling for a girl (a pink princess to be exact) but I must say that I loved being a mama of a boy and I can't imagine much different. Either way, what a joy?!!
So there you have it friends… baby's coming, big move on the way, and beautiful sweet potato muffins. Please pray we can sell our home quickly, and find a home that fits our family (maybe even with a dishwasher – fingers crossed – I haven't had one in the 10+ years we've been married).  Thanks for sharing in this excitement with me 🙂  Have a wonderful day.
Sweet Potato Streusel Muffins
These Healthy Sweet Potato Muffins are perfectly moist, and lightly sweet, topped with a crunchy nut and oat streusel.
Ingredients
streusel
1/4

cup

brown sugar

1/4

cup

oats

1/4

cup

chopped walnuts

2

tablespoons

walnut oil*

2

tablespoons

flour

1/4

teaspoon

cinnamon

dash of salt
muffins
2

cups

whole wheat pastry flour,

or white whole wheat

1

tabelspoon baking powder

1/2

teaspoon

salt

1/2

teaspoon

cinnamon

1/4

teaspoon

nutmeg

1

cup

mashed sweet potatoes

2

large eggs

1

cup

almond milk

1/3

cup

brown sugar

1/4

cup

pure maple syrup

1/4

cup

walnut oil*

1

teaspoon

vanilla extract
Instructions
Preheat oven to 400 degrees and prepare a 12 muffin pan by greasing or lining with paper muffin liners.

Make streusel by combining all ingredients together and mixing well with a fork or small whisk. Set streusel aside.

Get out two bowls. In one, mix together all of the dry ingredients from the flour to salt. In the second bowl mix together wet ingredients until there are no clumps. You may use a immersion blender if you want it to be really smooth but that's not needed. Make a well in the dry ingredients and slowly add in the wet ingredients using a fork to combine the wet into the dry. Mix just until incorporated.

Divide out batter into the prepared muffin pan. Top with streusel (if you don't use all of the streusel you can save the rest in your refrigerator for another batch of muffins).

Bake for 15-17 minutes or until a toothpick comes out clean. Cool in the pan for 5 minutes then transfer to a wire rack to cool completely.
Notes
If you can't find walnut oil feel free to sub the oil with melted coconut oil or canola oil.