If you follow my instagram feed you've been exposed (as have I) to a lot of corn lately. And I'm not talking about candy corn though tis the season for that as well, but farmed Iowa Corn. Last week I had the opportunity to visit Iowa and learn more about the corn industry and now I'm here to report back some facts along with my dear friend Sandy's recipe (slightly altered) for Sweet Potato, Black Bean and Corn Salad. I hope you'll pour another cup of coffee and sit and stay awhile because I have a lot to share with your about corn and I promise you'll learn something too!
Oh and before I go any further… here's a quick video tip on how I like to shuck corn:
<
How to Shuck Corn
from
Becky Rosenthal
on
Vimeo
.
Place a smaller bowl upside down in a larger one. Shuck the corn. Then, hold the corn cobb upright onto of the smaller bowl and slice down vertically. All your kernels fall into the large bowl. Walah!
Before I even arrived at the hotel or even landed in Iowa I already had a few learning experiences about the corn industry. I found my seat next to the window on one of the smallest airplanes I've flown in and squeezed past the older gentleman sitting in the isle seat. The man was dressed in a brightly colored plaid flannel shirt and comfortable levi jeans. We started to chat, mostly about his grandkids and my sweet boy that I had just left at home. His sun kissed skin and tender blue eyes made me quickly feel at ease as if I was talking to my own grandfather. After talking family for a good bit, I found out he was a farmer, a corn farmer in Iowa. What are the odds?!  I poured on the questions and he generously answered them. He said, "You have to be rich to be a farmer these days.  The price of land is just too high." And when I asked him about corn and GMOs he said, " It's not like when I was a kid, we had to spay all of our crops. My dad even sprayed the walnut tree with DDT. I have good friends with cancer because his farm used a lot of pesticides so I feel lucky. Now with the GMOs we don't have to spray as much and I get more bushels per acre than I used to."  I asked more and more questions, many of which he didn't know the answer for, like what foods his corn goes into etc etc. We ended our talk back on the subject of family and parted ways, leaving me with a start to a new perspective.
Side Note:  I'm not a fan of GMOs so this trip was, at times, challenging for me and also eye opening.  I must say that it was good for this city girl to see something besides a food documentary on the subject. Meeting the real farm families behind the industry does alter my hue on the subject.
Then on my way from the airport to the hotel, my crab driver, a top hat wearing, gospel choir singer, told me his thoughts about Iowa Corn. He said, "Its feeding people and that's what matters."  I liked that, it felt good but is the corn really feeding people or feeding animals… I still had more questions.
The next day we met up with to Iowa Corn representatives and a few farmers. I quickly learned that Iowa has produced the largest corn crop in the US for two decades so I think it's safe to say they are the corn experts.  But the type of corn I was imagining in my head wasn't the type of corn they are producing. Once we stepped onto one of the big corn farms and the farmer showed us a corn cobb from his crop I immediately knew something was different. This is what they call 'field corn.'  So, it's not the sweet corn that we're used to consuming off the cobb, frozen, or in the can. Iowa's corn industry is actually only 1% sweet corn. Field corn is dried and then used for animal feed, ethanol (a fuel that many nascar races use), and processed foods in the form of corn starch, corn oil, corn syrup etc. Just turn over a few products in the grocery isle and examine a label for corn… it's in almost everything.  IowaCorn.org estimates that it is in over 4,000 products.  This field corn cobb is the color of an Iowa sunset and grows perfectly, all kernels in tact.
Every farmer I talked to brought the discussion back to one thing… family.  This was their reason for farming.  It's the type of life farming provides that families are drawn to; a rhythm where everyone under the roof helps out and responsibility is learned at a young age. Fathers are looking for something solid to pass along to the next generation. Sons are taking on what several generations before them put their own blood ,sweat and tears into. Wives and grandmothers don't sit back an cheer from the bench but are also running the equipment, feeding animals, and cooking meals for the farm staff. And kids are playing with toy combines not iPads. It's a business, dollars come in and out. but it's way more than that.  One farmer told the story of his dad coming home from the hospital after a serious diagnosis and all he wanted to do was sit outside and watch his son drive the combine for hours.
Harvest season is in full swing in Iowa. They say it's the best time of year… the culmination of all of the hard work. You're up early and sneak into bed late if your a farmer this time of year. But it's exciting!
What I saw in Iowa was the beauty of the American farm life.  It's hard work y'all!!  The kind of work that welcomes a good Pioneer Woman meal and the kind of hard work breeds deep bonds within families and communities.  Though my mind was swirling with questions about GMOs, organic labeling, processed foods and the like, I couldn't help but focus on the sincere offering that these hard working farmers were committed to providing… thriving crops and a family-centered farm life.
I'm not addressing GMO's head on here because I don't feel like I have the full picture of both sides of the story.  I must say that it can be overwhelming being a consumer these days (organic or not organic, gmo or non gmo etc etc)  and having to keep up with all of the latest information on our food systems is exhausting!!  I need a glass of wine just writing this!! I do feel though, that fear is not a good place to be in regards to our food… we must inform ourselves so that we can confidently feed our families and enjoy our food!  And I had to remind myself that farmers respond to what consumers want, so we have to remember our part in all of this.  Farmer crops are market driven. I hope you learned a few things here and maybe this will be a kickstart to learning more. I know it was fore me! Here are a few websites that give  information on the subject (for both sides) as well as a few farming resources.
What does a GMO effected corn plant look like
And the recipe… it's a good one that we make often at our house!
Sweet Potato, Black Bean and Corn Salad Recipe
A spicy sweet potato, black bean and corn salad recipe great on its own or in quesadillas, burritos or nachos.
Ingredients
4

medium

sweet potatoes,

or 3 large, chopped into bite size cubes

2

tablespoons

canola oil

1/2

teaspoon

ground coriander

1/2

teaspoon

ground cumin

1/2

teaspoon

chili powder

1/2

teaspoon

kosher salt

3-4

ears

fresh corn,

kernels removed (1 cup)

2

cups

black beans,

1 whole can rinsed and drained

3

scallions,

chopped

1/2

cup

cilantro,

chopped

1-2

chipotle peppers in abodo sauce,

depending on your desire for spice, 1 is medium 2 is hot

1 1/2

tablespoons

abodo sauce,

from the canned chipotle pepper

1

tablespoon

honey or agave

2

cloves

garlic

4

limes,

juiced

3/4

cup

canola or mild olive oil
Instructions
Preheat the oven to 375 degrees.

Slice the sweet potato into 3/4 inch chunks. In a large bowl toss the sweet potato chunks with the oil. Lightly coat them with coriander, cumin, chili powder, and salt. Toss again. Spread the potatoes in a single layer on a foil lined baking sheet and roast until their golden on the edges and just tender about 25-30 minutes meanwhile steam or microwave the corn and a small amount of water from 3 to 5 minutes. In a large serving bowl combine the corn and drained black beans.

To make the dressing, in a blender or food processor add the chipotle chili, garlic cloves, honey and abode sauce and process until mixture is smooth. Add the lime juice and process again. Then while the machine is running, slowly pour in the canola oil and process dressing until emulsified (or thickened and not separated).

When the sweet potatoes are done let cool slightly and add them to the corn and beans. Add the scallions and cilantro and gently toss. Pour half of the dressing over the salad and toss again. Use the other half to serve alongside the salad as people can add more if they choose.
Here are a few photos from our trip:
Giant combine on a giant corn field
Iowa Sunset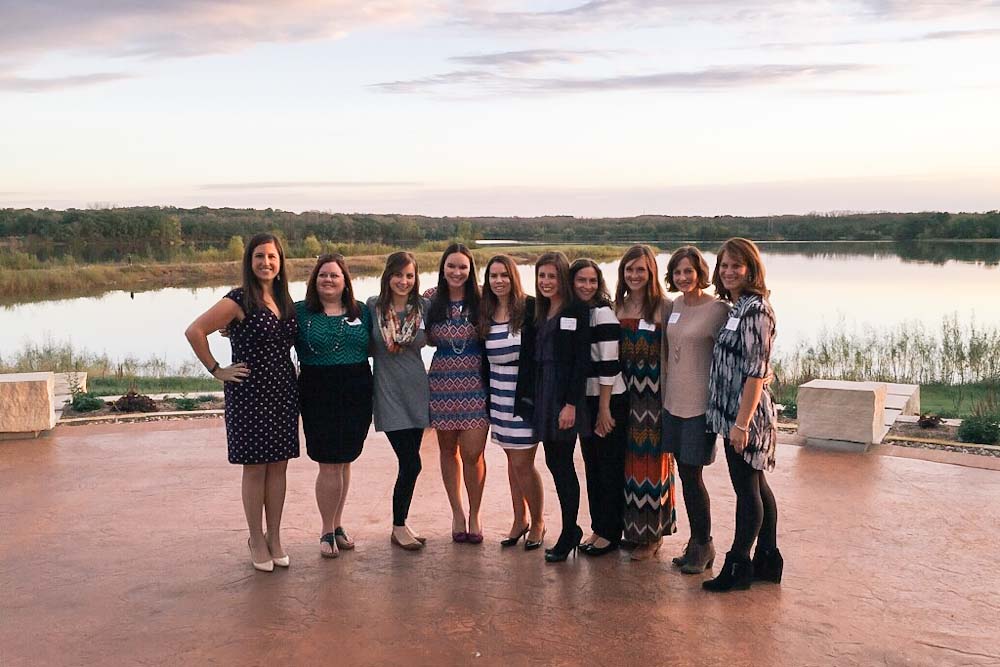 The group of bloggers for Iowa Cornquest 2014
At the end of our trip we all made and shared different corn recipes form our blogs. Here are the gals that I met and their corn recipes:
Lisa and Anna of Garnish with Lemon @garnishwlemon – Grilled Corn, Tomato Mozzarella Salad
Tanya from Lemons for Lulu @Lemonsforlulu – Salad with Black Beans and Edamame
Julianne from Beyond Frosting @beyondfrosting – Deep Fried Cookie Dough
Lindsay from Life, Love and Sugar @Life_Love_Sugar –Cinnamon Swirl Cupcakes
Angie from Big Bear's Wife @bigbearswife – Creamy Corn Chowder
Liz from The Lemon Bowl  @TheLemonBowl – Cheesy Chicken Enchilada Farro Bake
Erin from The Law Student's Wife  @LawStudentsWife – Southwest Farro Salad with Corn and Tomatoes
Stephanie of  Girl Versus Dough @stephmwise – Blue Cheese Buckwheat Cornbread Muffins