It was my grandma who first introduced me to this savory Squash Custard and I'm so glad she did. In my early years of cooking I over did it on sautéed squash and zucchini. It was one of the easiest vegetable dishes to whip up, slice and sauté with some oil and seasoning (probably something like lemon pepper). Then I would enjoy a these veggies open faced on thick bread with a slice of cheese on top. What you're not drooling at the sound of this??  Yeah, I know it's not one of my proud moments of cooking.
While zucchini has plenty of other uses besides finishing on a sauté pan, like these cookies, this bread, or these noodles (yes you must try Zucchini noodles if you haven't already!), squash just doesn't have the variety. So when I spotted this recipe which I remembered from my childhood in one of my grandmothers notebooks, I knew I had to recreate it.
This recipe is super simple.  Once the squash is lightly steamed, mix all of the ingredients together then bake.  The end result is a smooth savory yet sweet custard bringing out the best flavors of the yellow vegetable that we all sometimes get weary of.
Today you'll find new ideas using familiar vegetables all over the web. All of the recipes below use one or more current seasonal ingredient from carrots.  So if you're looking for a new use for something as boring as squash, I hope you'll find one.  And follow the hashtag #eatseasonal on instagram for more inspiration.
Healthy Whole Grain Zucchini Bread Pancakes by Bless This Mess
Raspberry Swirl Frozen Yogurt Pie by Cookin' Canuck
Savory Summer Squash Custard by Vintage Mixer
Zucchini and Yellow Squash Noodles with Turkey Sausage Bolognese by Flavor the Moments
Potato and Egg Breakfast Boats by From Gate to Plate
Raspberry and Brown Sugar Bourbon Fizz by Floating Kitchen
Zucchini and Green Bean Sauté by The Lemon Bowl
Triple Berry Scones by Simple Bites
Heirloom Tomato, Zucchini, Caramelized Onion and Feta Galette by FoodieCrush
Blackberry Buckle by Mountain Mama Cooks
Grilled Summer Squash with Sun-Dried Tomatoes and Basil Ghee by Project Domestication
Zucchini, Corn and Pesto Flatbreads by Kitchen Confidante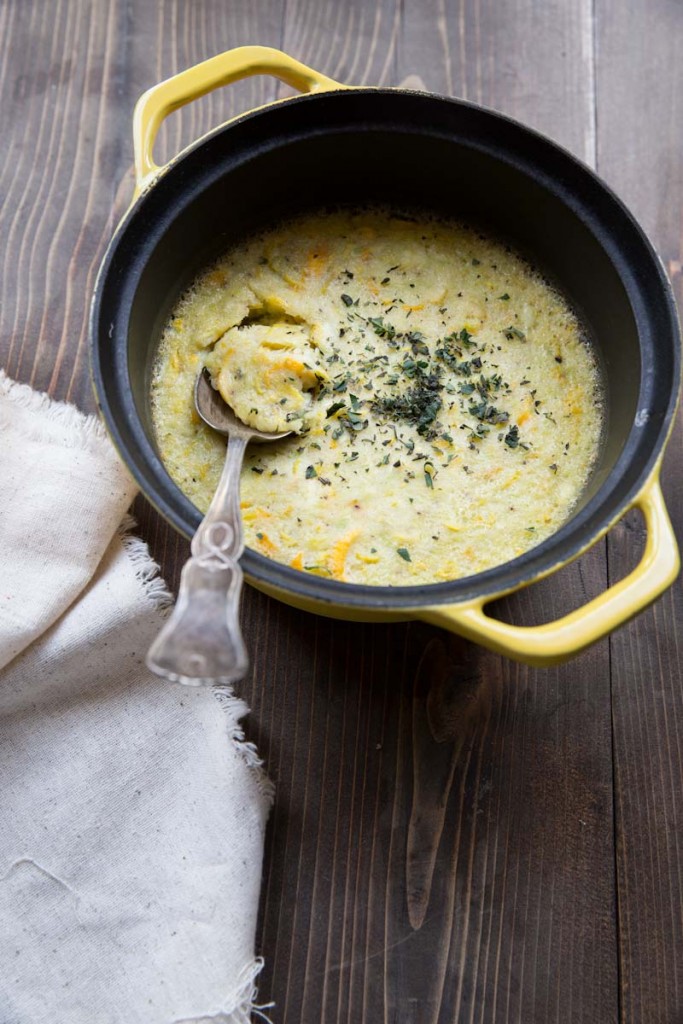 Summer Squash Custard
A class squash custard recipe using fresh summer squash.
Ingredients
3

small or 2 medium squash

3

eggs

2

tablespoons

flour

1/4

cup

sugar

1

teaspoon

salt

1/2

teaspoon

pepper

2

tablespoons

butter,

plus more to grease the dish

herbs to finish
Instructions
Preheat the oven to 350 degrees and prepare a small round baking dish by greasing with butter.

Fill a steamer pot with water and bring to a boil. Meanwhile, rinse the squash then slice into 1/2 inch rounds. Steam the cut squash until cooked but still slightly crunchy, about 8-10 minutes. Then lay out to cool on a baking sheet.

Mix together the eggs, flour, sugar, salt and pepper. Melt the 2 tablespoons of butter.

In a blender or food processor, combine the squash and egg mixture. Pulse to combine, leaving small pieces of squash throughout the mixture. Stir in the melted butter and pour into prepared baking dish.

Bake for 45 minutes or until set. Dust with finely chopped herbs or crumbled bacon and serve hot.