I just can't get enough of the strawberry-rhubarb combo this season. I've make Strawberry Rhubarb French Toast, made a compote for ice cream, and now I used it for this Strawberry Rhubarb Oatmeal that I made in my favorite weck jars.  I'm a big fan of taking my breakfast with me on-the-go but I just can't sacrifice flavor or quality since breakfast is my favorite meal of the day. I made this oatmeal at the beginning of the week then enjoyed it all week long with some steamed milk and honey on top.
Ever since Josh and I have been back from Europe we've been recovering from jet lag in our garden. Gardening keeps us alert and awake until we think its a decent time to give in to sleeping, which I admit has been before 9 a few nights lately. Its a good thing our garden needed a lot of help because we've had a lot to do to keep us from hitting the sack too early.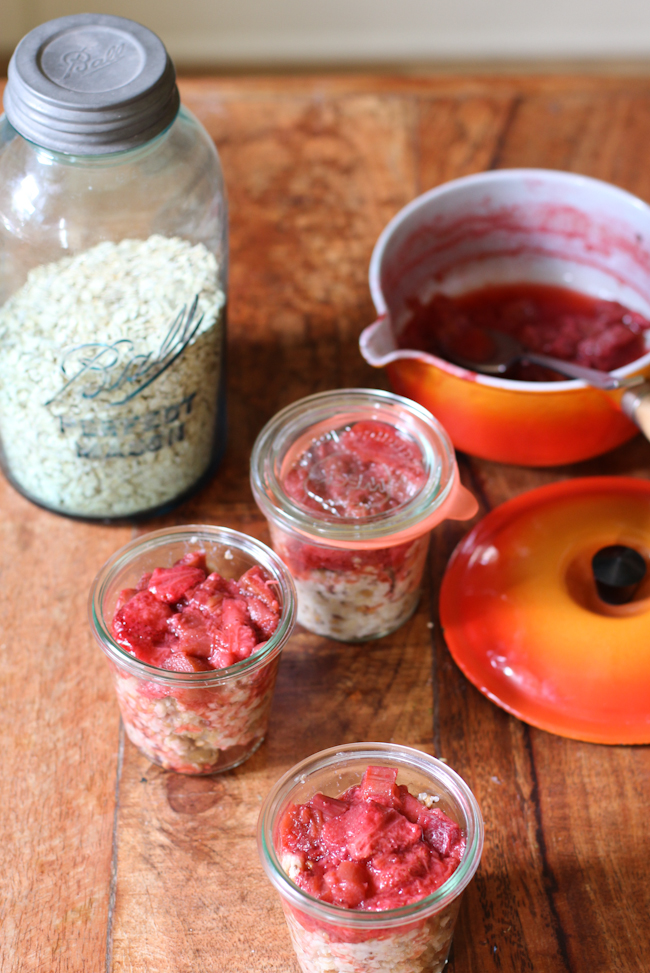 I must say that lately I've had a little bit of garden envy. I'm starting later than everyone this year so I feel a little behind.  I visited my friend Casee's garden, from Amour Spreads, and was totally in awe of her beautiful array of greens she has growing, which I have yet to plant even. Also, I'm going on my forth year for my rhubarb plant, yet I have yet to see a pink stalk.  My plant is huge but there is not pink to be seen, only green stalks and lots of huge leaves.  If you have any advice on the matter, please do share!!
Luckily, I have good friends with bountiful gardens who were willing to share their precious produce with me.  Thanks Jess for the rhubarb that make such a delicious topping for my oats.
Strawberry Rhubarb Oatmeal and Farro in a Jar
Ingredients
1 cup steel cut oats
1/2 cup farro
1 tablespoon flax seeds
1 tablespoon chia seeds
1/2 teaspoon cinnamon
1 cup sliced strawberries
1 cup rhubarb
1/4 cup water
1/4 cup sugar
Instructions
for farro

Combine farro and a few cups of water in a large, heavy saucepan over medium heat. Cover and simmer, stirring occasionally, until the farro is tender, 45 minutes to an hour, or about half the time if you are using semi-pearled farro. Taste often as it is cooking, you want it to be toothsome and retain structure. Remove from heat, drain any excess water, and set aside to combine with oats.

for oatmeal

Combine 1 cup steel cup oats, chia seeds, flax seeds and cinnamon with 3 cups of water and bring to a boil, then simmer for 20-25 minutes. Add water if necessary. Mix in farro.

for strawberry rhubarb compote

Mix strawberries, rhubarb, water and sugar in a small saucepan and simmer until it becomes a thicker sauce, about 10-15 minutes.

in a jar

Fill jars to about 3/4 full of the oat/farro mixture then top with strawberry rhubarb compote. Store in refrigerator and heat in microwave in the morning-time. Enjoy.
https://www.thevintagemixer.com/strawberry-rhubarb-oatmeal-in-a-jar/
https://www.thevintagemixer.com