Like Vintage Mixer on Facebook
I have had this recipe stuck in my head for months, just waiting for the right time and right ingredients to create it. If you've never had burrata, many call it the dreamy, creamy cousin to mozzarella, which I found to be quite fitting. My first experience with burrata caused me to instantly fall in love with this unbelievably velvety cheese. We were visiting friends and they planned a delicious weekend of all of their favorite restaurants and coffee shops in LA. The Burrata Salad I had at The Upper
West restaurant in LA was a mix of a Caprese and Panzanella salad with both bread and tomatoes plus the memorable addition of fruits, which is what I took home in my mind for inspiration. What ended up on my plate was seasonal stone fruit, found at Liberty Heights Fresh, tossed with toasted bread (I used a lemon basil baguette I found at whole foods), fresh basil, then topped with burrata cheese and a drizzle of a sweet balsamic vinegar. This is what dreams are made of (at least mine are :))!
This salad paired perfectly with our holiday weekend as we relaxed at our friend's house. Our friends were leaving town and offered their well air-conditioned home to us, as we were just dying in the heat last week in our non air-conditioned home. Ironically, it cooled down this weekend and even rained but we enjoyed the getaway none the less. We actually ended up spending most of the weekend in their backyard, sitting on the covered porch and enjoying the strong summer rain storm.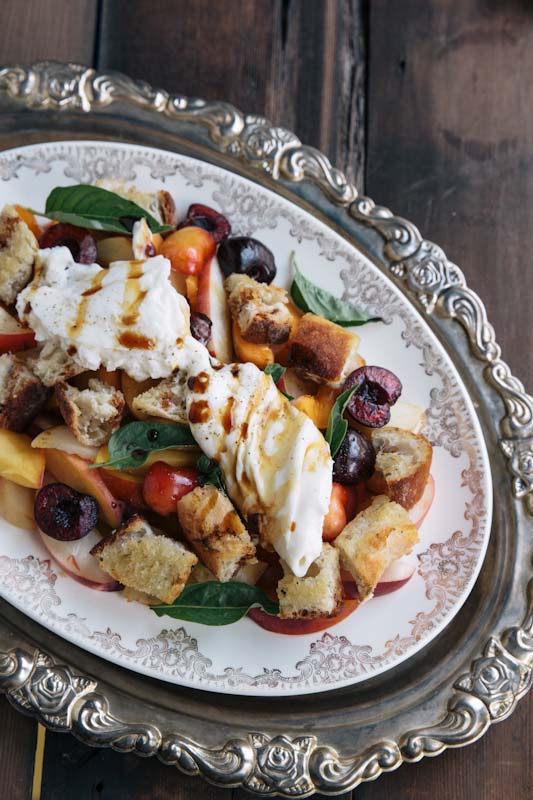 It was quite dreamy to sit under a blanket, toasty warm, coffee and baby in hand, and just watch the rain pour down through the trees. I could have sat there for hours, or maybe I did (read this magazine cover to cover one morning). Josh, Everett, and I took in every moment of the change in the weather, as we lounged outside (oh and Henry was there too, of course). One day I hope for a nice covered porch with a spot to dine, where we would watch the rain, eat meals outside independent of the weather, lounge and read, dine and drink with friends, and whatever else I can come up with. This is one of my silly dreams and maybe it won't come true but for now I will treasure the memory of our porch covered weekend.
ingredients for this recipe can be found at Liberty Heights Fresh
Stone Fruit and Burrata Salad
A summer fruit and bread salad topped with burrata cheese and balsamic vinegar. This is a fresh recipe combining the classic caprese and panzanella salads.
Ingredients
6

stone fruits,

peaches, nectarines, apricots etc

handful of cherries,

pitted and sliced in half

1

cup

crusty bread cubes,

day old baguette works well

10

basil leaves

burrata cheese

balsamic vinegar *

olive oil

salt and pepper
Instructions
Slice the stone fruit and cherries and cube the bread in 1/2 inch squares.

Heat about a tablespoon of olive oil in a skillet and toss the bread. Cook until toasted and lightly coated with oil. Season the bread slightly with salt and pepper.

On a large plate or platter arrange the fruit, bread and basil. Top the fruit with a couple spoonfuls or slices of burrata (it's soft so don't expect it to be pretty!).

Drizzle the salad with a sweet balsamic vinegar and sprinkle a little salt and pepper on top.

Serve as a summer porch meal or side salad.
Notes
*Choose a sweeter balsamic vinegar, like LA Vecchia Dispensa, which is from Modena Italy (its the one with the red paint stamp on top). And you can use the leftover balsamic over ice cream or another fruity dessert or salad.