Making homemade bagels have been on my list to do for years now.  A few weeks ago now, I convinced Barbara from Barbara Bakes to teach me, and together with Ruthie from Cooking with Ruthie, we came up with three versions of Sprouted Whole Wheat Bagels to share with you today.  We started with a NYT recipe for whole wheat bagels then, after altering it a bit, we each came up with our own creation to share online. My bagel is simple, a straight up wheat bagel with a handful of wild blueberries carefully folded into the dough. I topped the bagels with Ruthie's streusel, simply because I couldn't resist how much better they looked at tasted with the added crunchy topping.
Barbara is a pro at pretty much any baked good.  Bagels especially need a special touch so she was definitely the right person to be baking with on this day.  Plus her and Ruthie are two of my favorite cooks to spend time with. We talked as our dough rose and then carefully watched Barbara as she created perfect rounds for her bagels.  I tried my best to create something as beautiful as hers but my little blue monsters were determined to look ununiform and unprofessional. Never the less, they tasted great.
To get the other two bagel creations from our morning check out these posts:
Barbara's Lemon Poppyseed Whole Wheat Bagels
Ruthie's Apple Streusel Whole Wheat Bagels
and for the streusel topping to put on any of these bagels, go to Cooking with Ruthie.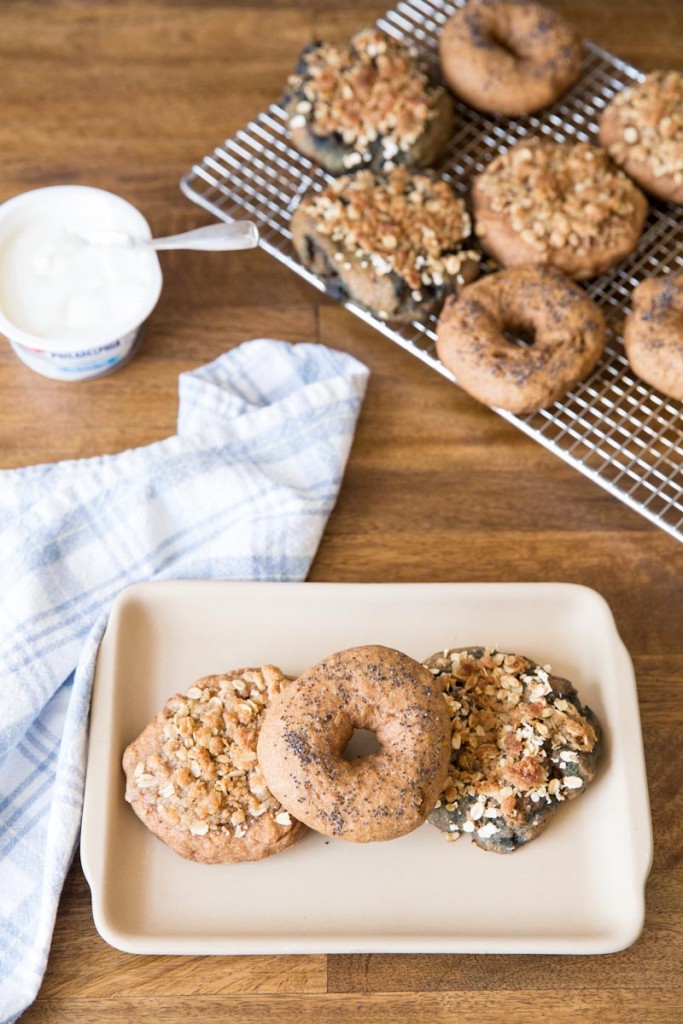 adapted from the NYTimes Whole Wheat Bagel Recipe
Sprouted Whole Wheat Bagel Recipe with Wild Blueberries
Sprouted Whole Wheat Bagel Recipe with Wild Blueberries and Streusel Topping make the perfect hearty breakfast.
Ingredients
4

cups

sprouted whole wheat flour

1/4

cup

vital wheat gluten

1 1/2

teaspoons

salt

2 1/4

teaspoons

1 package active dry yeast

2 1/4

cups

water,

120° - 130°

1

tablespoon

honey

1/2

cup

frozen wild blueberries*

2

tablespoons

baking soda

Cornmeal or semolina flour for baking sheets

Streusel Topping or Raw Oats for topping
Instructions
In the bowl of a stand mixer, using the paddle attachment, combine 3 cups flour, vital wheat gluten, salt and yeast.

In a small bowl whisk together water and honey. Add to flour mixture and blend at low speed until moistened. Beat 3 minutes at medium speed. Switch to the dough hook and mix in the remaining flour a little at a time, to make a soft, slightly sticky dough, add more or less flour as needed. Knead the dough for 5 minutes until smooth and elastic. Place dough in lightly oiled bowl and turn to grease top. Cover; let rise in warm place until double about 90 minutes.

Divide the dough into 12 pieces. Form each piece into a ball. Cover the balls with a damp towel and allow them to rest for 20 minutes.

Toss frozen blueberries with a little bit of flour (keep frozen until next step).

Line a sheet pan with a Silpat or parchment paper sprayed with non-stick cooking spray. Gently fold in 1/2 tablespoon of the wild blueberries into each dough ball. Poke a hole in the center of each ball of dough with your thumb. Rotate the dough as you gently stretch it to widen the hole to 2-inches in diameter. Place on prepared baking sheet, at least 1 inch apart. Lightly oil tops and cover loosely with plastic wrap.

Preheat oven to 425°.

Allow bagels to rest for 30 to 60 minutes, until just beginning to rise. To see if bagels are ready, drop one into a bowl of water. If it floats to the surface within 15 seconds, they're ready for the next step.

Line a second baking sheet with a Silpat or parchment paper sprayed with non-stick cooking spray. Sprinkle with cornmeal.

Fill a large stock pot with 6 inches of water and bring to a boil over high heat. Reduce the heat so water is gently simmering. Add baking soda. Drop bagels into the water two at a time and simmer for 30 seconds on each side. Use a slotted spoon to remove bagels from water and place on prepared baking sheet, rounded side up. Sprinkle toppings (streusel or oats) over bagels and repeat with remaining bagels.

Bake 12-14 minutes or until golden brown. Remove from oven and cool on a wire rack completely before serving.
Notes
Frozen blueberries can be hard to use with bagels because they tend to defrost and die the dough as you're trying to work them into the balls. Using smaller wild blueberries helps as well as keeping them frozen until right before using them and tossing them in some flour to prevent excess liquid getting into the dough. For an easier blueberry bagel try using dried blueberries.