This summer, we went to my lovely cousin's wedding in Vail, Colorado. While we were there, we had many scrumptious meals but one in particular left me inspired, Chicken and Peach Curry. Josh and I both love curry dishes, especially at our favorite local Salt Lake Thai Restaurant,
Chanon Thai
. What makes a great curry dish is, in my opinion, a slightly-sweet-yet-boldly-spicy sauce and the addition of lots of fresh crisp vegetables . I've made curry a few times at home but they left a bit to be desired. This recipe with fresh peaches, crisp green beans, and juicy chicken, is one for the books!
This month the produce share of the
Community Food Co-Op of Utah
included, fresh Utah peaches, a sack of perfectly ripe green beans, and lots of other great items. It was the perfect chance for me to try making the dish I'd been inspired by in Vail.
If you haven't yet heard about the Utah Food Co-Op, you must check it out. There is no subscription fee or monthly requirement. A produce share is only $14 and gets you a huge box of fresh and mostly local goods. Every month I'm encouraged to experiment with a new recipe because there is usually something in the box that I don't normally cook with. Inspired by what's in the box, or what I've tried lately at restaurants, I dive in to something new and unusual. This keeps cooking fun and adventurous.
I'd love to hear what inspires you in
the kitchen!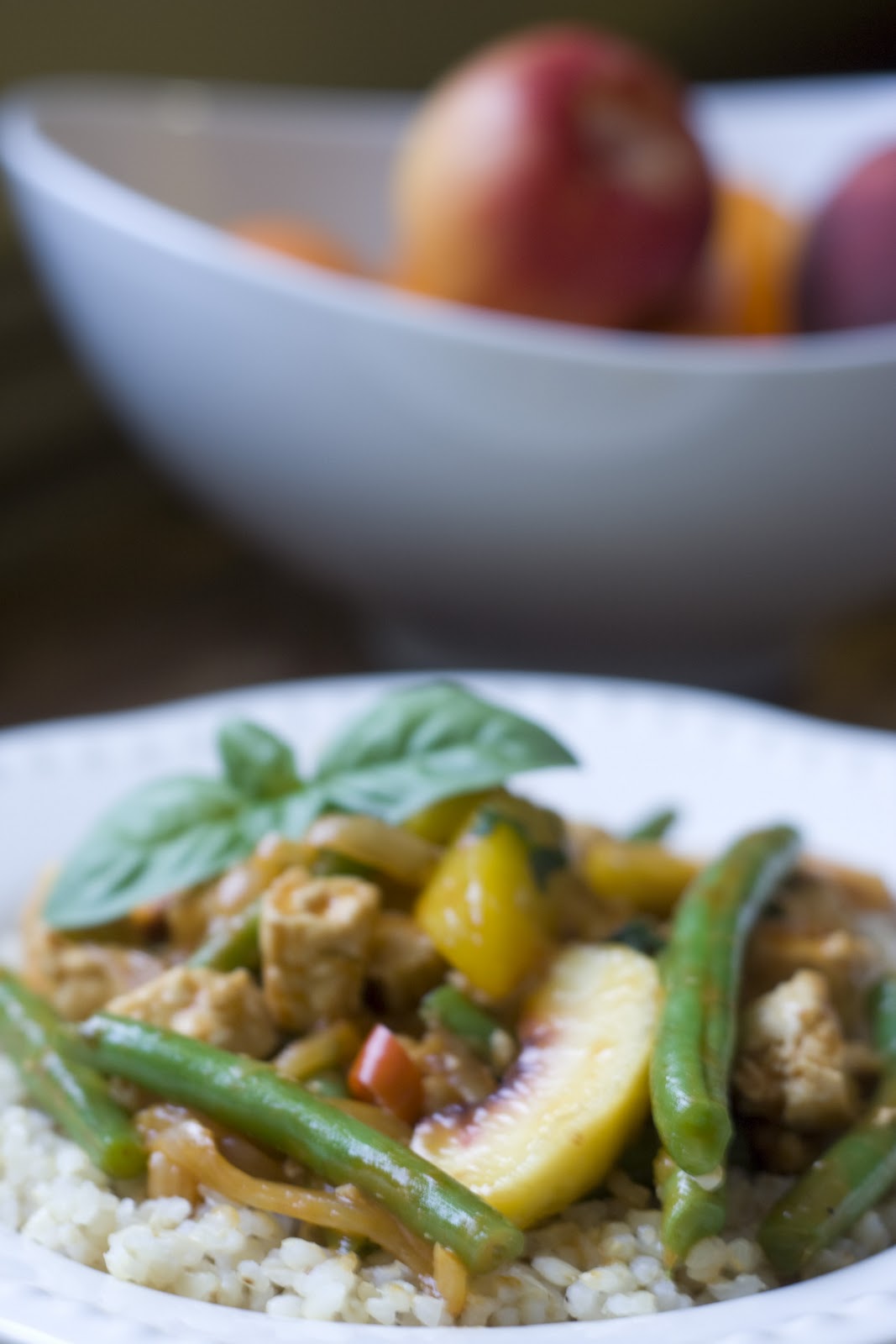 Chicken and Peach Curry
serves 4, total cook time 25 min
INGREDIENTS
2 large boneless, skinless chicken breasts
1 tablespoon vegetable oil
1/2 large onion, thinly sliced
1 clove minced garlic
2 teaspoons Thai red curry paste (for a hot curry, add 1/2 to one teaspoon more)
1 tablespoon sugar
1 teaspoons finely grated lime peel
1 cup light coconut milk
1 peach, skinned and sliced
2 handfuls of fresh green beans
1 small red pepper, (cayenne or other pepper) thinly sliced
1/4 cup fresh basil leaves, thinly sliced
2 tablespoons coarsely chopped cilantro, or green onion (optional)
Cooked rice
DIRECTIONS
Using a sharp knife, cut the chicken into 3/4-inch cubes; reserve.
Heat oil in a wok or frying pan over high heat. Add the onion and stir-fry for 2 minutes. Add the chicken and the garlic and cook until the chicken is golden-brown and almost cooked through, about 5 minutes. Add the red curry paste, sugar, lime peel, red pepper, and coconut milk and stir until well mixed. Bring to a boil and cook for 2 minutes.
Meanwhile, skin and slice the peaches. Add the green beans to the chicken mixture. Cook, stirring, for 2 minutes. Add peaches right before serving.
Sprinkle with basil, green onions and cilantro. Serve over rice.