I first visited Seattle exactly four years ago. Since then, I've visited Seattle a handful of times and after much exploring I figured this write up needed some major updates. I now know that this city is best explored as a foodie. Taste, smell, sip and savor everything that the sea port city has to offer from fresh crab to fresh flowers.
On every visit to Seattle I spend the majority of my time near Pike Place Market. When we're staying with friends I pick up some dried fruits as a snack and a beautiful bouquet of fresh flowers for our hosts.  On this latest visit with Girards I sampled the fresh honey crisp apples, tried the fresh Greek yogurt stand and picked up some orange honey covered hazelnuts.  I walked around the market, enjoying the company of new friends in the excitement of a bustling city. Here are a few favorites spot to visit and food items to pick up at the market:
Eats at Pike Place:
Ellenos Greek Yogurt -not frozen yogurt but creamy thick greek yogurt!
Le Panier French Bakery – pick up a sandwich on the go, sit and stay for a almond croissant or try a french macaron
Matts In the Market – for a nice sit-down seafood meal overlooking the market
Storyville – coffee shop with a good selection of breakfast foods
Pike Place Chowder – for award winning Clam Chowder (expect a line)
Beechers – for cheese, grilled cheese or mac and cheese
Piroshky Piroshky Bakery – savory and sweet handheld Russian pies
Crumpet Shop – European crumpet shop by Pike Place
Treats to Pick up at Pike Place:
Daily Dozen Donuts
Market Spice Tea
Fresh pasta at the pasta stand (you may just walk away with chocolate pasta)
Orange Honey Hazelnuts
Coconut covered fruit rolls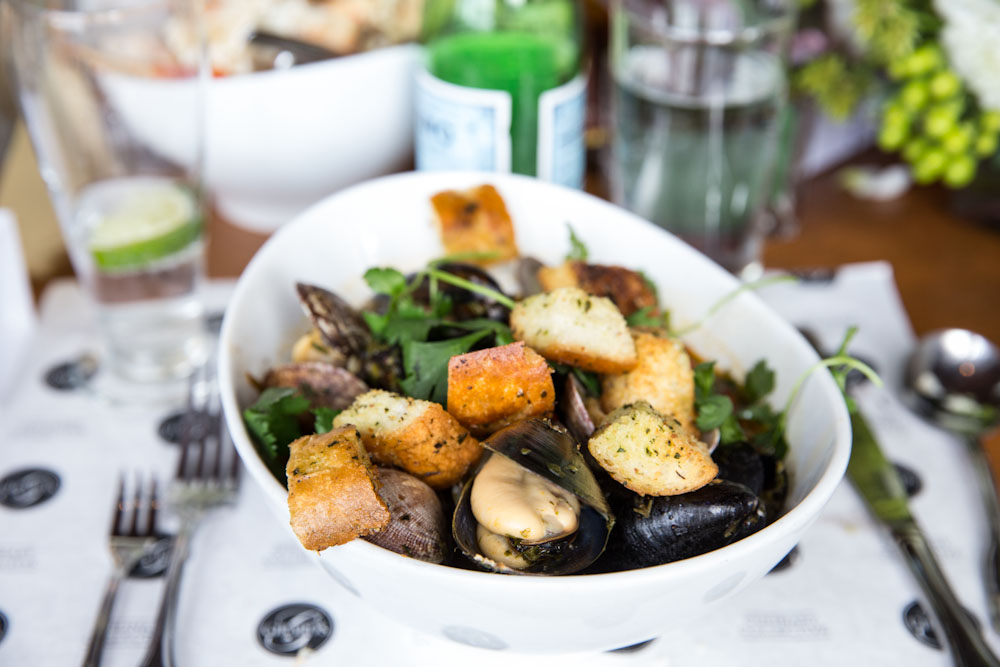 My favorite way to travel is to explore, get lost, find the hidden gems, and see a new place from the perspective of local culture. On my first visit to Seattle we got to walk around with some friends who were locals. They showed us the hot local spots, took us to a great lookout, took us on public transportation, and shared a few great meals together at local favorites. Here are some of their recommendations plus some other folks have recommended to me. Hope you can enjoy Seattle with a local someday!
Restaurant Recommendations:
Matt's In The Market – fresh seafood located in Pike Place
Miller's Guild – American nose-to-tail foods cooked in a custom wood-fired grill
Pink Door – Homespun Italian-American food with French circus decor
Salumi– Tiny downtown deli serving fresh-made salami
Cyclops – American brunch and late night cafe at the Ace Hotel
Crumpet Shop – European crumpet shop by Pike Place
Delancey – Pizza shop opened by local food blogger Orangette
The Walrus and The Carpenter – Seafood and Northwest cuisine
Cafe Besalu – Bakery and coffe house
Boat Street Cafe – American
Agua Verde – Waterfront taco cafe
Bakery Nouveau– Bakery
Dick's Drive In – Seattle's classic American burger joint
Eat Local – American Northwest
The Corson Building – American Northwest
Springhill – American Northwest dinner and brunch
Staple and Fancy – Rustic Italian
La Carta de Oaxaca – Mexican
Volunteer Park Cafe – brunch or sandwich lunch
Sitka and Spruce – a popular American Northwest restaurant in Melrose Market
Homegrown– sandwich shop
Coffee:
Storyville Coffee – comfortable coffee shop with tasty breakfast pastries in Pike Place market
Victrola– artisan 3rd wave coffee roaster with a cafe just 10 minutes from downtown
Things to do and beautiful views of the City:
View the City from the Queen Ann neighborhood
Space Needle
Pike Place Market
Seattle Public Library
Shops:
Paper Source – fun stationary store
Georgetown – antique district off the beat n' path
Susan Wheeler and Kirk Albert upscale vintage decor stores in Georgetown
Melrose Market – fresh food, flowers, and housewares
Glasswing– vintage and new fun fashions
Apolis Nomad Market– fun gift shop with cactus, leather goods and more
Places to Stay:
Ace Hotel Seattle
Hotel Max