We took our summer vacation a little early and hoped on a plane to meet my family in San Diego.  It was our first time visiting San Diego so we got plenty of great recommendations of great things to do and of course, restaurants to try!  Everett dipped his toes in the ocean for the first time and also had his first bite of lobster! We enjoyed the simplicity of daily pool outings, cooking simple meals, and just being near family. The grandparents just couldn't get enough of Everett's joyful spirit! And of course we took a million pictures, because that's what you do on family vacations, right?! (all photos were taken with our phones so excuse the quality)
We're not big amusement park types so we opted for only one day at a park and chose Safari Park. It's a bit more low key than Sea World or even the zoo and many animals get to roam free, which is just nice to see.
We took one day to ride the ferry to Coronado Island.  From there we found our way to the historic Hotel del Coronado, where we enjoyed white sandy beaches and some ice cream.
In downtown San Diego my friend Ana from We Love Citrus had great recommendations for places to eat.  She and I met up at Extraordinary desserts for a breafast pastry and caught up while our cute kiddoes babbled back and forth with each other.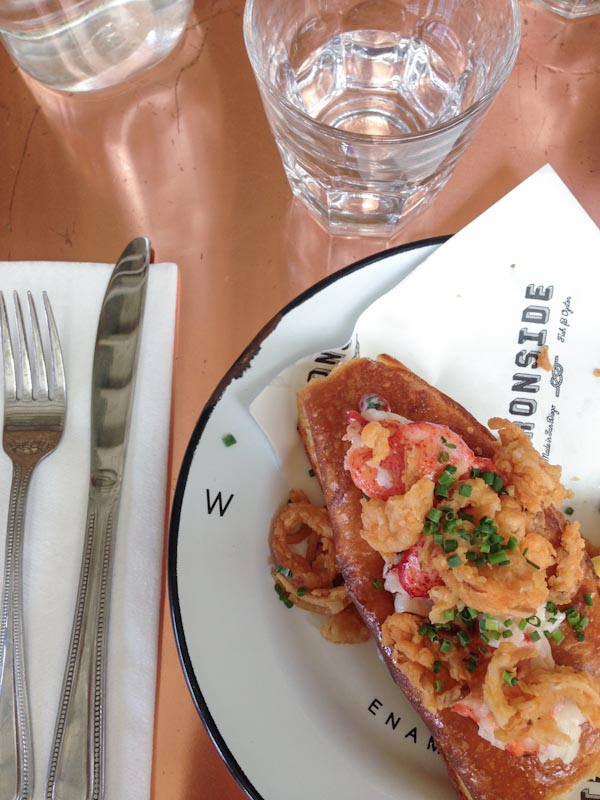 One afternoon in downtown San Diego, Josh and I  enjoyed walking around Little Italy and took a long lunch at Ironside, a oyster and fresh fish bar.  I gobbled up my very first lobster roll (Everett wasn't the only once experiencing some firsts on this trip) while Josh enjoyed the fish and chips. I'd go back here time and time again, if we lived closer! Great interior, lots of great cocktails, a raw bar, and you pretty much can't go wrong with their menu options!
We went out on a few coffee dates, as we always do when we travel.  Our favorite was the Coffee and Tea Collective.
One of the best parts of the trip, food wise, were all of the fresh fruit stands you couldn't help but find. They were everywhere.  We ate fresh cherries by the handful, sliced up avocado daily, and topped breakfast and dessert with nectarines, grapefruit, and blueberries. Not to mention the dried persimmons Everett munched on every day.
It was a relaxing trip, as any beach vacation should be.  And after this first taste of San Diego I know we'll have to come back for more.  Here are a few recommendations (some from us and most from my friend Ana).
To do:
Coronado Island and visit Hotel del Coronado
Eats and Drinks:
Extraordinary Desserts
Food on Coronado Island:
More ideas on my San Diego Vacation Pinterest Board
And a few more photos: