I have a fun story for you today!!  It starts with this recipe for roasted chicken over barley, sweet potatoes and cranberries and an invitation from Kroger to hear about a new product line.  We weren't given many details, just a warm invitation and a note that more would be coming.  So, we worked out all of the logistics and I accepted the invitation, packed my bags, and boarded a plane to Cincinnati.
There were seven other bloggers who joined me on this fun excursion: Diane, Jeni, Maryanne, Robin, Capree, Tanya, and Kelly. It turned out to be the perfect group.  I laughed harder with this group of gals than I have in a long time!
Back to my story… As we headed from the airport to our hotel, 21C, we all started speculating about why we were here and what the product could be. Filled with anticipation and hunger from the long flight, we checked in then headed out to a swanky little mexican restaurant downtown, Nada.  That night we grabbed cocktails on the hotel rooftop and enjoyed getting to know each other.
The next morning, over a tasty breakfast, we were given another clue and a challenge.  We all received a list of three ingredients to make a dish from and then took a trip to the grocery store (Kroger, of course) to get any remaining ingredients for our dishes. In a grand, fully equipped commercial kitchen, we all got to work.
My ingredients: chicken, sweet potato, and cranberries.
We had three professional chefs, one being a professor of culinary arts, help us with our recipes.  I learned the valuable lesson of how to cut up a whole chicken before roasting it.  This trick cuts the roasting time in half and also ensures that the skin stays on each individual piece of chicken. The result, perfectly juicy chicken with crispy browned skin.  Check out the video of Chef Alan Neace teaching me how to cut a whole chicken.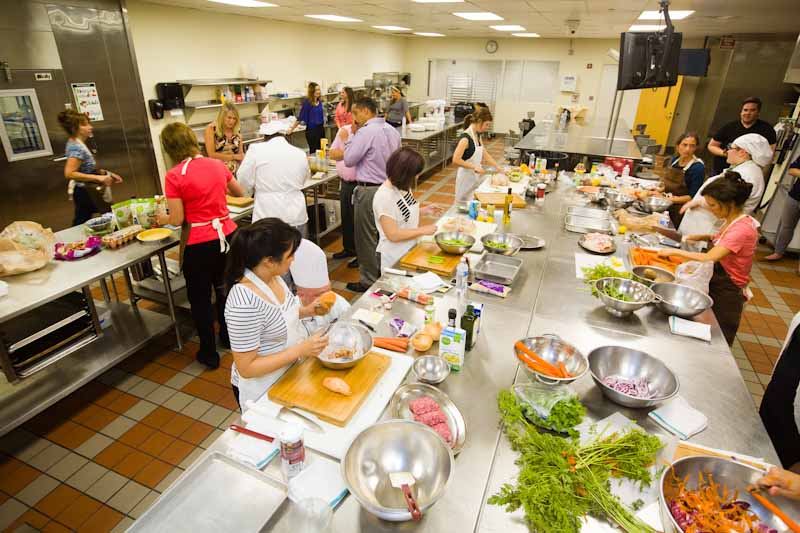 Though by now we had all started guessing what the new product could be, it wasn't until dinner that evening that we get the full reveal. What could possibly join all of us eight bloggers together and have to do with cooking with a few whole food ingredients???…  Kroger has a new value line of premium dog food – Abound!  The dishes we all created earlier that afternoon had the same ingredients that their dog food includes. Their point, now loud and clear, is that their dog food line is one that only includes real whole ingredients like meat, veggies and fruit, no fillers, animal bi-products or artificial ingredients.
It was a wonderful few days filled with fun anticipation and great community.  And I must say that I have a whole new outlook on dog food.  As a whole-food enthusiast, its nice to know a dog food that takes pride in its ingredients.
Make sure and visit all of the great blogs of the bloggers from my trip!! I'm so glad to have met each one of these ladies:
Tanya from Lemons for Lulu
Maryanne with The Little Epicurean
Robin with All Things Heart and Home
Capree with Dog Milk
Jeni with Bakerette
Kelly from Cooking with Caitlin
Diane with To Dog With Love
Roasted Chicken over Barley and Vegetable Hash
Roasted chicken over barley vegetable hash with sweet potatoes, brussels sprouts and cranberries.
Ingredients
for the roasted chicken

1 whole chicken
1 teaspoon rosemary, chopped
1 teaspoon thyme, chopped
1 teaspoon salt
1/2 teaspoon pepper

for the Barley Vegetable Hash

1 1/2 cups barley
3 cups chicken broth
fat removed from whole chicken (a few tablespoons of the trimmed fat)
2 tablespoons butter
2 shallots, sliced thin or chopped
2 sweet potatoes
1 cup dried cranberries
1 1/2 cups brussels spouts, ends removed and split in half
1 cup cinnamon toasted pecans (toasted with 1 tablespoon butter, 1/2 tsp cinnamon and 1/4 cup brown sugar)

for the orange sauce

2 whole oranges
2 tablespoons butter
chicken grease from the roasted chicken pan
salt to taste
Instructions
for the roasted chicken

Preheat oven to 400 degrees. Using a sharp chef's knife, break up the whole chicken into leg, thighs, breasts, and wings. Pat dry with a paper towel then season with rosemary, thyme, salt and pepper.
Roast for 25-30 minutes or until meat reaches 165 degrees.

for the barley vegetable hash

In a pot toast the barley with 1 tablespoon of butter or oil. Add in the broth and bring to a boil then simmer, covered, for about 30 minutes or until barley is tender but still chewy and most of the broth is absorbed.
Meanwhile, heat up 1 tablespoon butter and chicken fat in a large skillet over medium high heat. Add the shallots and sauté for 2 minutes or until translucent. Add in brussels sprouts cut side down until starting to brown. Then add in sweet potatoes. Cook veggies until potatoes are cooked through, about 10 minutes.
In a smaller skillet, toast the pecans with the cinnamon, butter and sugar until the sugar crystalizes. If it starts to burn add a little water to the pan to even out the sugar. Set nuts aside.
Mix the cooked barley, along with any juices, into the vegetable hash.

for the sauce

Once the chicken is done cooking (meat should be at 165 degrees), transfer it to a separate plate to rest. Scrape the oils and skin from the roasting pan into a small sauce pan. Add the juice and zest from one orange and 2 tablespoons of butter. Heat over medium high heat for 2-3 minutes. Then add in orange segments from the other orange. Season with a little salt to taste. Remove from heat

Serve the chicken over the vegetable barley hash then top with orange sauce, orange segments, and a few toasted pecans.
https://www.thevintagemixer.com/roasted-chicken-over-barley-vegetable-hash/
https://www.thevintagemixer.com