I'm a sucker for spring rhubarb.  My list is long for recipe ideas I want to try out this season. For starters I wanted to try out a Eton Mess with Rhubarb.  Have you heard of Eton Mess before??  Let me just tell you that its one of the easiest desserts and it can be made with pretty much any fruit that's in season.  Here's how I like to make Eton Mess.
First, start with ripe fruit and make a lightly sweet fruit sauce with the fruit. Then break up either meringues, lady fingers or amaretti cookies for a little cookie crumble.  Meringues are great for a gluten free dessert; my favorite choice are amaretti cookies which have a strong almond flavor but sometimes I can't find them around town; lady fingers also work great and are easy to find at pretty much any grocery store. Next, whip your cream, or in this case, coconut whipped cream.  If you haven't made coconut whipped cream before you must – it's a great dairy free cream and has a lovely coconut flavor.  And finally, you layer your dessert up with cream, cookie crumbles, fruit, then more cream. Easy easy!
What I love about this rhubarb-coconut cream combo is that its perfectly tart and sweet at the same time… much like my life these days.  Bitter sweet days have been filling the weeks post surgery at our home.  Everett has really good mornings, pretty normal feeling with just a few complaints of pain, afternoons are more painful, then come evenings.  We've had many sleepless nights, calling the hospital a few times a week, with Everett waking up in a lot of pain and distress. All three of us are experiencing lots of post trauma stress while Everett is still also experiencing real pain. It's been a month and I think we all thought we'd be further along than we are.  But when I start to get overwhelmed or discouraged I have to remind myself of the miracles along the way and the overall, diagnosis being that my sweet boy is cancer free!  These are the sweet bites among the more bitter ones.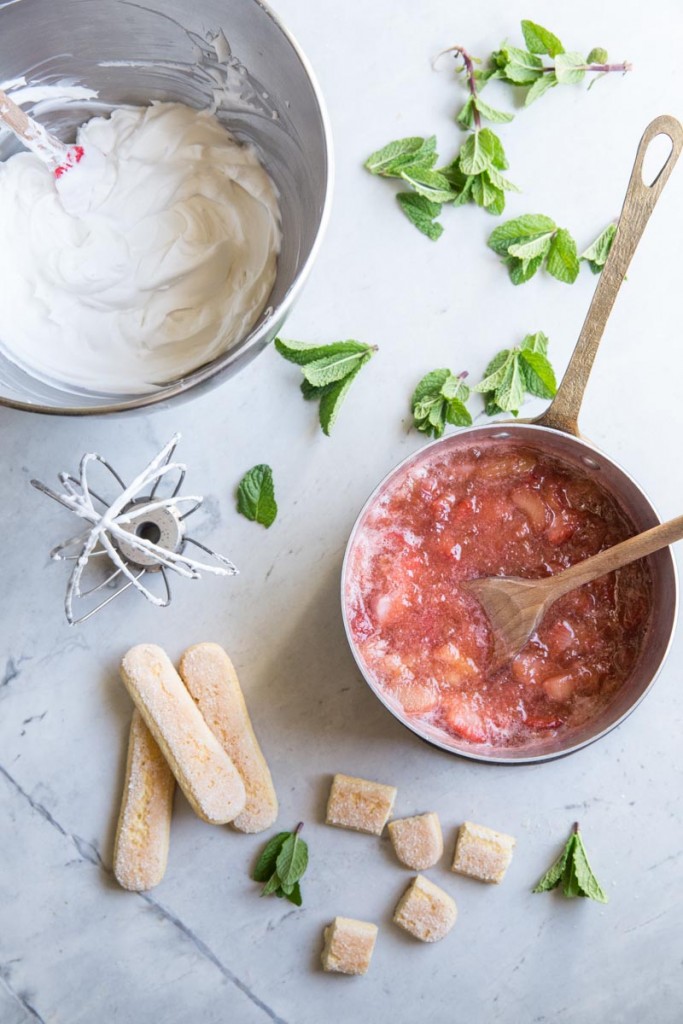 Life often times deals us sweetness along with some sour. This dessert is just a good reminder of those real life experiences.  And I'll take some sour along with the sweet any day, especially when it's tart rhubarb, with smooth coconut cream!
Here are some more great in-season recipes for the month:

Rhubarb-Almond Cake by Floating Kitchen
Kale, Mushroom & Goat Cheese Quesadillas by Cookin' Canuck
Skinny Pineapple Mint Margaritas by Mountain Mama Cooks
Shaved Asparagus Ricotta Flatbread by Flavor the Moments
Roasted Broccoli and Bacon Crustless Quiche by Completely Delicious
Rhubarb-Wine BBQ Sauce by Kitchen Confidante
Lemon Roasted Artichokes by Letty's Kitchen
Rice Bowls with Quick Pickled Ginger Red Cabbage by Food for My Family
Rhubarb Eton Mess with Coconut Whipped Cream by Vintage Mixer
And my little Eton Mess on one of those really sweet mornings:
Rhubarb Eton Mess with Coconut Whipped Cream
This Rhubarb Eton Mess Recipe is dairy free with tips for also being gluten free. Eton Mess is a quick and easy spring or summer dessert everyone should have up their sleeve!
Ingredients
2

cups

rhubarb

sliced in 1/2 inch slices

1/2

cup

pure cane sugar

1 14

ounce

can coconut cream

(refrigerated overnight)* or 1 1/2 cups whip cream

3-4

tablespoons

confectioners sugar

1/4

teaspoon

almond extract

(or vanilla)

6-8

lady fingers

broken into bite sized pieces (use merriness for a gluten free dessert or amaretti cookies are delicious in this too!)

6

mint leaves

(optional for garnish)
Instructions
In a small pot, cook the rhubarb with the sugar over medium low heat until sugar is dissolved and rhubarb is soft, about 10 minutes. Let cool and set aside or place in the fridge until you're ready to assemble. (this can be made in advance)

Remove coconut cream (or whipped cream) from the fridge and scoop out just the cream (not the water-y liquid) into a mixer fitted with the whip/whisk attachment. Whip the cream until smooth then add in the sugar and almond extract. Add sugar to your tasting.

In serving cups, layer coconut cream (about 2 heaping spoonfuls), one lady finger broken or sliced into pieces, rhubarb sauce (one big spoonful), and one more spoonful of cream. Top with part of a cookie and a mint leaf. Serve immediately or refrigerate until ready to serve.
Notes
Use 1 1/2 cups whipped cream for a dairy version of this dessert.