We came home from our trip to San Diego to a flourishing garden, including tall stalks of rhubarb ready to be harvested. Last year, I sorted through all of my grandma's spiral bound recipe notebooks and ear marked recipes I wanted to try out.  This rhubarb coffee cake was one of them.   The recipe turned out to be super simple and the rhubarb was just tart enough to balance the sweetness of the cake.  With a cup of smooth coffee, breakfast was served.
I got out my newly gifted tea towels by Janet Morrin, perfectly vintage looking, to set out the coffee cake. Today I'll be giving away one tea towel of your choosing.  See the end of the post for details.
A lot is happening in our friend groups and church right now. Two friends of our just had babies so I delivered them coffee cake and fruit for breakfast.  The memories are still so fresh of the difficulties of managing even a simple breakfast with a newborn.
Also, this weekend we had a women's gathering for our church as week talked about Pentecost and the past and present meaning of the church holiday.  Pentecost is a holiday that for many years has almost gone forgotten in the modern church.  A few friends and I set out to change that in our small congregation. We wanted to learn about the significance of the holiday and to honor it within our community.
If you don't know much about Pentecost, you're in good company, because I didn't either. I learned that it was a holiday to honor the giving of the law and commandments to the Israelites on Mt. Sinai.  After hearing these words of how to live, Jews continued to bring meaning to that day by giving their first fruits of harvest and having large gatherings on the day of Pentecost. Some then began to call Pentecost the Harvest Festival.
The one thing many of us recall about Pentecost was that in the early church, the Holy Spirit was given to believers on that day. So the day when many used to give of their harvest in honor of the law, became a day of liberation and a new birthday to the church as the believers now had God's spirit with them as they went out into the world to share the good news of God's love and grace.
This holiday that is so easily ignored now has new meaning and significance for me.  I hope to bring honor to God, as the Jews did, when I harvest up the first fruits of my garden and I hope to fully embrace and further understand the role of the Holy Spirit in my life.
Those who live in accordance with the Spirit have their minds set on what the Spirit desires.  The mind controlled by the Spirit is life and peace.  -Romans 8:6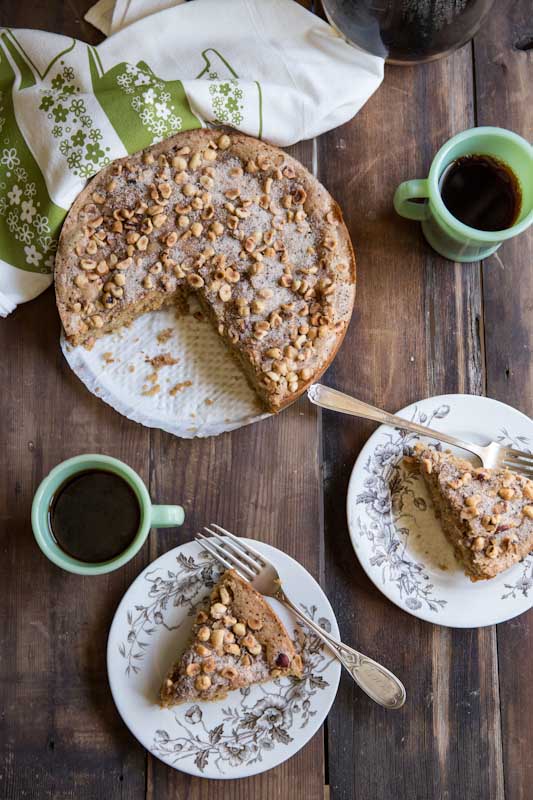 More Rhubarb Recipes:
Strawberry Rhubarb Coconut Crisp
Noodles with Kale and Spicy Rhubarb Sauce by Naturally Ella
Strawberry Rhubarb Jam by Mountain Mama Cooks
Strawberry Rhubarb Yogurt Parfaits by Cookie and Kate
Strawberry Rhubarb Stuffed French Toast by Completely Delicious
Rhubarb Coffee Cake Recipe
A simple coffee cake recipe perfect for using spring rhubarb.
Ingredients
1/2

cup

coconut oil,

or butter

1 1/2

cups

brown sugar

2

large

eggs

2

cups

whole wheat pastry flour,

white whole wheat or all purpose also work

1/2

teaspoon

salt

1

teaspoon

baking powder

1

tablespoon

chia seeds,

optional

1

cup

buttermilk

1 1/2

cups

rhubarb,

chopped into 1/4 inch slices
topping
1/4-1/2

cup

sugar

1/2

cup

nuts,

I used hazelnuts

1/2

teaspoon

cinnamon

1/8

teaspoon

nutmeg,

optional
Instructions
In a stand mixer cream together the coconut oil or butter along with the brown sugar. Add eggs one at a time.

In a separate bowl, mix together the dry ingredients - flour, salt, baking powder and chia seeds. The chia seeds are totally optional.

Add in the dry ingredients alternating with buttermilk.

Fold in rhubarb.

Pour batter into a greased and parchment lined 9 inch springform pan (you can also use a 9 x 13 inch rectangle pan or a 9 inch round pan.

Mix together the additional sugar, nuts, cinnamon, and nutmeg. Sprinkle this mixture ontop of the batter.

Bake for 45 minutes at 350 degrees. Serve warm.
GIVEAWAY: These beautiful tea towels are made by Janet Morrin.  You can find her designs at her etsy shop.  Leave a comment for a chance to win a tea towel.  Winner will be announced on Wednesday Rebecca from Strength and Sunshine is the winner!