This is the year of creating family traditions around our table.  Our little baby is becoming a boy and is starting to taste the world with all of his sense, feeling the fall leaves crunch under his feet and sinking his teeth into buttery smooth pumpkin pie.  The two staples of a Thanksgiving meal, roasted turkey and pumpkin pie now both have secure recipes that will be making an appearance for years to come!
It took me a while, several Thanksgivings and several pies (none wasted of course!) but I've finally found the perfect pumpkin pie. The secret lies within a few key ingredients, one being vanilla beans (I use Rodelle Madagascar Vanilla Beans) and a few other additions that I'll share today too!
Pumpkin pie, though its an easy recipe, is difficult to master. Some recipes are too sweet, too pumpkin-y or just include too many ingredients that I don't prefer. This recipe has only pure ingredients, and no processed sugar and yet, it's sweet, smooth, and rich, just as it should be!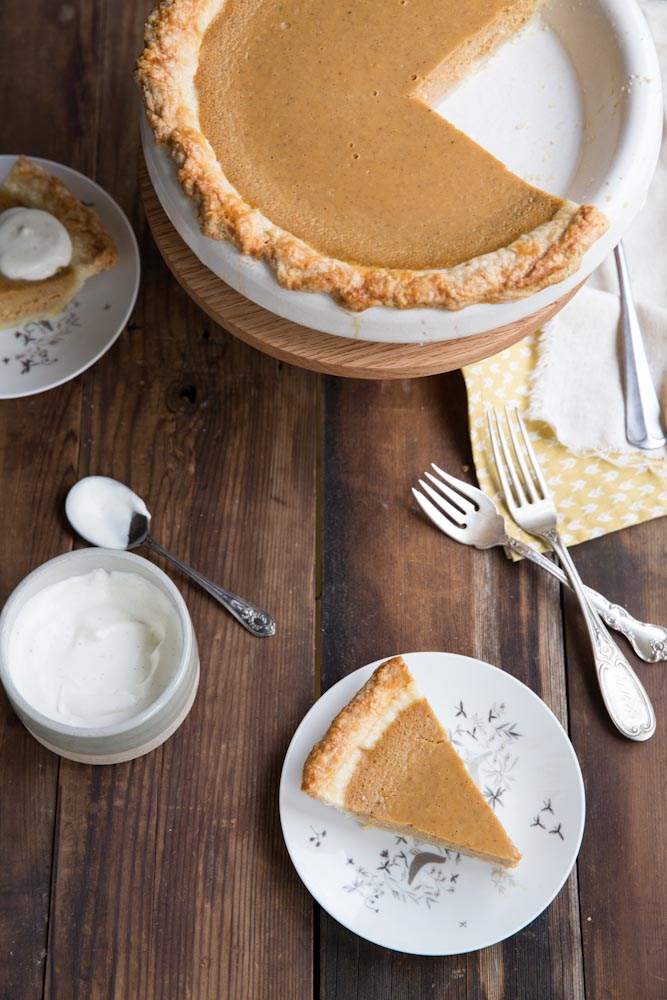 So, what are my other secrets?  This recipe isn't all pumpkin but has a mixture of pumpkin and sweet potato for natural sweetness.  Then the pie is flavored with maple syrup, vanilla bean and fall spices. Unlike most pumpkin pie recipes there's no evaporated but instead I use almond milk or heavy cream. Both work great. To top it all off, there's no sugar needed, this pie is perfect without it. Trust me, or just try it for yourself!
What traditions are you making this holiday season? And please share your family recipe staples for Thanksgiving!
Pumpkin Sweet Potato Pie Recipe
Look no further… this is the BEST PUMPKIN PIE RECIPE! It is sweetened with maple syrup and seasoned with vanilla bean and fall spices. No processed sugar and no exported milk.
Ingredients
1 9-

inch

pie crust

3/4

cup

pumpkin puree,

(I like homemade best)

3/4

cup

mashed or pureed sweet potatoes

2/3

cup

pure maple syrup

1

vanilla bean,

(seeds) or 1 teaspoon vanilla extract

1/2

teaspoon

fine sea salt

1/2

teaspoon

cinnamon

1/4

teaspoon

allspice

1/4

teaspoon

nutmeg

3

large eggs

1

cup

heavy cream or almond milk*
Vanilla Maple Whipped Cream
1

cup

whipping cream

1

teaspoon

pure vanilla extract

2

tablespoons

maple syrup
Instructions
Preheat oven to 375 degrees.

Prepare pie crust by rolling it out and placing it in a pit pan. Refrigerate as you make the pie.

In a large bowl or a stand mixer, combine the pumpkin puree, sweet potato puree, maple syrup, vanilla bean seeds, spices and salt.

Add eggs one at a time. Gradually mix in the heavy cream or almond milk.

Remove pie shell from the fridge and place on the middle rack of the oven. Slide the rack out carefully a couple of inches and pour the filling into the pie shell (this is so you don't have to maneuver walking across the kitchen and opening the oven with a full unbaked pie in your hands!). Slowly, slide the oven rack back in place, taking care not to spill the contents of the pie shell onto the bottom of the oven.

Bake for 1 hour, checking the pie after 30 minutes to rotate if needed and to make sure the crust isn't browning too much (cover with foil or parchment if needed). The pie is done when the center of the pie (size of a quarter) only jiggles slightly. The rest of the pie should be set. Remove from oven and let cool.

Serve with vanilla maple whipped cream.
Vanilla Maple Whipped Cream
Whip the cream on high until soft peaks form. Add in vanilla and maple syrup and beat again.
Notes
We've tried this recipe with both almond milk and heavy cream and enjoyed it thoroughly both ways. Obviously, the cream version is creamier but the full flavor remains in both pies!