I must confess that this recipe for Pumpkin Caramel Sauce actually came out of a fail when I tried to make these Salted Pumpkin Caramels. I guess I didn't get the caramel heated high enough because the caramels never set and I was left with a sticky sauce even after hours of waiting. But what could have been a kitchen disaster turned into a glorious mistake because I've been using this caramel sauce to top several delicious fall desserts.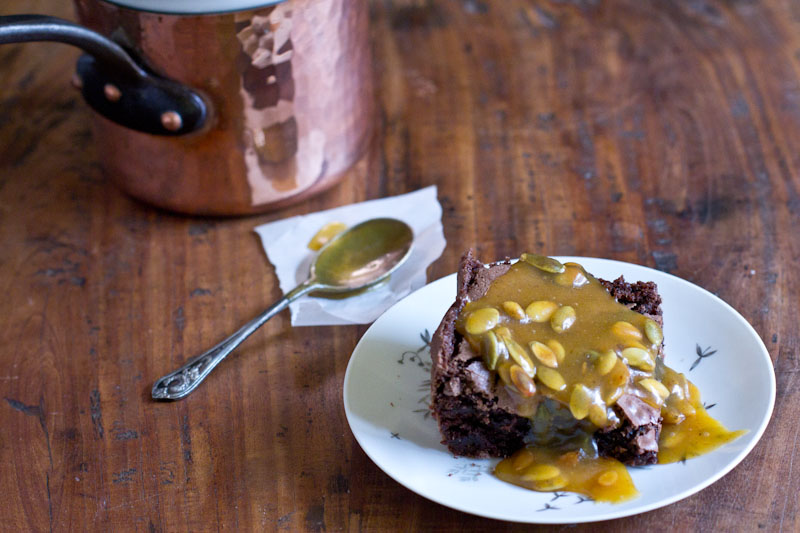 First, I made a batch of homemade brownies and heated up the sauce to pour over the tops of each brownie. We literally kept adding more and more caramel to the brownie, making each bite like two-thrids caramel and only one-third brownie.  It was decadent and we loved every bite.
Then we had an SLCmixer coming up with some bartenders around town who were going to be introducing new fall cocktails to our guests.  I knew I needed some food at the tables so our guests didn't leave plastered from the 4 cocktails and wine so I set out bowls of Pumpkin Caramel Popcorn.  This may have been even better than the brownie combo. And for pumpkin caramel popcorn, all I did was to heat up 1 1/2 cups of the Pumpkin Caramel Sauce, add 1/2 teaspoon of baking soda then pour over two bags of popped popcorn and bake at 250 for 1 hour, stirring every 15 minutes.  Easy, especially when you have an excess of caramel to use up! And I've made this one other time since!
And if you want something super simple just pour the hot caramel sauce over vanilla ice cream for a cool fall treat.
Pumpkin Caramel Sauce Recipe
A fun fall take on caramel sauce.
Ingredients
1/2

cup

unsalted pepitas

1 1/2

cups

heavy cream

2/3

cup

pumpkin puree

1/2

teaspoon

cinnamon

1/4

teaspoon

nutmeg

1/4

teaspoon

ginger

dash

cloves

3/4

teaspoon

sea salt

2

cups

white sugar

1/2

cup

light corn syrup

1/3

cup

pure maple syrup

1/4

cup

water

1/4

cup

unsalted butter,

cut into squares

1

teaspoon

lemon juice
Instructions
Dry toast the pepitos in a skillet until they start to pop.

In a saucepan, combine heavy cream, pumpkin puree, spices and salt. Get this mixture quite warm, but not boiling. Set aside.

In a second heavy bottomed pan, with sides at least 4 inches high, combine the sugar, both syrups and water. Stir until the sugars are melted. Bring to a boil. Then slowly add the cream and pumpkin mixture, and slowly bring this mixture back to a light boil. Stir constantly for 15-20 minutes until the sauce becomes thick.

Pull the caramel sauce off the heat and stir in the butter and lemon juice. Stir vigorously so that butter is fully incorporated.

Store in an airtight container in the refrigerator and reheat in a double broiler before serving. (You could also reheat in the microwave in 15 second intervals until warm)
Notes
You can use a less caramel depending on how sweet you like your caramel popcorn. 
For Pumpkin Caramel Corn :
1 1/2 cups pumpkin caramel sauce
2 bags popped popcorn
1/2 teaspoon baking soda
Preheat oven to 250 degrees and line a large cookie sheet with parchment paper.

Pop 2 bags of popcorn and place in a large bowl.

Bring the caramel sauce to a boil, stirring to prevent it from sticking to the bottom of the pan. Add in the baking soda and continue stirring to incorporate the soda. Remove from heat and pour half of the caramel over the popcorn. Using a large spoon, gently stir and toss the popcorn to cover it with the caramel. Then pour the second half over the popcorn and sit again until the popcorn is well covered in caramel.

Place the popcorn onto the baking sheet and bake for 1 hour, stirring every 15 minutes.

Let cool to room temperature then serve. Caramel popcorn can be kept in an airtight container.