I've made a few turkeys over the years. Fried turkey, roasted with stuffing, brined then roasted, but last year I found a recipe that's sticking around. Prosciutto Wrapped Roasted Turkey. I'll repeat just incase you missed the secret here. Prosciutto. This is like wrapping your turkey in delicate bacon. There's not much that can compete with that.  And with a great assortment of seasonal sides, a beautiful meal is served.
"Many of the most deeply spiritual moments of my life haven't happened just in my mind or in my soul. They happened around my table, watching the people I love feel nourished in all sorts of ways." 
― Shauna Niequist
Since I made this turkey in advance and knew I wouldn't be feeding a small army like we do on Thanksgiving Day, I brought home a turkey breast instead of a full turkey.  You can roast a turkey breast just the same as you would a whole turkey, for every 2 lbs you roast 1 hour and you'll need some extra time if you're stuffing the bird or breast (about 1/2 to 1 hour extra). Here's is a Turkey Roasting Times Chart. Basically you want the meat to reach 165 degrees.
Since I have tried many different fashions of turkey recipes over the years, I'll give you a few of the tips and tricks I've learned (basically through small failures that I hope you don't have to make).
Tips for roasting a turkey:
• Always brine your turkey (This is an easy extra step for maximum juiciness. You're basically giving the turkey a warm salt water bath over night).
• When brining always use a brining bag. (I've tried to cut corners here and double bag the big bird with plastic bags I have around the house which resulted in a disastrous turkey brine soaked floor and fridge).
• If you're serving a smaller group or just prefer white meat, turkey breast is the way to go (smaller and cheaper).  Roast for the same amount of time per pound. This photo is actually of a turkey breast so I'm including directions for both).  Half the recipe below for a turkey breast.
• There are really just a few simple steps to prepping your turkey before roasting it. See the illustration at the bottom of this post.
• Rinse then pat dry your bird before salting and seasoning.
• Use more salt than you would think is necessary when you're seasoning the bird.
• Let the turkey rest at least 20 minutes before carving (this takes restraint especially when there's prosciutto involved but it seals in the juices and makes the carving easier).
• You don't really need to be too fancy when roasting a turkey. A good amount of salt plus chopped fresh herbs is perfect especially when you're planning to cover the bird with prosciutto.
• And every good bird needs an assortment of colorful friends at the table. We're having a online potluck today with the perfect seasonal spread for your Thanksgiving table.  Here are all of the fresh recipes for a complete Thanksgiving Meal.
Appetizers: 
Autumn Acorn Squash Pita "Nachos" with Pomegranates & Blue Cheese by Climbing Grier Mountain
Thai Curried Butternut Squash Soup by Cookie and Kate
Turkey and Gravy:
Proscuitto Wrapped Turkey with Gravy by Vintage Mixer (with seasonal herbs of course!)
Sides:
Secrets to the best mashed potatoes by Simple Bites
Root Veggie Mash by Mountain Mama Cooks
Kale and Brussels Sprout Salad by Two Peas and Their Pod
Thanksgiving Couscous with Butternut Squash, Sausage, Kale, Manchego, Dried Fruits and Nuts by Project Domestication
Maple Roasted Brussels Sprouts with Walnuts & Feta by The Law Students Wife
Miso Roasted Butternut Squash by Foodie Crush
Desserts:
Apple Pear Praline Pie by Completely Delicious
Cranberry Sauce Slab Pie by Kitchen Confidante
GF Cranberry Lemon Curd Tart with Gingersnap Crust by Cafe Johnsonia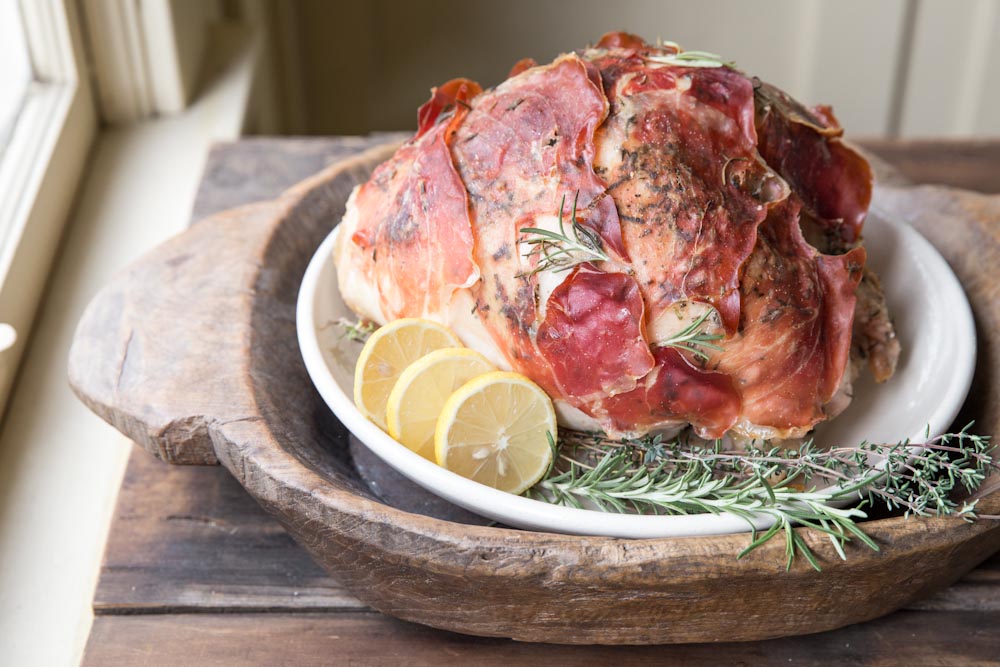 Prosciutto Wrapped Turkey
This Prosciutto Wrapped Turkey ensures moist turkey every holiday!
Ingredients
Brine
1

cup

kosher salt

2

tablespoons

black peppercorns

2

tablespoons

red pepper flakes

3

cloves

garlic

1

gallon

water
For the Roasted Turkey
1/2

cup

chopped fresh herbs,

I use a combo of rosemary, thyme and sage

3

tablespoons

kosher salt

1

teaspoon

freshly ground black pepper

8

ounces

prosciutto,

thinly sliced

4-5

cups

vegetable broth

3

tablespoons

butter,

melted
Instructions
For the Brine
The night before the big feast, heat up 1 gallon of water along with the salt, pepper, red pepper flakes and garlic. Bring the water to a boil, then once salt has been absorbed into the water (about 5 minutes), turn off the heat and let the water cool.

Take the thawed turkey out of the wrapper, remove neck and giblets (sometimes it's easier to get the giblets from the opposite end of the open cavity. They'll be in a little bag.) Toss or reserve for gravy.

Rinse the turkey then place into a brining bag. Place the large turkey filled bag over the sink, letting it rest on the sink floor, then carefully pour the brine over the bird. Add extra cold water over the bird until it is totally submerged. Seal the bag then, place it in the fridge over night or for 12 hours.
To Roast the Turkey
Preheat oven to 325 degrees.

Carefully take the bird out of the fridge and pour out the bring liquid. Remove the turkey from the bag and rinse.

Place the turkey on a large surface and pat dry using paper towels. Evenly shower the turkey with salt and pepper, then sprinkle with chopped fresh herbs.

Take the prosciutto slices and wrap them around the turkey, like you're bandaging the bird.

Use toothpicks or rosemary twigs to secure the prosciutto to the turkey.

Place the turkey onto a turkey roasting rack in a large roasting pan. Pour the broth and melted butter into the bottom of the roasting pan.

Baste the turkey after the first hour of cooking using the liquids at the bottom of the roaster, then at every 30 minutes there after.

Remove the turkey from the oven when the meat thermometer reaches 165 when inserted in the breast.
There are just four simple steps for prepping your turkey after the brine.
rinse then pat the turkey dry
shower the turkey evenly with salt
season with fresh chopped herbs
cover with prosciutto, securing with toothpicks or rosemary stems
Here's my basic recipe for Easy Turkey Gravy:
Ingredients
Roasting pan with pan drippings from roasting turkey
3 cups chicken broth
1/4 cup dry white wine or apple cider
1/4 cup flour
1 tablespoon soy sauce (optional but adds a depth of flavor)
kosher salt and freshly ground pepper
Instructions
Carefully lift the turkey roasting pan. Discard solid fats from the drippings (if there's not too much fat, you can leave it all in the pan).

Set roasting pan over 2 burners set to medium-high heat. Add stock and wine. Cook,using a wooden spoon to scrap up any brown bits from the bottom of the pan. Reduce heat to medium and whisk in flour. Cook, whisking, until roux is deep golden brown, about 5 minutes.

Whisking, gradually ladle the rest of the stock into the pan and simmer (still whisking!) until thickened. Strain into a medium saucepan if you prefer a smooth texture. Stir in soy sauce if using; season with salt and pepper. Keep warm until ready to serve.