Nothing says fall better than the aroma of cinnamon coming from the kitchen.  This pear butter recipe literally filled my house with the most delicious smells of fall. I get almost gitty just thinking about it.
I have a friend who is the perfect example of the quote above my Mother Teresa. She loves endlessly and tirelessly. This same friend  has this pear tree that just keeps dropping the most beautiful green pears.  Her kitchen counters are covered with bowls of ripe pears and others waiting to ripen.  Her and her girls now have a daily routine of  collecting the pears that have pears from the tree.  She asked me what should I do with all of these pears.  Being the nerd that I am, my mind flooded with ideas!  I came over and we went to work in her kitchen. First we made pear baby food for her sweet baby girl, then we made pear caramel pies, and finally I took a big bowl of pears home and I made this pear butter.
I gave one of the jars of Pear Butter to a friend and she asked, "So what should I put this on?" I replied, "Well anything really!" The easy answer is- put it on toast, but you could also put it on yogurt, oatmeal, waffles, or even over chicken or pork. Limitless possibilities really. My favorite combo so far has been pear butter over gingerbread waffles (I'll be sharing that one soon, I promise!).
I'll be enjoying pear butter through the winter now and thinking of my grandma who used to always keep a jar of apple butter in her fridge to smear on toast.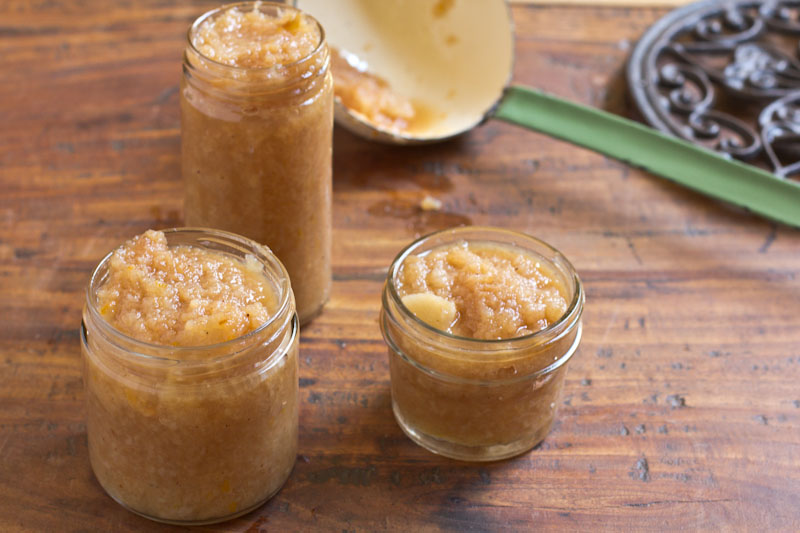 Pear Butter Recipe

A simple recipe for homemade pear butter.

Ingredients

5

lbs

pears

1

cup

water

2

cups

sugar

zest of 1/2 orange

juice of 1/2 orange

1/4

teaspoon

cinnamon

Instructions

Peel, core, and quarter the pears.

Combine pears and water in large dutch oven or heavy bottom pan.

Cover and cook over medium low heat for 40 minutes or until pears are soft, stirring occasionally.

Drain any excess liquid.

Press pears through a sieve, food mill, or use a potato masher to mash the pears.

Add remaining ingredients and cook the pureed pears over medium heat for 15 minutes (or longer if you want it to cook down the pears for a more concentrated flavor).

Pour hot mixture into sterilized jars, filling 1/4 inch from the top.

Process jars according to manufacturer's instructions. You may also just store in the freezer if you're not doing the canning process or just eat within 2 weeks.
This photo just made me laugh because Henry somehow made it in… (now you also know that I often take my food pictures on the floor.)