Remember that huge box of peaches from my canned peaches post?  Well, those that didn't make it into jars made it into this delicious breakfast peach buckle.
For those unfamiliar with buckles, here's the definition:  an old fashioned single layer cake with a layer of fruit then a layer of streusel topping. I love vintage treats with fun names like buckle. The Buckle is cousin to the cobbler, slump, and betty, and very similar to coffee cake but with fruit added in. Basically, its an excuse to eat cake for breakfast or you can enjoy it for dessert with a big scoop of ice cream.  We did both!  Enjoy as you may.
Besides eating this cake for breakfast and dessert, I've been listening to a new book (it's very hard to read anything longer than a magazine as a new mom, but listening to podcasts and books works quite well.)  I'll listen as Everett and I walk, cook, or clean together.  The book is called Bittersweet by Shauna Niequist and it's been a beautiful reminder to me of how God is constantly redeeming everything. And though it is a spiritual book predominately, she draws many connections of spirituality with relationships and food, which has been a beautiful reminder to me of why I enjoy food so much.
Similar to me, Shauna remembers not the music she was listening to nor the clothes she was wearing when something significant happens in life, but instead the food surrounding that occurrence.  She recalls friendships by the way they prefer their toast and motherhood by what she ate during that season.  There's even so much more to the book than food (and I'm only on the 7th chapter)!  Here's a quote I've loved so far:
"It's not hard to decide what you want your life to be about. What's hard is figuring out what you're willing to give up in order to do the things you really care about."
So.. I created a list, as she does in the book, of what I do and what I do not do, keeping it real and not trying to be someone I'm not while accepting who I am. Today, I'm getting a bit more vulnerable than normal and sharing with you some of what's on my list…
I DO
wake up every morning ready breakfast and some time with God
cook, bake, and enjoy food with others
give Everett the best of my day and the attention he needs
care for, love and respect my husband in a way that honors the Lord
have times of silence and prayer when I feed Everett
go for a walk or get exercise on most days
meet together with close friends regularly for mutual encouragement and care
work and create on and for my blog
attend church and engage in my church community
support local businesses and the people behind them
I DO NOT
keep a perfectly clean house
garden as much as I hope to every year (my garden always ends up looking like dreadlocks)
wear makeup unless we're going out somewhere
dress perfectly in style
eat healthy all the time (sweets and breakfast are my downfall)
work a steady or consistent job
blog to pay the bills
craft or sew regularly
"The grandest seduction of all is the myth that DOING EVERYTHING BETTER gets us where we want to be. It gets us somewhere, certainly, but not anywhere worth being."
I hope not to get sucked into the idea of doing more and doing it all better means success but instead being okay with what I am doing and striving only to care for those around me more thoroughly.  I hope you'll join me in making this list to remember what you're willing to give up in order to do the things you care about.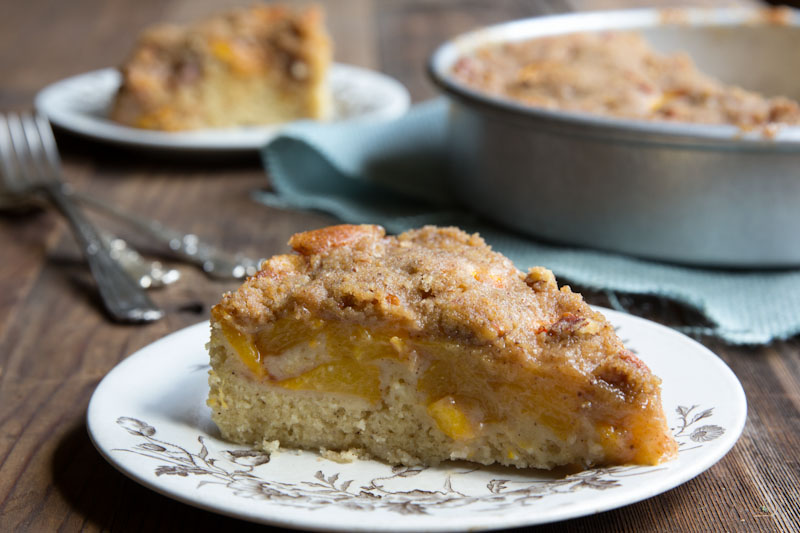 recipe adapted from Food52 and the Austin Entertains Cookbook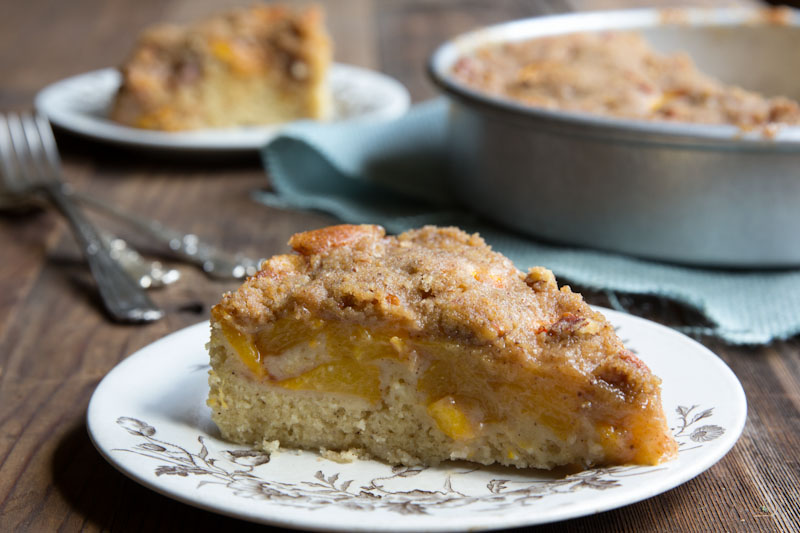 Peach Brown Butter Buckle Recipe
A recipe for peach buckle, which is similar to a coffee cake, made with a layer of cake, then fruit, then streusel topping. Perfect for breakfast or served with ice cream for dessert!
Ingredients
12

tablespoons

unsalted butter,

browned then divided into half

4

cups

thick-sliced ripe peaches

(about 4 large or 6 medium peaches)

1

teaspoon

fresh lemon juice

1 1/4

cups

sugar,

divided into 3/4 cup and 1/2 cup

1

teaspoon

ground cinnamon

2

cups

flour

1

teaspoon

baking powder

1

teaspoon

kosher salt

2

large eggs,

at room temperature

2/3

cup

whole milk

(you can use non-dairy milk here)
Streusel Topping
1/3

cup

brown sugar

1/2

cup

flour

1/4

cup

chopped pecans

1/2

teaspoon

salt

(half of the brown butter from above- 6 tablespoons)
Instructions
For the butter
Set a small skillet over medium-high heat. The butter will start to foam and bubble. Don't touch it. The butter will turn clear for a moment then start to darken. It's easy for butter to burn quickly, so watch it closely. When the butter is browned and smelling wonderful, take the pan off the heat. Allow the butter to cool.
For the Fruit
To macerate the fruit: Add the peaches, lemon juice, 3/4 cup of the sugar, and the cinnamon into a large bowl. Stir them together.
For the Cake
Heat the oven to 350° F. Line a 9-inch round cake pan with a circle of parchment paper, buttered on both sides. In a bowl, whisk together 1 and 1/2 cups of flour, 1 teaspoon baking powder, and 1/2 teaspoon of salt. In another bowl, whisk together 1/2 of the browned butter (6 tablespoons) and the remaining 1/2 cup of the sugar. Stir in 1 egg at a time, whisking each one in fully before adding the next. Stir in the milk. Sprinkle the flour mixture over the liquid mixture and stir them together with a rubber spatula until no visible flour is left. Pour the batter into the pan. Arrange the peaches over the top of the batter, leaving the juices behind (save for a sweet cocktail or use over oatmeal!).
For the streusel topping
Combine 1/3 cup brown sugar, 1/2 cup flour, 1/4 cup chopped pecans, and 1/2 teaspoon salt with the remaining brown butter (6 tablespoons). Stir until the mixture looks like large, damp crumbs. Arrange the streusel topping evenly over the the top of the peaches. Bake the buckle until the top is golden brown and springy to the touch. If you insert a toothpick in the center and you come up with moist crumbs, you're done. (That should take about 50 minutes, or until golden brown on top) Allow the buckle to cool for at least 15 minutes.