I created this Peach and Prosciutto Salad originally in 2009 with some friends on a weekend trip. It was quickly enjoyed by all then just as quickly forgotten into a sea of old blog posts.  As I read through the old post (badly written and even more poorly photographed) I couldn't help but think of where God has brought me.  He has gently lead me into motherhood since then, into a deeper union of marriage, and into a vocation of food writing and photography.  Food has lead me into many new friendships. Around dinner tables we have met people in our city that we would have never met otherwise.  Reading through the old post of seemingly meaningless words, I felt a new inspiration to write with more depth and insight. I hope in the coming months to share more of what God is doing in my life and how He uses food to bring people together.
For today, I will leave you with a verse I've been cherishing during my first three months of motherhood.
He tends His flock like a shepherd:
He gathers the lambs in His arms
and carries them close to His heart;
he gently leads those that have young.
– Isaiah 40:11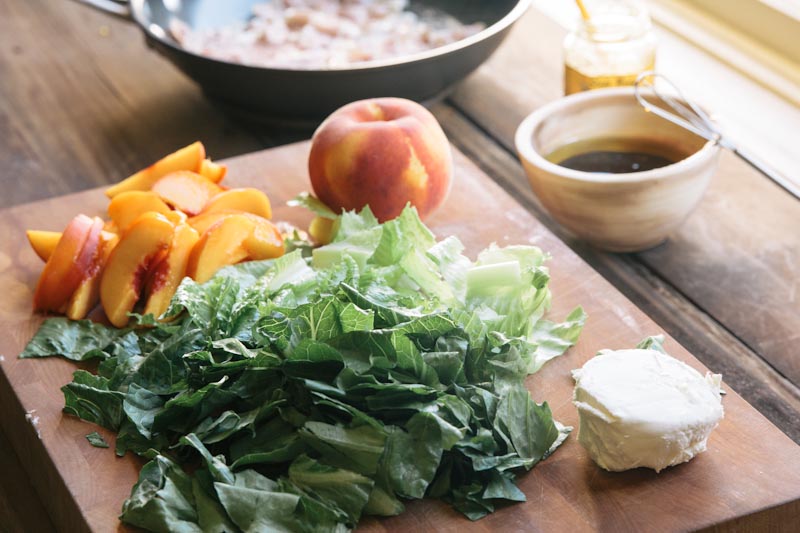 Peach and Prosciutto Salad
This is a Summer Salad you'll want to make all season long with peaches and prosciutto.
Ingredients
1

head of romaine lettuce

a few handfuls of arugula

2

large peaches,

sliced

1/2

cup

marcona almonds

1/6

lb

of Prosciutto or about 10 strips

(Tony Caputos has great smoked prosciutto)

1/2

cup

Goat Cheese
The Dressing
1/4

cup

Olive Oil

3

TB

Balsamic Vinegar

2

TB

Honey

Salt and Pepper to taste
Instructions
Chop lettuce and mix in arugula. Slice Peaches.

Place prosciutto on skillet and cook on med heat for 2-3 minutes or just before it gets crispy then into small into pieces and set aside.

Toss almonds, peaches, prosciutto and goat cheese in with the lettuce.
For the dressing
Whisk olive oil with balsamic vinegar, honey and salt and pepper then drizzle over salad (you may have extra dressing leftover).
Notes
This salad is a perfect compliment to a big pan of Spanish Paella and Sangria. It's simple to make and you can alter the ingredients based on whats in season, although peach and prosciutto are a wonderful pair together. The goat cheese is a staple but for those who don't like goat cheese, try feta, and Marcona almonds can be substituted for regular almonds or pecans.