Though I'm really not a routine person, I do have a few things that give my life some pattern.  This winter I've been making overnight steel cut oats a regular thing. In the evening, after we put Everett to sleep, I start up the oats and work on the dishes, then the oats go in the fridge ready for the morning.  It's simple and I love knowing I have a comforting breakfast ready for me in the morning – no matter what time the little guy decides to wake up.
I started making my oats this way when Josh and I took an anniverary getaway to the mountains, then this meal has carried me through much of this cold winter.  Most mornings I top my oats with hazelnuts, chopped dates, and maple syrup. The oats fill me up enough to get me to lunch with maybe just an apple or coffee in between.
All you need is a teaspoon or less of butter 1/3 cup of steel cup oats and 1 cup of milk (they're best will whole milk and even better with raw whole milk).  Toasting the oats in the butter the night before is my special secret to making them extra tasty!  After you toast them, add the milk, bring to a boil, then refrigerate overnight.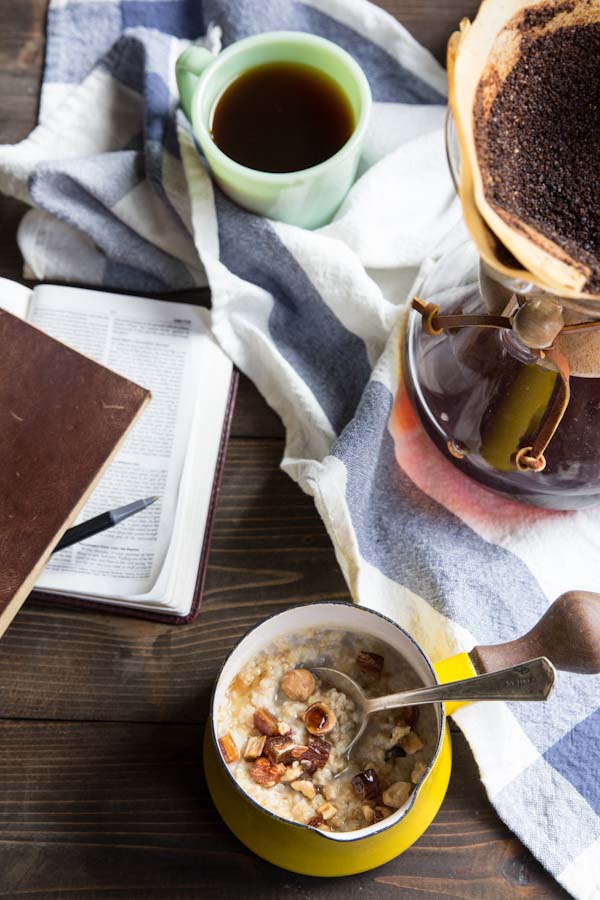 The routine continues in the morning when I wake up with Everett, feed him, quickly reheat my oats because I'm starving at the time, then let him play while I enjoy breakfast and a little reading. No morning routine is complete for me without some quiet time of reading and reflection.  I'm currently reading through the book of Luke with some of my close girl friends and I'm floored every morning by the miracles Jesus and his disciples performed.  He really is capable of miracles and I love starting my day off remembering that.
Overnight Steel cut Oatmeal Recipe
An easy 10 minute recipe for overnight steel cut oats.
Ingredients
1/4-1/3

cup

steel cut oats

1

teaspoon

or less of butter

1

cup

of whole milk

toppings of your choosing
Instructions
The night before
In a small saucepan, toast the raw steel cut oats in butter for 2-3 minutes. If you're doing something else at the same time I suggest setting a timer so you don't burn the oats (I've done that a few too many times). Add in the milk and bring to a boil (another 2 minutes if you're using a timer). Remove from heat and refrigerate overnight.
In the morning
Reheat for just a few minutes on the stove top or until desired temperature. Top with your favorite oatmeal toppings and some extra milk.