This recipe takes me straight back to a time and place – 2003 Granada, Spain.  A group of us hiked up to a restaurant overlooking the ancient Alambra fortress to eat the best Moroccan food I've ever tasted.  We sat outside in the warm summer air under a colorful tarp and many of us ordered a dish very similar to this:  Moroccan Tagine over spiced couscous with golden grapes and caramelized onions. I can almost smell in now…

We were in Granada for a summer during college, studying Spanish and spending time with local college students.  It was definitely a summer I'll always remember and Granada was a city I'll always want to return to.  Cobblestone lined the streets of this old Spanish city, plazas filled with flowers and fresh pasta, grand historic cathedrals with ornate architecture and stain glass, and the impressive palace, the Alhambra.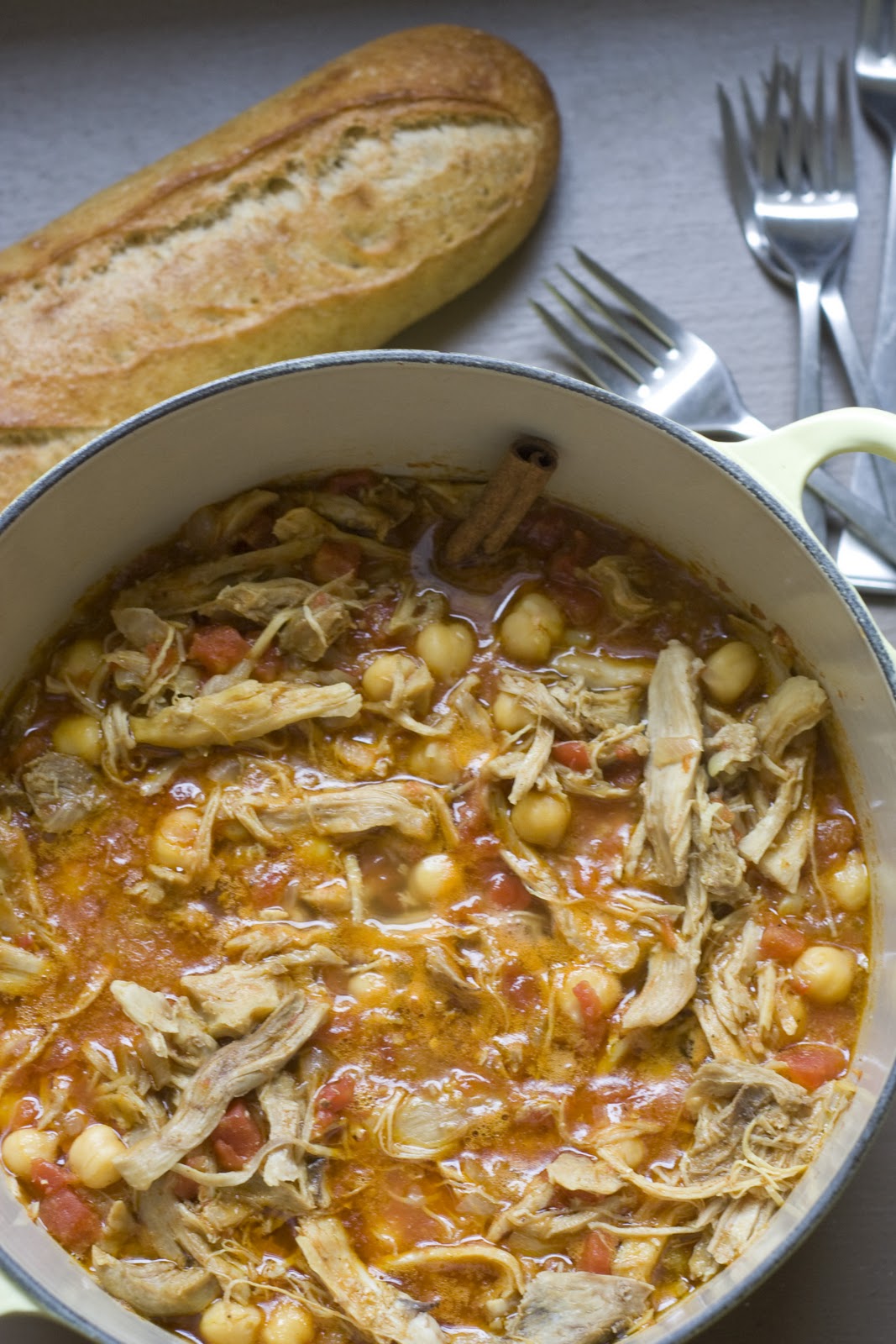 If you ever find yourself in Spain, you must wander this magical city. The city of Granada is divided into two parts, a Spanish part and a Moorish (Muslim/Arab) part because Granada was the last Moorish stronghold before the Spanish took over the area. Today, you can still see much of the remnants of the Moorish community there, especially in Albayzin, the hill where we ate that night.
At that point in my life I'm not even sure I knew what a tagine was but all of the ingredients sounded so marvelous that I knew I had to try it. A tagine is slow cooked North African Stew with a combination of several spices made in a earthenware pot.  Ever since that magical evening on the hill, many of us have tried to remake that meal, and after several tries, I think I've found a really great match.
Moroccan Tagine Recipe with Chickpeas and Dried Apricots

Ingredients
1.5 lbs chicken or lamb shoulder (I used 4 chicken thighs)
1 large sweet onion, (half diced and half thinly sliced)
Kosher salt and freshly ground black pepper
2 garlic cloves, minced
3 tablespoons olive oil
5 teaspoons Moroccan Spice Blend spice blend (Ras-el-Hanout)
1 teaspoon chopped peeled ginger
1 can diced tomatoes with juices
1 1/2 cups (or more) low-salt chicken stock
1 cinnamon stick
1 can of chickpeas, drained
1/4 cup dried apricots, thinly sliced
Chopped fresh cilantro

For the Couscous

1 1/2 cups couscous
1 cups water*
1 cup chicken broth
2 tablespoons of golden raisins
honey to drizzle
1/4 teaspoon cinnamon
1/4 tsp salt
Instructions
Heat 2 tablespoons of oil in a large heavy pot over medium-high heat. Season chicken or lamb with salt and pepper. Brown meat on all sides (med high heat), about 4 minutes, then simmer (medium low) until meat is cooked. Transfer meat to a medium bowl. Add half of the onion (diced) to pot; reduce heat to medium, season with salt and pepper, and sauté until soft and beginning to turn golden, about 5 minutes. Add chopped garlic, Moroccan Spice Blend (Ras-el-Hanout), and ginger. Stir for 1 minute. Add tomatoes and the meat with any accumulated juices. Add 1 1/2 cups stock and cinnamon stick. Bring to a boil, reduce heat to low, cover and simmer 30 minutes.

For the couscous

Meanwhile, heat one tablespoon of oil over medium heat. Add the other half of the onion (thinly sliced) and caramelize the onion, (brown over medium heat) about 5-10 minutes. Place onion in a bowl. In a separate bowl, drizzle the golden raisins with honey and set aside. Using the same pan you used to cook the onion, bring 1 cup of water, 1 cup chicken broth, 1 tablespoon of oil and 1/4 tsp salt and to a boil. Add 1 1/2 cups couscous. Cover and remove from heat. Let sit for 5 minutes then fluff with a fork. Mix in caramelized onions and raisins, sprinkle with cinnamon.
Stir in chickpeas and apricots to meat mixture; simmer until heated through, about 5 minutes. Season with salt and pepper.
Spoon couscous onto a large, shallow platter, forming a large well in center. Spoon tagine into center. Sprinkle cilantro over.
Notes

Use any amount of water/broth/juice ratio, just make sure you have 1.25 cups of liquid for 1 cup of couscous.

https://www.thevintagemixer.com/moroccan-tagine-recipe-with-chickpeas-and-dried-apricots/

https://www.thevintagemixer.com