It's lemon season!  In my book, no recipe for lemon ricotta pancakes is complete without lemon curd to top your stack off. It seems like almost every year someone hands me a big bag of lemons and I continue to do basically the same thing with them. I turn their tart natural flavor into something rich and sweet. I always make one big batch of lemon curd then with any leftover lemons I make lemon shaker pie, lemon beignets, or lemon pudding cake and this year I made lemon ricotta pancakes then proceeded to drown them in creamy lemon curd.
Lemon Ricotta Pancakes have been made in my kitchen for years, mostly by Josh, at my request for special occasions like birthdays, mothers day, or any other excuse I can make.  Josh is the pancake maker in our house. He's mastered our homemade pancake recipe and when he's at work, everyone else needs to back away as to not break his methodical routine.  Everett and I read books or play while he creates. On this occasion, I tried to very be very sly as I photographed him in his art.
Lemon Ricotta Pancakes are fluffy, like their buttermilk counterparts, but even more rich and decadent with a hint of lemon.  The lemon curd puts them perfectly over the top, though maple syrup will also do the job if that's more your style. Black coffee helps cut the richness.  There's really no breakfast at our house without coffee, as it should be when you own a coffee shop 🙂
Today you'll find bright seasonal recipes like this one floating all over the web.  Here are links to more recipes using this month's seasonal ingredients: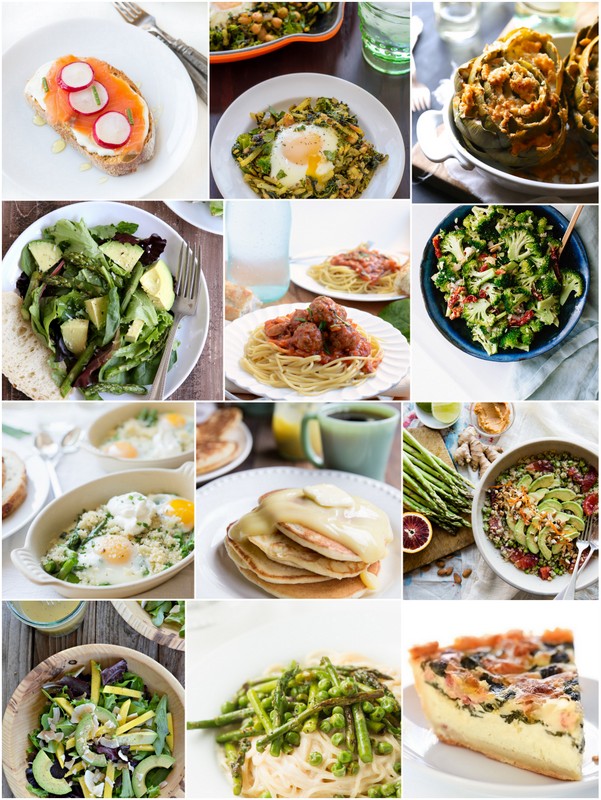 A Zesty Bite – Whipped Lemon Ricotta Open Faced sandwich
Well Plated – Curried Broccoli Chickpea Hash
Climbing Grier Mountain – Baked Buffalo Chicken Stuffed Artichokes with Blue Cheese
Completely Delicious – Roasted Asparagus and Avocado Salad with Lemon Vinaigrette
Bless this Mess – Spinach and Mushroom Marinara with (or without) Meatballs
Cookie and Kate – Greek Broccoli Salad
Kitchen Confidante – Baked Eggs with Asparagus and Peas
Vintage Mixer – Lemon Ricotta Pancakes
Cafe Johnsonia – Blood Orange Asparagus Salad with Ginger Miso Dressing
Kelley Mountain Mama Cooks- Avocado and Mango Salad with Citrus Poppyseed Dressing
Oh, Sweet Basil- Creamy Garlic Lemon Butter Pasta
Foodie Crush – Spinach, Leek and Bacon Quiche
Lemon Ricotta Pancakes Recipe
Lemon Ricotta Pancakes are possibly the most wonderful way to enjoy pancakes.
Ingredients
1

cup

ricotta cheese

1

cup

flour

1/2

teaspoon

baking powder

1 1/2

tablespoons

sugar

1/8

teaspoon

salt

3/4

cup

milk

2

large

eggs,

separated into yolks and whites

1

tablespoon

lemon

lemon zest from 1/2 lemon

1/4

teaspoon

vanilla

1

tablespoon

butter,

melted (for the pan)

1

recipe

lemon curd,

for topping
Instructions
If your ricotta seems to have a lot of liquid, set it in a fine mesh strainer to drain off excess liquid about 30 minutes before you start cooking. If your ricotta seems fairly dry and compact, you can skip this step.

Whisk together flour, baking powder, sugar, and salt in a small bowl. Combine ricotta, milk, egg yolks, lemon juice and zest, and vanilla in a separate, larger mixing bowl. Add the dry ingredients to the ricotta and milk mixture, stirring gently until just combined.

Beat the egg whites in a mixer until stiff. Stir a small scoop of the egg whites into the pancake batter to lighten the batter, then fold in the remaining whites with a spatula.

Heat a griddle over medium-high heat. Brush a small amount of the melted butter over the pan (or you can just smear one end of a stick across the pan), just enough to coat the surface. Use a 1/4-cup measure to pour batter onto the hot griddle. Cook the pancakes for about 3 or 4 minutes, until the undersides are golden and you see a few bubbles popping through the pancakes. Flip the pancakes and cook another 2 minutes, until golden. Repeat with the remaining pancakes.

Serve the pancakes immediately, with maple syrup or lemon curd.