A few years back a dear friend made me a potato and leek soup that I'll forever keep in my recipe rotation.  This Turnip and Leek soup is a simple riff on her original. And with only a few ingredients its an easy one to adopt into the family repretoir.
The turnip inspiration for this soup came from a recent meal I had up at a Solitude Ski Resort in a yurt. If you've never been inside a yurt before let me just tell you it's quite an adventure.  A yurt is a circular tent with wooden beams and is commonly used in Mongolia. Right here just a few miles up the canyon Solitude has its very own yurt.  To get to our dinner we had to fasten our boots into some snowshoes for a little trek up the mountain. Headlamps lead our way to the tent where the chef was preparing the meal on site.
Our first course was a soup as white as the snow we had just treaded through. The soup was perfectly creamy, yet cream-less, like this one, and full of flavor and warmth.  I've since then made a few versions of it, one with parsnips and another with turnips.  The two differ in flavor slightly, parsnips adding a sweetness while the turnips add an almost horseradish like flavor. My husband loved the latter so I went with it!  Feel free to change this recipe up by using any of the three- potatoes, turnips, or parsnips.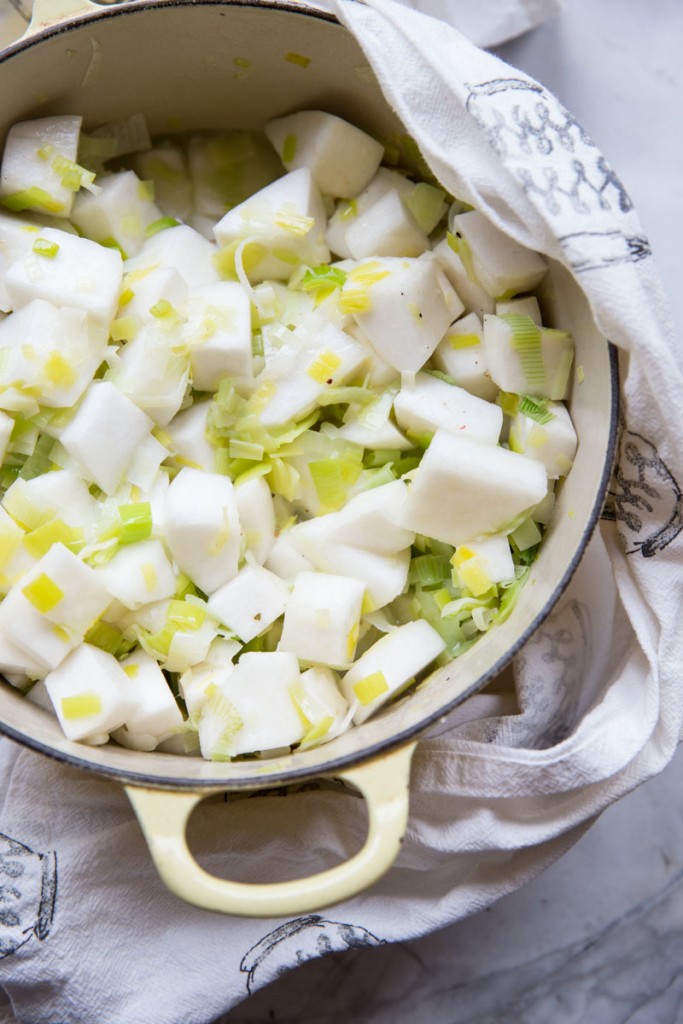 Along with adventures in the snow, winter brings with it a lot of unusual and often unused fruits and vegetables. I challenge you to try out something new this season.  Here's a great list of recipes to adventure with!
Healthy Tangerine Julius Smoothie by Letty's Kitchen
Leek and Turnip Soup by Vintage Mixer
Apple Almond Bircher Meusli with Winter Fruits by Simple Bites
Olive Oil Cornmeal Cake with Grapefruit and Fennel by Floating Kitchen
Saucy Sweet Potatoes with Coconut Curry and Mint by Healthy Seasonal Recipes
Garlic and Herb Spaghetti Squash Boats by She Likes Food
Peanut Butter Crusted Sweet Potato Fries by JoyFoodSunshine
Raw Brussels Sprouts Salad with Harissa Vinaigrette by Project Domestication
Winter Cauliflower Rice Bowl with Cranberry-Mustard Sauce Cafe Johnsonia
Meyer Lemon Coconut Panna Cotta by Kitchen Confidante
Maple Orange Teriyaki Salmon Bowls by Flavor the Moments
For the full Seasonal Recipe Guide visit this post.
Leek and Turnip Soup Recipe
Change up your potato and leek soup routine and try turnips instead of potatoes for a flavorful seasonal soup.
Ingredients
3

tablespoons

butter or olive oil

3

medium leeks,

washed and sliced thin (using just the white and light green parts)

3

lbs

24 ounces turnips, peeled and cubed

water

salt and pepper to taste,

1.5-2 teaspoons of salt and 1/4 teaspoon pepper
Instructions
Cut off the dark green parts of the leeks then slice the leeks in half lengthwise. Rinse the layers under cold water to remove any dirt. Slice thin and set aside about 1/4 cup (for a topping)

Heat a stock pot over medium high heat and add the butter or oil. Add the sliced leeks and sauté for 5-8 minutes stirring occasionally to prevent sticking. Add in the turnips and cook, stirring, for another 5 minutes. Add enough water to cover over all of the turnips. Cook for 25 minutes or until turnips are soft. Season with salt and pepper. Puree using an immersion blender or let cool then puree in a standing blender. Taste and add additional seasoning to your preference.

Serve warm with toasted bread, herb oil, chives, or crispy fried leeks.
Notes
parsnips or yukon gold potatoes may be used instead of turnips.
For the toppings, I heated a tablespoon of canola oil up in a small saucepan over hot heat.  Once really hot (test with a drop of water to see if it sizzles) I add in the extra 1/4 cup of leeks.  Toast the leeks in the oil for 30 seconds then stir or flip and continue to cook for 30 more seconds or until starting to brown. Use a fork to remove the leeks from the hot oil onto a paper towel.  Use the same pan and same oil to toast up some cubes of bread for croutons.  Add the bread to the hot pan and cook over medium high heat until crispy, stirring occasionally, 3 minutes or so. Season bread with salt and pepper. For herb oil, use a blender to mix a variety of herbs you have on hand with oil, season lightly with salt.
Please stay connected and feel free to comment with any questions you have about any recipe here.  If you make something from The Vintage Mixer I would love to hear about it! Use the tag #VintageMixerRecipe or #eatseasonal on Instagram to share your creations online. 
Instagram: @vintagemixer
Pinterest: VintageMixer
Facebook: VintageMixer
Twitter: @slcfoodie