Making a quinoa for a crowd can be harder than one would think.  This past weekend I prepared a quinoa salad for a dear friend's wedding and learned (by fire) that making quinoa in a large quantity often leads to a mushy quinoa mess. After a complete fail, I finally figured out how to make perfect quinoa.
perfect quinoa vs. sad mushy quinoa
up-close with my mushy quinoa mess
I did ask a few friends if they ever experience mushy quinoa or quinoa that's not fluffy and they all replied, 'no'.  So, apparently I'm the only one, but just in case there are a few more of us out there… here are my tips for non-mushy, perfect tasting, quinoa.
Skip the rinsing. Some say to rinse the quinoa to remove a bitter tasting quinoa… but have you ever tried this???  Quinoa is tiny and impossible to rinse unless  you have a fine mesh strainer and I do not.   I thought that this might effect the texture but after experimenting it did not so my recommendation to you… skip the rinsing. Most quinoa in the US has been pre-rinsed.
Don't over crowd the pan. If you're making quinoa in a large quantity (like I did for this quinoa salad) don't try to make it all in one pan.  Use two or even 3 pans to be safe and use less water when you're making quinoa in a large quantity. Which brings me to my next point
Use less water if you're making a large amount in one pan or if you are using a pan that is not very wide, then alter the water to quinoa ratio. For a 2:1 ratio (water to quinoa) try 1 cup of quinoa to 1 and 3/4 cup water.
Use vegetable broth for added flavor.  If you're making the quinoa for a simple salad and you'd like to boost the flavor use vegetable broth and a chopped spicy pepper to simmer the quinoa in.
Add butter or oil to the quinoa as you're bringing it to a boil. This will help the seeds to separate and not clump together. A tablespoon of either will do the job. This is the real key I've found to preventing mushy quinoa.
Simmer the quinoa for the full 20 minutes, covered, and don't keep checking on it.  It's tempting but just set a timer and let it do it's thing.
I hope my kitchen fail will help someone else out there!  And when you're done making perfect quinoa, here are my favorite quinoa recipes: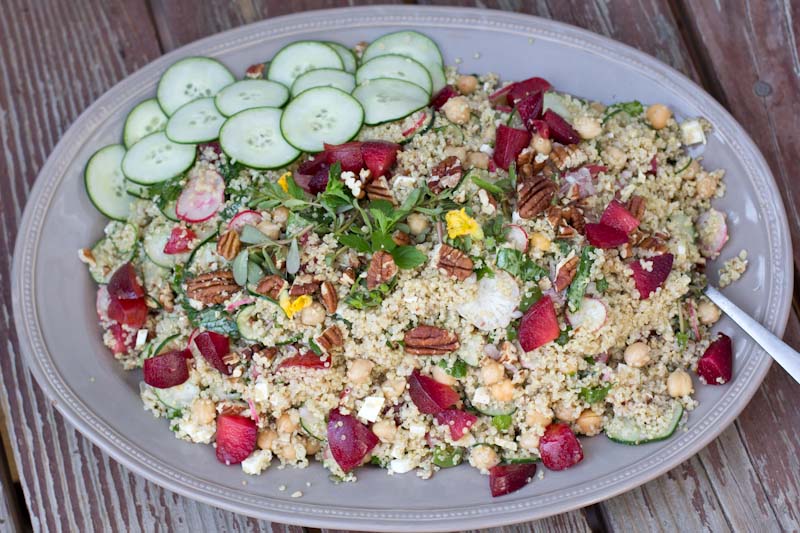 PS… don't throw the mushy quinoa out!  You can use it in muffins, cookies, or as a morning cereal with fruit and milk.