This healthy Angel Food Cake Recipe is made with no chemicals or preservatives like the store bought versions and is low in sugar. It's definitely a recipe you'll want to go into your classic repertoire.  After making it once you'll be making it time and time again.
The recipe came from my time in Culinary School but as I compared the recipe to others around the web I noticed how mush less sugar my recipe had yet when I taste it, I can't tell the difference.  You simply don't need as much sugar as most of the recipes call for.  This specific low sugar angel food cake recipe does require more egg whites than others but if you buy your eggs in bulk its no extra expense and you'll have plenty of yolks leftover to whip up some homemade ice cream!
And as far as flavor and nutrition goes, the difference of homemade verses store bought is pretty remarkable here.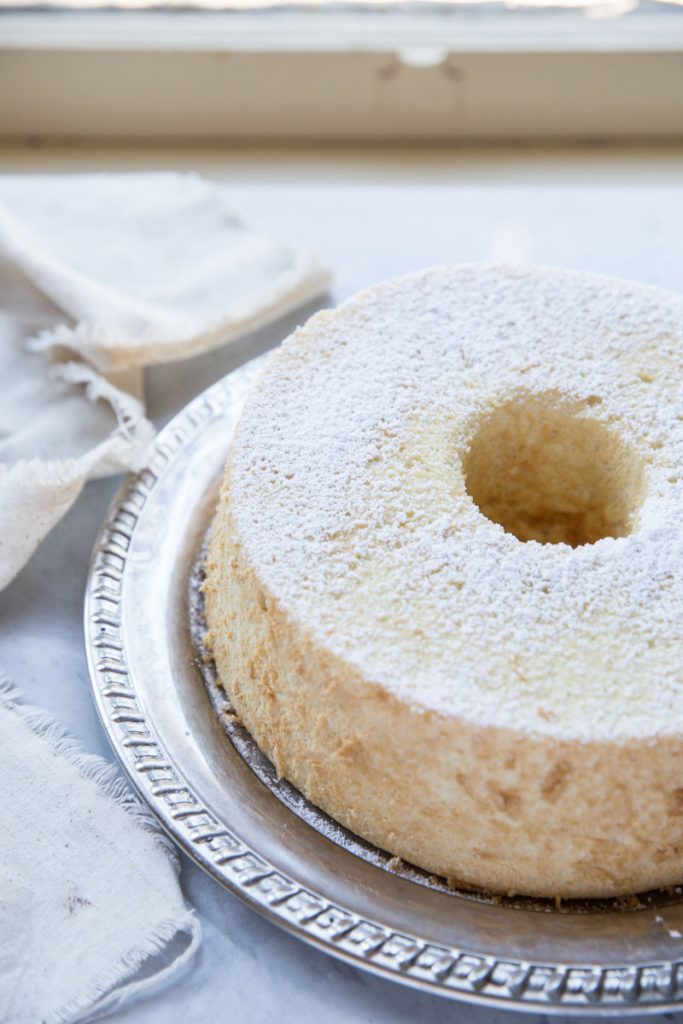 Though homemade Angel Food Cake is really pretty easy there are a few key steps to success that you really must not mess with.
About this Recipe
• Don't spray or grease the pan for angel food cake. Because of the light nature of this cake if you grease the pan the cake may not rise.
• Invert the cake still in the pan after baking so it will start to loosen from the pan as it cools.  Let cool completely before removing from the pan.
• Cake Flour, sometimes labeled as, Super-fine Pastry Flour really is best for Angel Food Cake because it's super fine but if you don't want to buy a different flour you can combine cornstarch with all purpose (2 tablespoons of corn starch per 1 cup of flour).  Sift a few times to incorporate.
• Similar to the cake flour, a superfine sugar is also helpful in this recipe.  You can make superfine sugar at home by pulsing regular sugar in your food processor or blender until fine. I've made this cake with regular organic cane sugar before and it worked but it was harder to fold the flour/sugar mixture into the egg whites without making the egg whites collapse. The top right photo is of the sugar after its been quickly processed in a blender.
• An Angel Food Cake 'Tube' pan works best for this recipe.  I've made the mistake of using a bundt pan that had too pan crevasses and the cake stuck to the sides. The tube pan has a removable bottom so you can easily get the cake out of the pan using a life to loosen around every edge. This pan also has feet on it so when you cool it upside down air can flow through.
• To ensure that no egg yolks get into the egg whites, break each egg dividing the white into a separate bowl before adding it into a larger bowl for all of the egg whites.  This way, if you accidentally get a little yolk into one of the whites you can discard it without having to throw away all of the egg whites you've already separated.  See the photo above as an example.
• Most Angel Food Cake recipes require a lot of sugar which is simply not needed.  This cake is perfectly sweet especially topped with whipped cream and berries for a light Summer Dessert.
• Store bought Angel Food Cakes have a lot of artificial ingredients, preservatives and chemicals so homemade is definitely the way to go.
Healthy Angel Food Cake Recipe
This simple Angel Food Cake Recipe has less sugar than most recipes and no strange ingredients or chemicals like store bought Angel Food Cakes.
Ingredients
1 1/3

cups

cake flour*

1 1/4

cup

superfine sugar*,

divided
wet ingredients
2

cups

egg whites

1/2

teaspoon

salt

1

teaspoon

vanilla
Instructions
Preheat oven to 350 degrees (or 375 for high altitude). Get out a angel food cake tube pan (the one with a hole in the center) but don't grease the pan.

Sift the flour and 1/2 cup of the sugar together.

In a clean stand mixer with the whip attachment, whip the egg whites until foamy. Add in the salt and vanilla, then gradually add in the remaining 3/4 cup sugar and continue to whip until medium peaks are formed.

Fold in the flour mixture in 3-4 additions, using a large wire whisk or a spatula.

Pour batter into the tube pan and bake until the cake springs back when you touch with your fingertips (about 40 minutes).

Let cool inverted (upside-down) for one hour then use a knife to loosen all of the edges before removing from the pan. Once cake is out of the pan, sprinkle with powdered sugar and serve with whipped cream or ice cream and berries.
Notes
To get superfine sugar you can process your sugar in a food processor or high powered blender until its fine (about 2 minutes). 
If you don't have cake flour on hand use mix all purpose flour with cornstarch (3 tablespoons or cornstarch and 1 cup +2 tablespoons all purpose flour for this recipe).  Sift this a few times to incorporate. 
I first made this cake in a bundt pan but the top of it got a little stuck so I covered it in whipped cream and berries.  Just in case, you don't have an angel food cake pan, it is possible to make in other pans but make sure to have some whipped cream handy in case it sticks!