I don't know what your summer reading is like but mine is mainly filled with cookbooks.  This recipes for Goat Cheese Polenta with Crispy Beets is from The Easy Vegetarian Kitchen by Erin Alderson. Erin is a fellow blogger at Naturally Ella and seasonal food junkie like myself and she just had a precious baby boy so I feel even more connected.  She and I met at a conference years ago, when I was pregnant with Everett.  We connected over fresh produce and vintage cookware.  She has since then put out two beautiful cookbooks that have given me great inspiration in the kitchen.
I love cookbooks that leave room for creativity.  In The Easy Vegetarian Kitchen, Erin gives recipes with tons of room for improvisation. She give basic recipes with 4 seasonal variations of the dish.  For instance, she gives a recipe for perfectly cooked polenta then has choices for spring – with crispy beets, summer- grilled with chickpeas and ginger chutney, fall- with sweet potato and a poached egg, and winter – with caramelized cauliflower.
I just so happened to have a bag of beets from a CSA I recently joined so this recipe was an easy choice.  I often choose recipe based upon what is already in my fridge verses the other way around.  This way I waste less and am forces to get creative with what I have.  Along with the beets I had a bouquet of purple kale and because I didn't actually have polenta lying around I used some beautiful corn grits that a friend gifted me. So, I made a few slight changes to Erin's original recipe but I think that was her intent in the first place.  
Summer is the perfect time to get creative in your kitchen.  Find a general recipe then use whats fresh and available to you. I hope this summer proves to be inspirational for all of us!  More of my summer cookbook reading recipes to come!
Here's a recipe I posted from Erin's first book. Homemade Flour – Quinoa Crusted Cauliflower Steaks.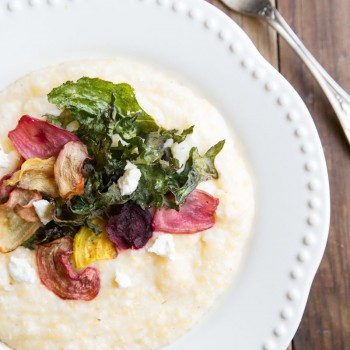 Goat Cheese Polenta with Crispy Beets and Kale
A creamy goat cheese polenta recipe topped with crispy beets and kale.
Ingredients
for the polenta
4

cups

water

1

cup

polenta,

I used grits

1/2

teaspoon

salt

2

tablespoons

unsalted butter

1/4

cup

whole milk

2

ounces

goat cheese,

divided
for the beets
2

medium red or chioggia beets,

I used a mix of what I had

2

cups

kale,

stems removed and torn into bite sized pieces (optional)

1-2

tablespoons

olive oil,

use more if adding kale

1/4

teaspoon

salt

1/4

teaspoon

black pepper
Instructions
for the polenta
Bring the water to a boil in a large pot over high heat. Add the polenta (or grits) and salt, then reduce the heat to low. Cover, and let cook for 25-30 minutes, stirring every 5 minutes. While the polenta is cooking start the beets and kale. Taste and adjust the salt as desired. Once the polenta is cooked remove from heat and stir in the butter, milk, and 1 1/2 ounces of the goat cheese.
for the beets
Preheat oven to 350. Cover baking sheets with parchment. Wash and peel the beets. Use a mandolin or a sharp knife to cut the beets as thinly as possible, about 1/16 inch (you can also use the slicer of a food processor). Toss the beets and torn kale (if using) with olive oil, sea salt and black pepper. Place in a single layer on the baking sheets. Roast for 20-25 minutes until the beets are beginning to crisp. Check after 10 or 15 minutes to see if any are crisp and need to be removed (kale with crisp up faster). Remove from oven and let cool to crisp further. Sprinkle the polenta with the crispy beets (and kale) and remaining goat cheese right before serving.
Notes
Check the beets and kale frequently as they roast. Remove any pieces that crisp up faster than the rest so they don't burn.