This gluten free fruit pizza made with Bob's Red Mill Almond Flour has all of the elements of the traditional fruit pizza I grew up on but with a more modern and healthy twist.  No cool whip and low in sugar but, I promise this healthy fruit pizza is one you'll be grabbing slice after slice.
Did anyone else grow up with fruit pizza as a summer-time dessert or birthday party treat? Hoping I'm not the only one here!!  Just in case you need some clarification, a fruit pizza is more of a simple, homemade fruit tart made with a sugar cookie as the base layer, a creamy & sweet middle layer (often made of marshmallow cream or cream cheese) and a top layer of fruit.  My mom would make some sort of pattern with the fruit on top and all of the colors made it seem fun and festive.
This Summer I've been all about the fun Summer treats.  We've been eating homemade popsicles daily and enjoying making fun deserts like this fruit pizza on the weekends. My kids are to the age now where I can see them get excited when they get a special treat, and even more so when they can help make it!
Making this Fruit Pizza with Kids
This fruit pizza is totally a kid friendly recipe for eating and making.  Here are some easy ways to get kids involved:
• Measure out ingredients before hand so the kids can easily dump them into a bowl and help with stirring.
• Let them use a table knife to help cut the fruit (my 4 year old loves cutting strawberries). I set my little guy down at a table with a cutting board, strawberries and a safe knife for a comfortable and safe task space. This is a safe way to start practicing some knife skills.
• Let the kids help with spreading out the creamy topping. My kids have their own mini spatulas for tasks like this.
• Let the kids decide on a pattern for the fruit or arrange with their own creativity (they could even draw it out before hand).  Unlike me, your fruit pizza doesn't have to be instagram worthy (can I get a hallelujah!!).
About the Recipe
This gluten free version is made with super-fine almond flour from Bob's Red Mill.  The sugar cookie crust is only lightly sweetened with combination honey and sugar.   The middle creamy layer is made with a mixture of whipped cream, cream cheese and yogurt but I have also used a simple coconut whipped cream for a dairy free version. I like to use whatever fruit I find a the farmers market to top it all off. Sometimes, I brush the fruit with a little simple syrup or warmed jam for some finishing shine.
Some tips for making this gluten free fruit pizza.  I like to chill my dough for a few hours, wrapped in plastic. Or you can freeze for 20 minutes before rolling out.  Use extra almond flour throughout the rolling out process to prevent the dough from sticking to your parchment or baking mat.  Also, let the cookie cool completely before spreading the cream mixture on top. Slice the fruit before you get ready to place it and leave it out on a cutting board so it's all prepped and ready for finishing the fruit pizza.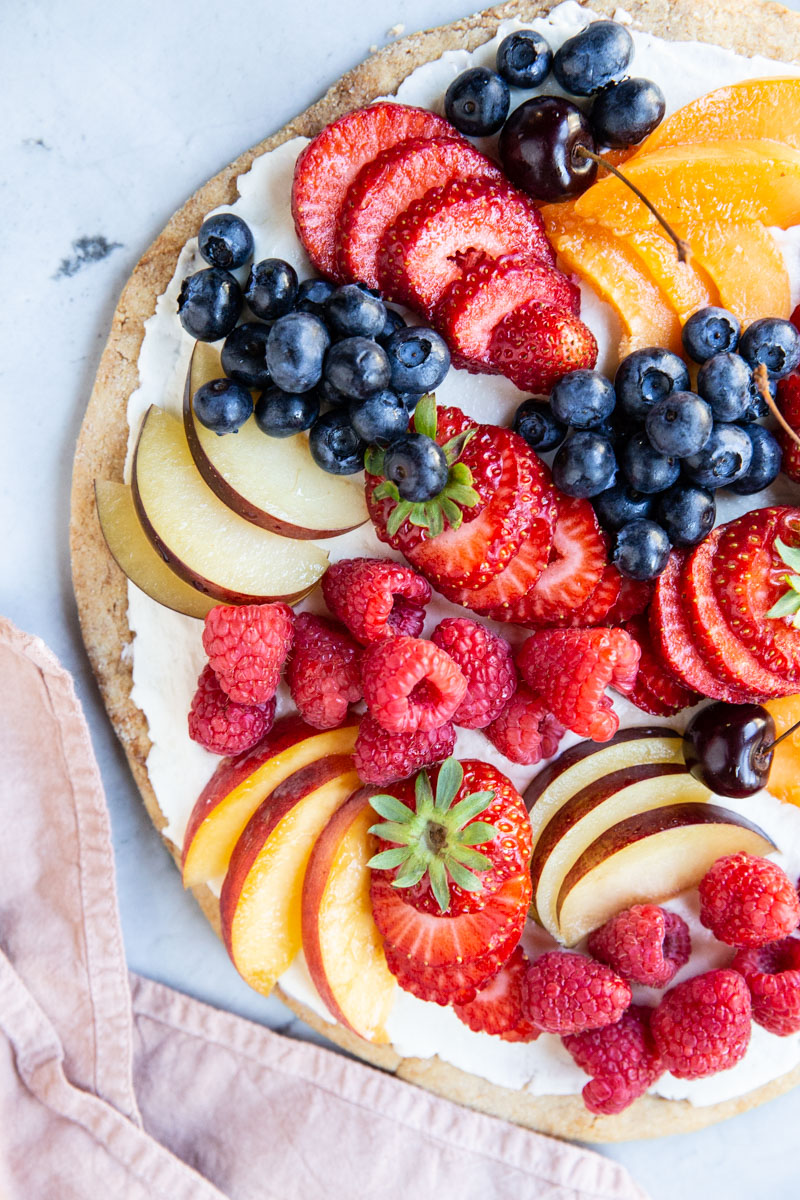 Hope you all enjoy this one as much as we do.
Gluten Free Fruit Pizza with Almond Flour
A healthy and gluten free fruit pizza that's made with almond flour and only lightly sweetened.
Ingredients
for sugar cookie
1 1/2

cups

super-fine almond flour,

packed

1/4

teaspoon

baking soda

3

tablespoons

coconut flour

1/4

teaspoon

salt

1/3

cup

butter,

room temp (or coconut oil, melted)

1/4

cup

organic cane sugar

2

tablespoons

honey

1

large

egg,

room temp

1

teaspoon

pure vanilla extract

1/4

teaspoon

pure almond extract
for sweet cream* (see note for a dairy free alternative)
1/3

cup

heavy cream

4

ounces

cream cheese,

room temp

1/4

cup

greek yogurt

1/4

cup

powdered sugar

1/4

teaspoon

pure vanilla extract

1/6

teaspoon

salt
for fruit
2

cups

assorted fruit,

sliced
Instructions
Preheat oven to 350 degrees and line a baking sheet with parchment or a baking matt.

In a medium bowl, mix together almond flour, coconut flour, baking soda and salt. Whisk to get rid of any clumps.

In a stand mixer with the paddle attachment, mix together the sugar and butter, at room temp (or coconut oil-melted). Once light and fluffy, add in the egg, honey, and extracts.

Add in the dry ingredients to the mixture and mix just until combined.

Wrap the dough in plastic wrap then freeze the dough for 20 minutes or refrigerate for an hour or longer.

Lightly flour a surface with almond flour as well as a rolling pin. Have a small bowl of almond flour out to use as needed. Roll out the dough, using extra almond flour to prevent sticking. Roll out to an 8 inch diameter.

Bake for 15 minutes or until lightly brown on the edges.

Let cool completely before adding the cream mixture.
for the whipped cream
In a stand mixer, whip up the whipped cream on high until soft peaks form. Transfer to a separate bowl.

Add the cream cheese to the mixer and whip until light and fluffy. Add in yogurt, powdered sugar, vanilla, and salt. Fold in whipped cream.

Spread this onto a cooled cookie crust then decorate with assorted fruit.