Last year around this same time, Josh and I were visiting my sister and brother-in-law in China. While there we discovered a little expat coffee shop and cafe that boasted of its American cuisine, so we gave it a shot. One taste I distinctly remember from that meal was the ginger lemonade. Perfectly sweet with a hint of spice and fresh citrus. For the SLCmixer this past weekend I tried making my own version of ginger lemonade starting with this ginger simple syrup. The drink made for a refreshing welcome as people came in the doors for the wine tasting.
Jim Santangelo lead the SLCmixer this weekend, teaching the group how to taste wines using your olfactory senses. We tasted light, medium and full reds and whites, while also smelling and viewing the food items that we could be experiencing in the wines. It was a fantastic way to start coordinating your senses with familiar flavors to the wines we drink. Jim is full of knowledge and super enthusiastic about wine, which easily rubbed off on the group. We all left more excited to try and share wine with the knowledge we gained.
We have one more SLCmixer before we go on a little vacation and a few spots left. This Saturday we'll being toasting breads and spreading jams at the Toast and Marmalade mixer. I hope you'll join us. Today we're giving away an amazing gift basket from Cahootal, including some of the Amour Spreads that we'll be tasting this weekend. Cahootal is a great online source for local food products and gifts. Leave a comment for a chance to win this gourmet treat. For a second entry, you can follow Vintage Mixer on facebook (we recently started this facebook page so we need a little love) or follow Cahootal on facebook. In your comment below just let us know you've become a facebook follower as well. Here is a photo of what you're entering to win.
The winner will be announced Friday at the top of this post.
On a side note… Josh and I are just counting down the days until we'll be sipping on wine in France and Italy now!! Only 8 more days! Until then I'll be drinking Ginger Lemonade and making new creations with this simple syrup. What would you create with this simple syrup?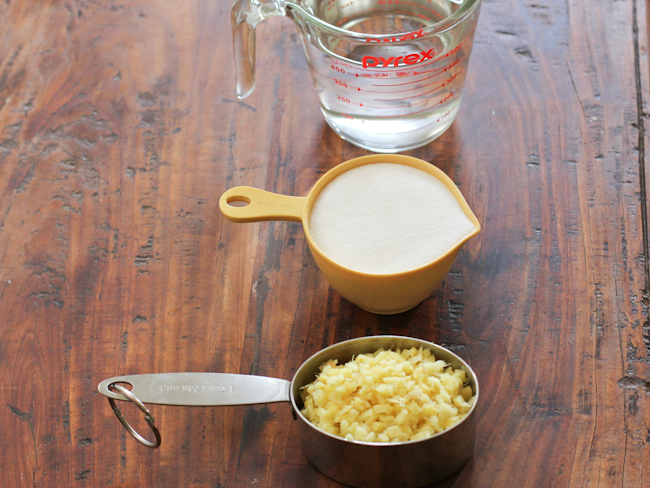 Ginger Simple Syrup Recipe
Ginger simple syrup is a great addition to homemade cocktails and lemonade.
Ingredients
1

cup

ginger,

diced into tiny pieces

2

cups

sugar

1

cup

water
Instructions
Bring ginger, sugar and water to boil over medium high heat. Then turn to low and let simmer for 10-15 minutes. Store in a jar with a tight lid in the refrigerator until ready to use.