I recently had the best bowl of gazpacho at the Soup Kitchen in Sugarhouse, one of my favorite Salt Lake City restaurants. Its a very casual local dive with homemade soups and breadsticks. I'm not usually a gazpacho fan but it was a hot day and I really couldn't convince myself to get a hot soup so I went for it and tried their cold and spicy gazpacho. What really makes a good gazpacho for me is its spiciness- and theirs was just that! So, if you're out and about in Sugarhouse this summer stop by The Soup Kitchen for some of their gazpacho.
After that good experience I decided to try making my own gazpacho at home and looked up a few different recipes online. Really the soup is so simple you really don't need a recipe. I was inspired though by one online blog that featured the idea of a Gazpacho Bar for summer entertaining. Holly Hadsell Entertaining wrote about this great summer dinner party idea and we gave it a try. We were having some good friends over and I knew they would be gracious enough to try something different. Plus the dinner itself is really easy, you just have to allow some time for lots of chopping. You make the tomato puree ahead of time and have all of the ingredients out for folks to choose from. Then they can blend and add the ingredients that they wish- choosing how pureed/ chunky/ spicy/ or mild they would like it to be. Here is the recipe I came up with:
Summer Gazpacho Bar
adapted from Holly Hadsell Entertaining
serves 4
Tomato Puree
INGREDIENTS
1 28 oz can organic diced tomatoes
1 14.5 oz can of stewed sliced tomatoes
1 15 oz can of organic tomato sauce
2 garlic cloves
6 -10 fresh basil leaves
DIRECTIONS
Saute garlic in oil for 2-3 minutes over medium heat then add all of the tomatoes and tomato sauce. (Really I had no idea how much tomatoes and sauce to start with but I found that this amount worked perfectly so feel free to use a different variety of canned tomatoes or use fresh too). Let tomatoes simmer with garlic for 5-10 minutes then stir in basil and simmer for another 2-3 minutes. Season with salt and pepper to taste. Remove from heat and let cool to room temperature (be dicing vegetables while this is cooling). Once cool puree in blender or large food processor until smooth. Pour pureed tomatoes into caraffe or pitcher.
Gazpacho bar toppings and mix ins
INGREDIENTS
Celery
Red Onion
Avocado (makes a creamy gazpacho)
Carrots, cooked but still crisp (adds sweetness)
Green Pepper
Jalepeno
Cucumber
Lime wedges
Parsley
Basil
Red Pepper Flakes
Hot Sauce
*please post comments of more topping ideas that you might have!
DIRECTIONS
Chop all vegetables and place in bowls or serving platter. Have fresh herbs and spices out for friends to choose from. Let guests pick their ingredients then blend in blender with about 10-12 oz of the tomato puree for each serving. For a chunky gazpacho add more veggies after blending.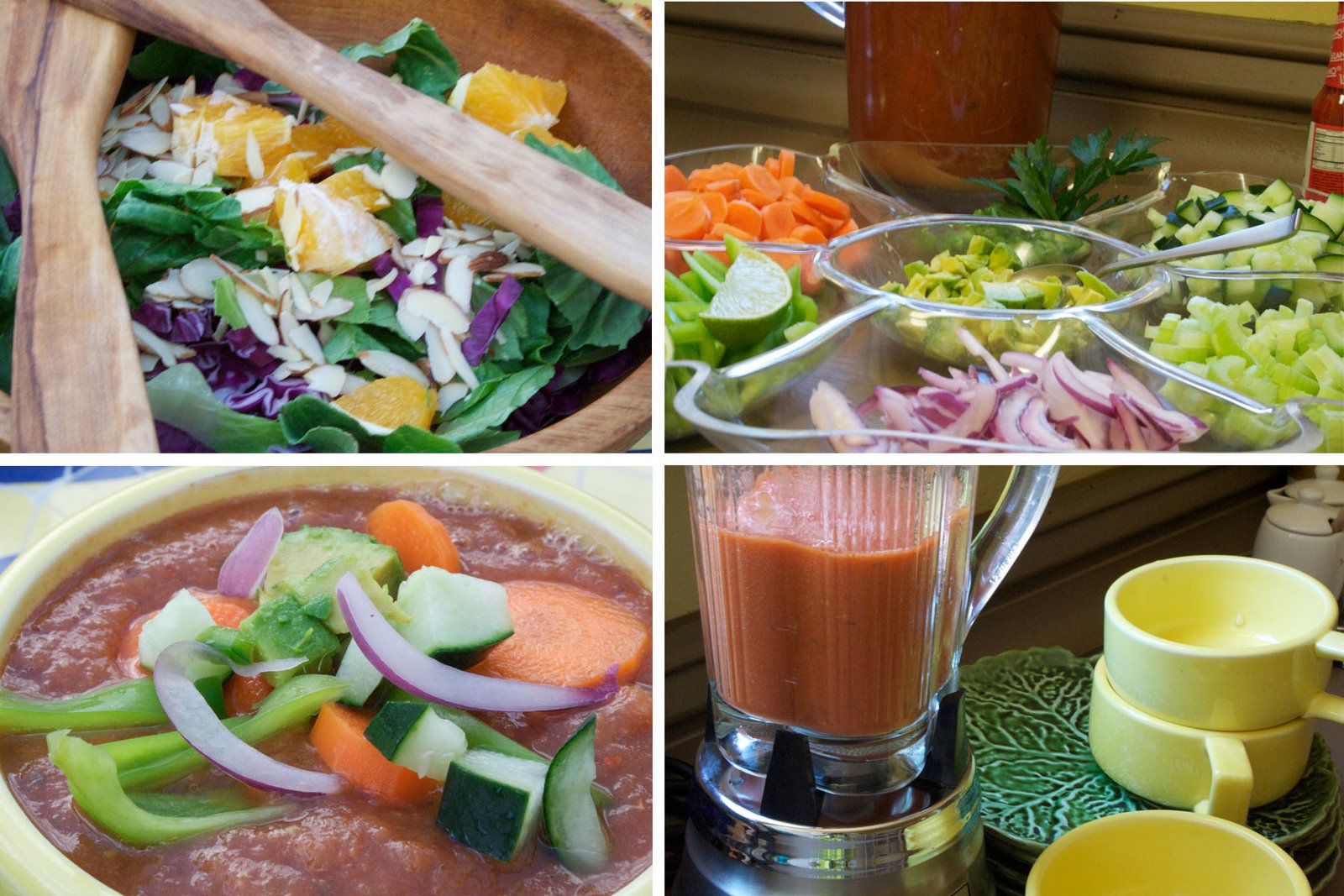 *We served the gazpacho alongside a Spanish Salad with Jimica, Grapefruit and avocado, and grilled spicy shrimp. You could also serve this with Salmon in a lime vinaigrette dressing, grilled chicken or steak, or maybe an assortment of tapas.