A year ago my friend Josie clipped a magazine recipe for me, you know the way our grandmothers used to share recipes. She folded up the torn page and handed it to me saying the recipe looked like one I would enjoy- Corn Griddle Cakes with Pulled Pork and Cherry Salsa.  I folded it back up and saved it for the following cherry season, looking forward to making this gifted recipe.
I could hardly wait to try the recipe as soon as cherries and corn hit the stores.  I picked up a bowl full of cherries at the local farmers market and got to pitting and chopping to make this cherry salsa recipe. For the corn griddle cakes I altered the recipe adding in fresh corn, briefly roasted in the oven, and changing slightly the other ingredients and measurements. I cheated slightly and picked up pulled pork from Trader Joe's, which turned out pretty good (or you can make Pulled Pork from scratch just don't add any extra seasonings or sauce)! The result, a sweet and salty meal that was pretty easy and soo tasty (Everett loved it too!).
Maybe the days are mostly over, when people used to clip newspaper recipes and magazine articles to save or share, but this special gift made me want to revive the old way and start sharing recipes without pressing any buttons, pinning, or liking etc. Maybe I'll even find some recipe cards to write in. This is all sounding so perfectly nostalgic.
It turned out to be an incredible meal and special reminder of thoughtfulness. Thank you Josie for so thoughtfully sharing this recipe with me!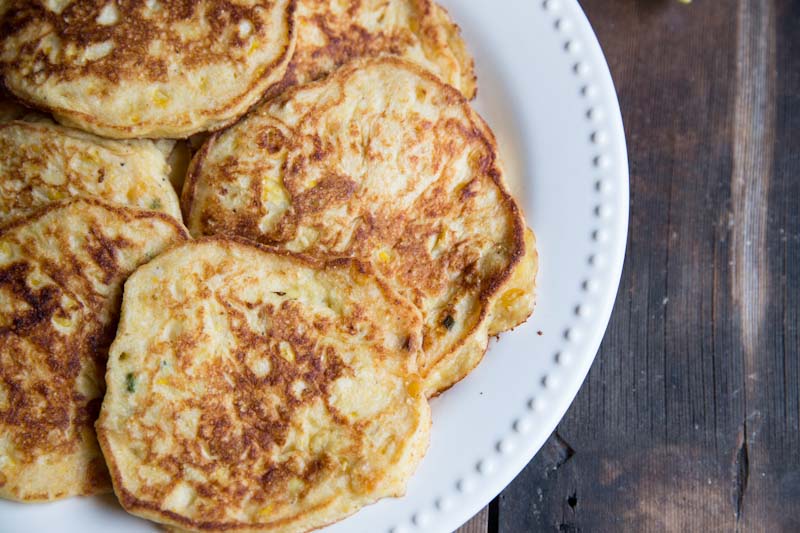 Here are some other great recipes using fresh corn:
Abodo Grilled Street Corn by Naturally Ella
Sweet Corn Ice Cream Sandwiches by My Name is Yeh
Mexican Street Corn by Lauren's Latest
Blueberry Corn and Feta Salsa
And to go along with the corn cakes try this great Pulled Pork Recipe by Oh Sweet Basil
Fresh Corn Cakes
Savory pancakes made of fresh roasted corn.
Ingredients
10

ounces

fresh corn,

2 cups/ about 2 ears

1/2

cup

whole wheat flour

1/2

cup

cornmeal

2

teaspoons

baking powder

1

teaspoon

salt

1/4

teaspoon

pepper

4

eggs

1/4

cup

buttermilk

3/4

cup

Greek yogurt

1/2

teaspoon

chives,

optional

1/2

teaspoon

jalepeno,

chopped (optional)

butter for the griddle

pulled pork,

for serving

cherry salsa,

for serving
Instructions
Preheat oven to 425 degrees. Place a small bowl upside down inside a larger bowl. Shuck the corn, then stand the corn up on top of the smaller bowl. Using a sharp knife, cut the corn off the cob, letting it fall into the large bowl. Roast the corn on a foil covered baking sheet for 10-12 minutes or until starting to brown.

Mix together the flour, cornmeal, baking powder, salt, and pepper. In a separate bowl mix together the eggs, buttermilk and Greek yogurt.

Gradually add the yogurt/ egg mixture to the dry ingredients, mixing just enough to incorporate. Add in the chives and jalepeno (if using). Then, fold in the roasted corn.

Heat a griddle or large non stick skillet to 350 degrees or medium high heat. Butter the skillet or griddle once hot. Then scoop out the batter 1/4 cup at a time. When the pancake starts to bubble, flip and cook for another minute or so. Repeat with remaining batter.