"Use what you have, use what the world gives you. Use the first day of fall: bright flame before winter's deadness; harvest; orange, gold, amber; cool nights and the smell of fire. Our tree-lined streets are set ablaze, our kitchens filled with the smells of nostalgia: apples bubbling into sauce, roasting squash, cinnamon, nutmeg, cider, warmth itself. The leaves as they spark into wild color just before they die are the world's oldest performance art, and everything we see is celebrating one last violently hued hurrah before the black and white silence of winter."
– Shauna Niequist, Bittersweet
We packed our bags with warm clothes and good books, bundled our little one, and filled a cooler with tons of yummy fresh foods, then headed up the mountain last week. Our goal – to completely unplug  (minus a few photos here and there) and enjoy our favorite time of year in the mountains.. oh and have lots of great meals together.  We took full advantage of best of our tiny condo kitchen, making some of the best meals we've created yet.
When we began planning our anniversary getaway we started with grand ideas… maybe we'll travel back to Europe, or take a drive along the Coast, we could fly to a big city in the states that we've never been to before or stay in a cabin in the woods.  Then we started to look a little deeper into reality – finances etc.  What we ended up with, though much less adventurous and less costly, turned out to be just perfect – God is always good that way, I think.  He knew we just needed a restful week to reconnect, be inspired, and enjoy the grandeur of His creation.
Taste and see that the Lord is good, blessed is the one who takes refuge in Him – Psalm 34:8
Our plan unfolded nicely, we would travel just 45 minutes away to a mountain resort and create some dishes we've always wanted to try and a few other favorites.  It would be food-centered trip but without the work side of things and for pure enjoyment.  We made mussels for the first time, in a coconut curry sauce and were amazed by how they just magically pop open when they begin to steam; we cooked perfectly juicy steaks alongside horseradish pureed cauliflower and butter sautéed brussels sprouts; we hand rolled pasta (with a plastic cup from the condo cupboard) then tossed it, al dente, with preserved lemon and kale; we hand-whipped homemade tapioca pudding until our arms were burning, then topped it with freslyh grated nutmeg; and we took on a challenge we had wanted to try for years – homemade croissants.  Luckily, every meal turned out perfect (we did bring some back-up foods just in case).  Many meals were enjoyed on the little patio overlooking the evergreens and bright yellow aspens, all three of us bundled in blankets and sweaters. It was our little refuge for the week.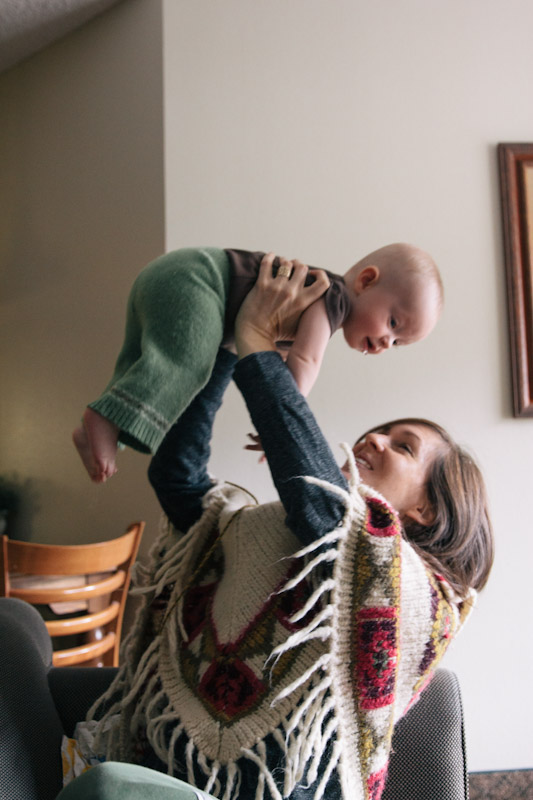 The mountains are a passive mystery, the oldest of all.  Their's is the one simple mystery of creation from nothing, of matter itself, anything at all, the given. Mountains are giant, restful, absorbent.  You can heave your spirit into a mountain and the mountain will keep it, folded, and not throw it back.  
– Anne Dillard, The Pilgrim at Tinker Creek