Frittatas are my go-to egg breakfast recipe. You can make them with just about anything you have in your fridge. There are only a few requirements: 6 eggs, vegetables, seasoning, and a cute pan (if you like the one we're using, you can get one like it here). Well you don't have to have a cute pan but the rest you do have to have. As far as variety goes, the sky is the limit. You may want to add bacon or ham, or maybe sun-dried tomato and goat cheese. You can truly make this with whatever is hiding in the back of your fridge, given that its still fresh enough to eat. I usually eat mine with spicy salsa on top but a light hollandaise sauce is also a good topping.
Also, I must mention that this cute blue enamel pan is up for sale on my etsy site. If you missed my post before, I'm starting to sell some food props and vintage cookware on Vintage Mixer Etsy so many of the fun things I cook with you'll be able to purchase online!
Here are the simple steps to making a frittata:
Saute onion and garlic. This is actually an optional step. No onion is necessary though it will add to the flavor.
First add any denser vegetables to the saute pan like potatoes or asparagus. If adding asparagus you may want to remove them then add them back in before the final step.
Next add in the lighter vegetables like mushrooms.
And finally the greens like kale.
Saute vegetables over medium heat. Here are some more ideas for vegetables you could use: (select 3-4) red peppers, broccoli, kale, spinach, mushrooms, red onions, sun-dried tomatoes, potatoes or leek. At this point you can spice up your veggies with your spice of choice (ideas: paprika, cumin, basil, or oregano). After sauteing the vegetables for about 5 minutes you can add cooked rice, cooked chicken, ham, sausage or bacon. (I chose to just go for a few veggies this time, no meat or rice).
Whisk the eggs then pour them over the veggies, making sure the eggs settle evenly over the vegetables.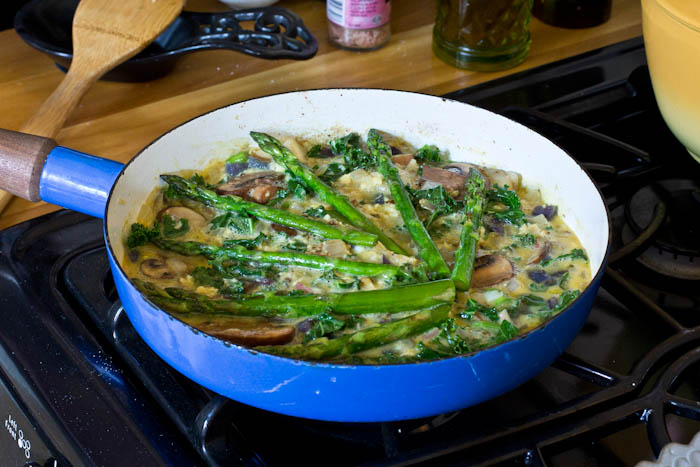 Cover and let the eggs cook over the stove on medium low heat until the top of the egg is cooked and not runny (15-20 minutes). Or you can place the pan in the oven on 400 degrees for 8-10 minutes to quicken the cooking process. If you are finishing the cooking in the oven just make sure the pan is oven safe. I'm not sure this wooden handle is a good match for a hot oven.
Top the cooked frittata with hollandaise sauce, cheese or spicy salsa!
Easy Vegetable Frittata Recipe
Ingredients
4-6 tablespoons of olive oil
1-2 cups of vegetables (I used a combo of mainly green vegetables: kale, asparagus and mushrooms)
1/2 onion diced (optional)
1-2 garlic cloves minced (optional)
fresh herbs and spices of your choice (optional)
6 eggs
cheese of your choice (optional)
Instructions
Preheat oven to 400 degrees. Meanwhile in a oven-safe pan, saute the onion and garlic in a tablespoon of olive oil over medium heat. After about 3 minutes add the remaining oil and your choice of vegetables. Start with the the denser vegetables like potatoes then add in the other veggies. Saute the vegetables over medium heat for about 5 minutes (I like mine still crisp). Season the vegetables with salt and herbs (basil, oregano, paprika or cumin).
Whisk the eggs together then pour the eggs over the vegetables, making sure they spread evenly over the veggies. Now place the saute pan in the oven and bake for 8-10 minutes or you can continue to cook over the stove on medium low for 15-20 minutes.
Top the frittata with hollandaise or salsa.
https://www.thevintagemixer.com/easy-vegetable-frittata-recipe/
https://www.thevintagemixer.com