Chocolate, sugar, more chocolate, sushi and a big bowl of risotto.  That's pretty much how our week went at Culinary School.  How was your week?  My teeth hurt a little but I sure had a lot of fun discovering the world of tempered chocolate and magical sugar work. And to keep things balanced, I ate a lot of greens every day and ate light and tender white fish, that I filleted myself!
We are nearing the end of our intensive 8 week course at Park City Culinary Institute but before we head into our big graduation dinner we had a few subjects to hit on – Chocolate, Sugar, Sushi and Risotto.  Needless to say, another delicious week. Here are a few things I learned along with my weekly tips…
Tempered Chocolate was always a mystery to me.  Why do we need to melt the chocolate only to make it solid again, and can't we just melt it without all of the nonsense??  Well, I learned that the reason you must temper chocolate is for a few reasons: the gloss of the final product (candy, truffles etc), a luxurious mouthfeel (the tempering process changes the structure of the chocolate making it truly melt-in-your-mouth) and lastly for that crisp snap (this is especially important when you're making bars).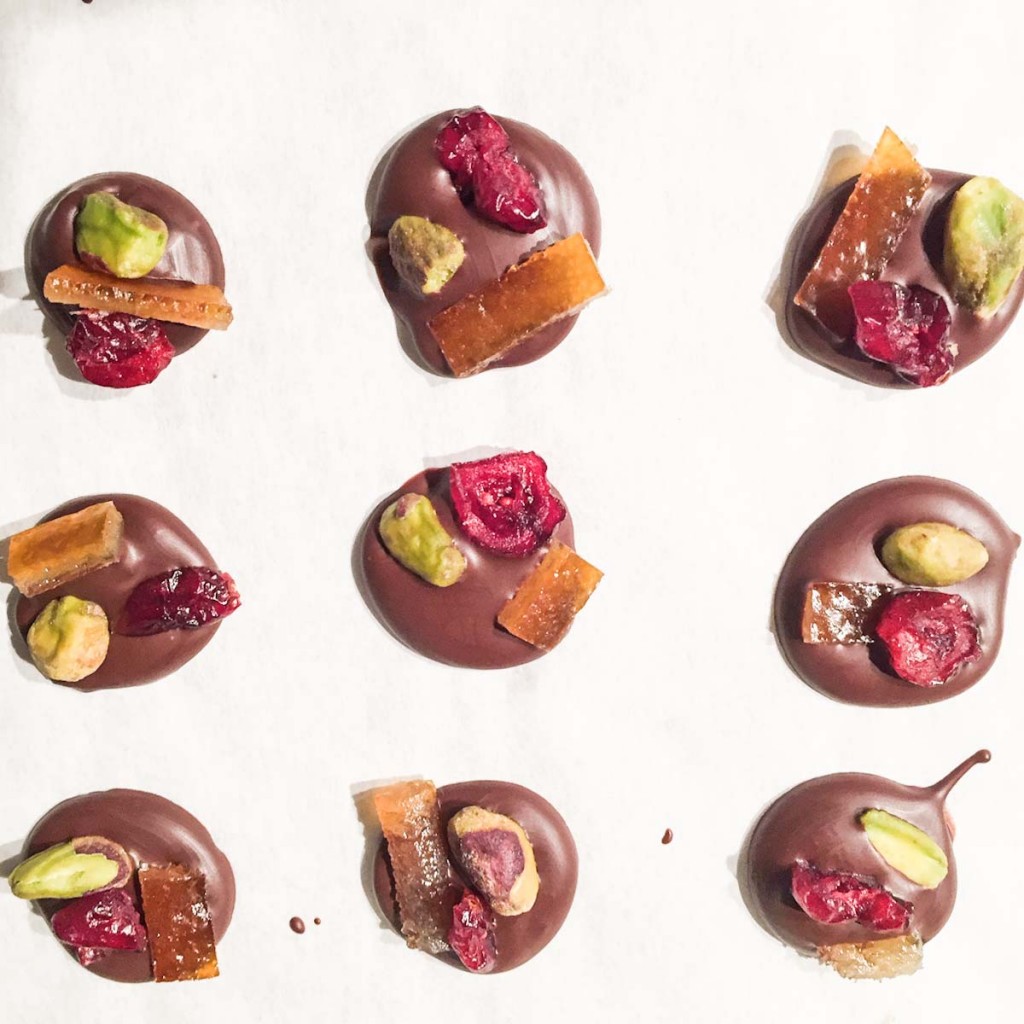 More on the subject of Chocolate… I learned that Dutch Cocoa is actually more mellow in flavor and less acidic that Natural Cocoa (which is more readily available). Also, Dutch Cocoa has less antioxidants.  You would think the opposite when you look at the colors between the two but the lighter natural cocoa is actually the more pure of the two. Preference of taste should lead you as you choose but if a recipe does have baking soda present or dairy, use Dutch, but if baking soda is present then use natural, as the acidity of the cocoa is needed to activate the baking soda.
I'm continuing to grow in my respect for the animals I eat as I broke down and filleted a whole fish this week.  Starting with descaling all the way to a light dredge in flour and a quick sear in a hot pan, my lunch for the day was completely prepared by my two hands. And what I didn't eat for lunch, I enjoyed later in the day as we rolled some sushi together.
Culinary School Tips for the week:
Sushi seaweed has different grades, for the best quality (most pliable and easy to eat) look for platinum, premium or gold on the label.
When making sushi rice the ratio of cooked rice to sweet vinegar liquid is 5:1. Make sure to cut the liquid into the rice so there aren't any rice clumps before you start making your rolls.
For crispy pan seared fish lightly batter the fish in flour before searing.
Well tempered chocolate should be at a temperature lower than your body temp before its used.
Use Dutch cocoa in recipes where baking powder or dairy is present while Natural Cocoa is best when baking soda is present. (read above for more on this).
A good risotto should be soupy and not sticky. And, in contrast to popular opinion, you can use oil instead of butter and water instead of broth for a light yet still comforting end result.
At the half way point of cooking your risotto the rice starts absorbing liquid more quickly so make sure to monitor closely or turn the heat down.
For extra luxurious risotto add in whipped heavy cream right before serving.
When working with hot sugar for candies, nut brittles etc, use rubber garden gloves to protect your hands from the heat. (see photo below)
If you're interested in taking on a culinary school journey like this one, now is the time to enroll! Sign up online at Park City Culinary Institute.
Our instructor, Mary Cech, made the most beautiful sugar decor using a wooden block with nails to draw our the sugar into fine, intricate designs!