This Classic Pound Cake Recipe was passed down to me from my grandmother with the title, Our Very Best Pound Cake. And, let me just tell you, it is absolutely worth the praise. Even generations later.
I've been blogging for 10 years you guys! It seems like forever. And yet, I'm still working through family favorites.  This one, I discovered in a recipe journal of my grandmother. I first discovered it 4 years ago when I was taking a little maternity leave with Everett (but still reading recipes of course). I've made it several times since then but I am just now getting the chance to bring it here to you.
I love looking at my Grandmothers handwriting, noticing what she circled or underlined, what were her favorite recipes, which pages were stained and worn.  Somehow I feel connected to her, to family, and especially around the holidays, that just feels nice.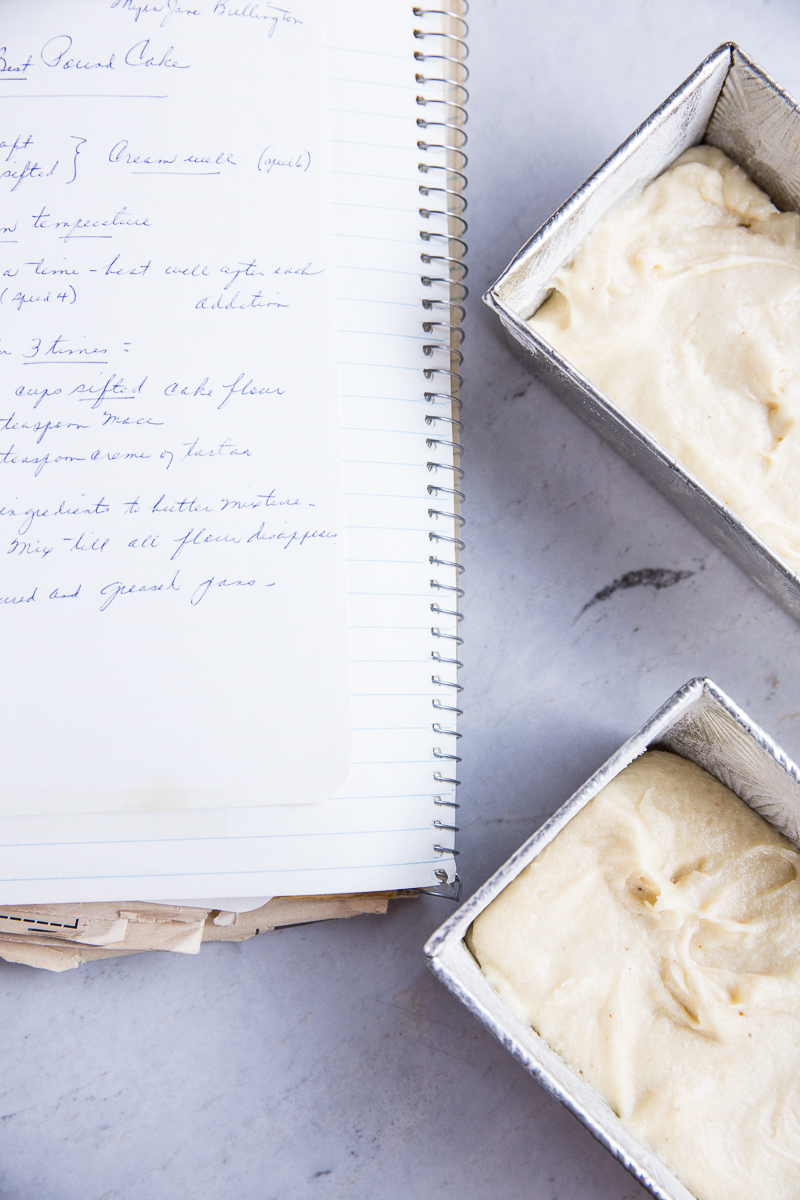 THIS pound cake you guys.  My Grandma wasn't kidding around.  It's rich and dense and taste like a little bite of heaven. I like a slice with a cup of black coffee or with some fresh berries but I'll give you a few other ways to serve it in another post soon.  The ingredients are simple, method simple, but follow the steps.  The result yields a taste almost like eggnog.  I don't eat rich sweets like this often so when I do I savor it and enjoy every bite, remembering my grandma and her sweet tooth as I enjoy her beloved recipe.
About this Recipe
• At first glance of this recipe it just looks like a lot of butter and sugar but note that the recipe makes two large loaves and most classic pound cake recipes are comparable.  That being said, the best pound cakes are rich and dense and you get that result with … butter and sugar 🙂 So, just do it, don't look back and enjoy in moderation!
• Classic Pound Cakes don't use leavening in the form baking powder or soda, which is one thing I love about this recipe.  The eggs are the ingredient that helps the cake to rise, without being fluffy like traditional cakes.
• There are tips out there on making your own cake flour with a mixture of all purpose flour and corn starch.  You may do this for this recipe but I've found that it's just easier to use cake flour and you don't have to worry about the cake tasting like cornstarch.
• Mace… Mace is a spice made from the lacy, red outer coating that covers the shell around the nutmeg kernel. It adds a delicate sweet-spicy flavor.  If you can't find it at the store, you may use nutmeg is half the amount as nutmeg is more potent. If you've ever had a really good pound cake with a flavor you couldn't quite put your finger on, that flavor was probably mace. It's worth seeking out to make this recipe.  You can also use it in savory stews and braises to add a wintry flavor.
• On baking times, the time will fluctuate based on the size of baking pans you use, for smaller or shorter loaves you will need about an hour (3-4 smaller pans), for taller, larger loaves you will need 1 hour and 15 minutes of baking time (2 regular sized loaf pans).
• I haven't tried cutting the amount of butter or sugar in this recipe, because it belonged to my grandmother and there's just something about making it just the way she did and enjoying it that way. That being said, we only make this one once or twice a year.
Take the time this holiday season to discover a new or old family recipe or make one passed down to you.  Connect, enjoy, enjoy, enjoy!
Classic Pound Cake Recipe
A Classic Pound Cake Recipe passed down from my Grandmother.
Ingredients
1

lb

butter,

room temp (4 sticks)

3

cups

sugar

9

large

eggs,

room temp

3 1/2

cups

cake flour

1

teaspoon

mace*

1

teaspoon

cream of tartar
Instructions
Preheat oven 325 degrees. Grease and flour two regular loaf pans or 4 small.

In a stand mixer with the whip attachment, cream together the butter and sugar until light and fluffy. Use a medium speed (about 6)

Add eggs one at a time. Beat well after each addition and scrape down sides and bottom the bowl with a spatula as needed. Use a low to medium speed (about 4)

In a medium bowl mix together cake flour, mace and cream of tartar. If you have a sifter, sift this mixture 3 times. If not just use a fork or whisk to make sure the mixture is light, without any clumps.

Add sifted flour mixture on low speed (about 1). Mix just until all the flour disappears.

Pour cake batter into prepared pans (well greased and floured!). Bake for 1 hour to 1 hour and 15 minutes, depending on the size of loaves you're baking. Let cool completely before removing from pan. Loosen the edges with a knife and invert loaf pan to remove the cake.

Serve with coffee or whipped cream and berries.
Notes
Mace is a spice made from the lacy, red outer coating that covers the shell around the nutmeg kernel. It adds a delicate sweet-spicy flavor.  If you can't find it at the store, you may use nutmeg in half the amount, as nutmeg is more potent.