I finally finished up my summer reading, ending with this – Three Many Cooks -shared stories of food, faith and family, written by the mom and daughters behind the blog, Three Many Cooks. I love so much about this book but I must tell you that I had too many of the recipes ear marked to decide which to cook first.  But after last month's seasonal produce guide stared me down with carrots being its image on my desktop the whole month, Carrot Cake quickly made its way to the top of my list. Then, when a friend of mine was celebrating a birthday I jumped at the opportunity to make this cake. This Classic Carrot Cake recipe was one that Sharon of Three Many Cooks said she perfected after making it for her dear friend's wedding.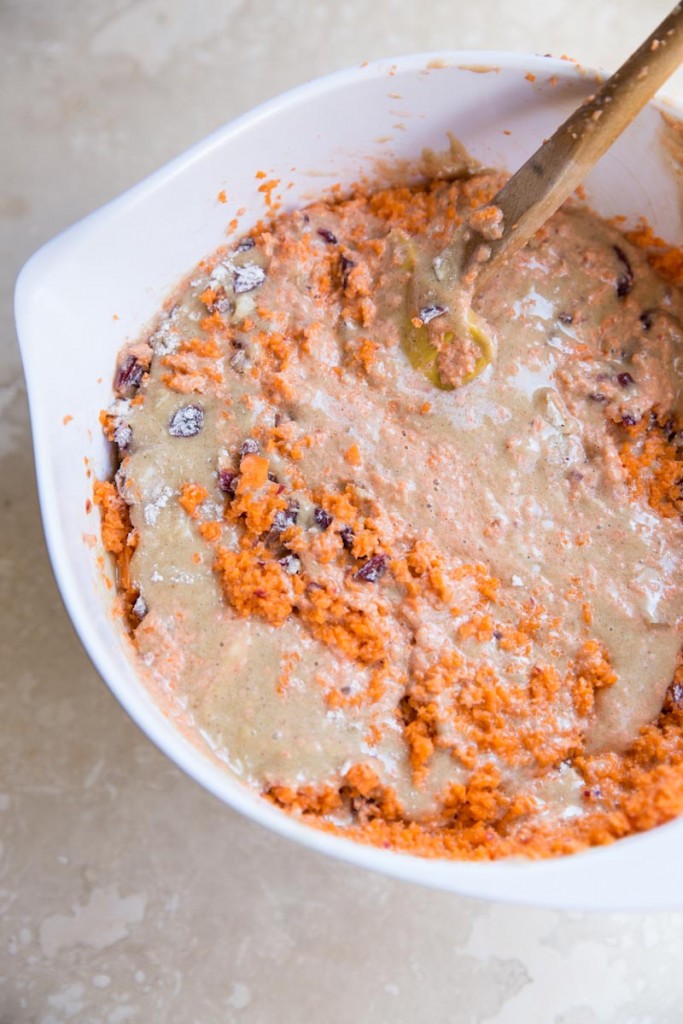 I'm all about perfecting a recipe but if someone claims to have already done this for me then I jump to try it out for myself. What I love about this recipe is that the carrot is almost pureed instead of grated.  Though you can definitely tell it's a carrot cake you don't get shreds of carrot in every bite. There's actually a whopping 16 ounces (1 pound) of carrots in the cake, while other similar recipes tote a mere 1-2 cups.  I love the generous amount of veggies here and yet the cake is still perfectly decadent. The result is a moist, flavorful cake with all the perfect tastes of fall, a little crunch from the nuts, and a tart bite of cranberries, finished with a perfect vanilla cream cheese frosting.  The frosting was so good, we saved the leftovers to put on bagels or toast later that weekend (yes, there was a little frosting leftover!).
Though I do share the seasonal guides hoping for a wide audience to be inspired to eat fresh every month, I also continue to be motivated by them. Its sometimes even humorous how the veggies on the list guilt me into making something with them. The carrots from last month literally stared me down until I did something about it. There was a little relief once I made this cake and then I was glad to have another month of carrots on the seasonal list so I could share it in this month's seasonal recipe round up.
Carrots are in grand supply at the market these days.  I have been throwing in little disks of them with just about everything, from eggs, to ratatouille, and soup. What do you like to make with carrots this time of year?
Today bloggers from around the web are all posting seasonal recipes.  Here are some you must try.  Please also share your seasonal recipes with us by tagging them with #eatseasonal.  It's always great to get inspiration from each other!
Shredded Hoisin-Blackberry Chicken Tacos with Crunchy Slaw by Floating Kitchen
Raspberry Peach Hand Pies by Foodie Crush
Roasted Red Pepper and Sweet Potato Soup by Cafe Johnsonia
Pumpkin Apple Cake with Caramel Sauce by Climbing Grier Mountain
Zucchini Banana Brownies by Kitchen Confidante
Pesto Chicken Stuffed Spaghetti Squash by Cookin' Canuck
Classic Carrot Cake by Vintage Mixer
Easy Roasted Vegetable Spaghetti by Simple Bites
Peach and Arugula Pizza by Letty's Kitchen
Thai Carrot Cucumber Noodle Salad with Peanut Lime Dressing by Flavor the Moments
Slow Cooker Red Lentil Cauliflower Curry by Well Plated
Creamy Tomatillo Ranch Dressing by Mountain Mama Cooks
Classic Carrot Cake Recipe
A well-tested recipe for Classic Carrot Cake with perfectly creamy, vanilla cream cheese frosting.
Ingredients
1

lb

carrots,

peeled and cut into 1' pieces*

2

cups

flour

2

teaspoons

baking soda

1

teaspoon

salt

1

teaspoon

ground cinnamon

1/2

teaspoon

ground nutmeg

1/2

teaspoon

ground ginger

1/4

teaspoon

ground cloves

1/4

teaspoon

ground allspice

3/4

cup

dried cranberries,

coarsly chopped

3/4

cup

pecans,

toasted and coarsely chopped

4

large eggs

1

cup

granulated sugar

1

cup

dark brown sugar,

packed

1 1/4

cup

vegetable oil
for the frosting:
2

packages,

8 ounces each cream cheese, at room temperature

2

sticks,

1 cup unsalted butter, at room temperature

4

teaspoons

vanilla extract,

or seeds scraped from 1 vanilla bean*

1/4

teaspoon

salt

2 1/2

cups

confectioner's sugar
Instructions
Set out the cream cheese and butter for the frosting at room temp for 4 hours before using. This will ensure a smooth, creamy, and impossibly light cream cheese frosting.
for the cake:
Move the oven rack to the middle position and preheat the oven to 350 degrees. Line two 9 inch round cake pans with a circle of parchment in the bottom of each, spray them with nonstick spray and dust with flour.

In a food processor fitted with the steel blade attachment, chop the carrots very finely to about the consistency of a large couscous. Transfer carrots to a medium bowl and rinse the food processor bowl, you will need it again.

In a large bowl, combine the flour, baking soda, salt and spices. Whisk to blend thoroughly. Transfer 1/4 cup of this mixture to a small bowl, add the cranberries and toasted pecans and toss to combine.

In the food processor, fitted again with the steel blade, mix the eggs and sugars until thoroughly combined. With the machine running, slowly add the oil in a steady stream until well blended. Using a spatula, scrape the egg mixture into the dry ingredients and stir just until combined. Add the carrots and cranberry nut mixture and stir to combine.

Divide the batter evenly between the prepared pans. Bake until a toothpick comes out clean, 40-45 minutes. Let the pans cool on a wire rack to room temperature before inverting them to remove the cakes. Allow cakes to cool completely before frosting.
for the frosting:
In a stand mixer fitted with the whisk attachment (or using a hand mixer) whip together the cream cheese and butter. Add the vanilla and salt. A cup at a time, add the confectioner's sugar until you reach your desired sweetness (should be between 2-3 cups). Continue to whip until the frosting is light and airy.
assemble the cake:
Put a small dollop of frosting in the center of a large serving plate or cake platter (this helps the cake to not move around). Place one cake upside down on the plate. Use a butter knife or offset spatula to evenly spread about 1 cup of the frosting over the top of the first cake. Top with the remaining cake layer, right side up. Cover the top of the second cake layer with frosting and read evenly or spread the entire cake with remaining frosting. Refrigerate until ready to serve.
Notes
I used one apple to make up for a lack of carrots (equally 1 lb total) and it worked great. I also used seeds from one vanilla bean instead of the extract and loved the flavor and speckles it added into the frosting.
Buy the Book, Three Many Cooks