I don't say it often enough here how much my family has influenced my love of food and cooking.  Though our preferences of food may be different, we all do enjoy food.  My mom cooked throughout my childhood and my sister also enjoys cooking.  This recipe for chicken corn chowder comes straight from my sister's cookbook (only with a few slight preferential alterations).
Last time we were all together my sister did most of the cooking which I soaked in the benefits of. I love being cooked for. LOVE it.  It speaks care to me and I am annoyingly grateful to anyone who ever cooks for me.  The problem with being a food writer is that no one wants to cook for you.  What people don't understand is that I'm not a food critic, really, I'm just someone who enjoys a good meal, much like my sister.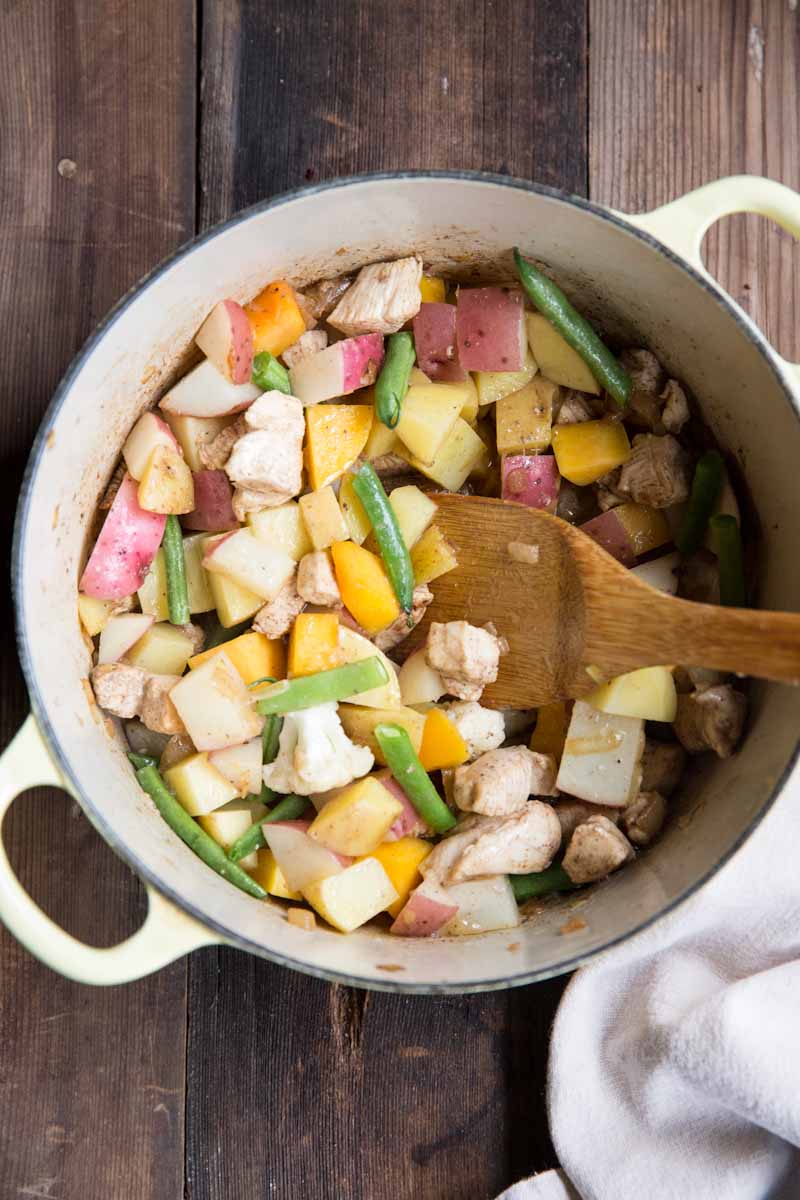 On our visit she cooked several good meals and her husband cooked prime rib which won over all of our hearts.  After dinner one evening I sifted through her cookbook, the same one I have, given to us both by our mom. It has well worn pages and loose leaf paper throughout, just like mine, unorganized and well used. I picked out a few recipes that I thought sounded good then she made sure I added in her personal notes, the recipe addendums that we all store in our head but never take the time to record.
This Chicken Corn Chowder recipe is fully hers.  I only altered it by adding more veggies, an annoying tendency I have (it's one of those preferences that differentiates our family of food lovers – I'm the veggie nerd of our family). But I am so grateful to have a new easy-to-love family recipe that I know is also being enjoyed across the country in another kitchen of a loved one.  So, thank you sis for sharing your recipe.   Hope I didn't screw it up too much 🙂
Chicken Corn Chowder
A hearty and satisfying chicken corn chowder recipe loaded with veggies.
Ingredients
2-3

slices

thick cut bacon,

cooked and sliced (grease reserved)*

1/2

onion diced,

1/2 cup

2

chicken breasts,

cut into bite sizes pieces

2

tablespoons

flour

1

tablespoon

of chicken bouillon,

or 1 heaping teaspoon or better than bouillon

3

cups

milk

3

small

yukon gold or red potatoes,

chopped to bite size

2-3

cups

chopped assorted veggies ,

(I use cauliflower, butternut squash, and green beans)

1

can creamy-style corn

1/2

teaspoon

salt

1/4

teaspoon

pepper
Instructions
Cook bacon in a medium or large heavy pot (this is the same pot you'll cook the soup in). Once bacon is cooked, remove from pan and set aside to cool.

Add in the onion and chicken to the pot with the bacon grease still warm. Brown the chicken on both sides (3 min on each side). Add in the potato and cook for a few minutes.

Sprinkle the flour over the chicken and potatoes as well as the chicken bouillon. Stir to coat the chicken with flour. Gradually add in the milk and stir to combine.

Add in the potatoes, veggies, cream-style corn, salt and pepper.

Bring to a boil and reduce heat to simmer. Cook 15-20 minutes, or until veggies are done.

Serve with crumbled bacon on top.
Notes
If you wish to skip the bacon you can start with 2 tablespoons of oil, instead of using the bacon grease to cook the onion and chicken in.
More family recipes:
Most of these family recipe originated with my grandmother on my mom's side.  My mother made them for us growing up and now I continue to make them in my home.  They are all great holiday recipes and many of them were included on our Easter spread!