Chestnut soup may be foreign to you and it was to me until a friend and student of mine from Germany introduced it to me years ago.  After roasting chestnuts a few weeks ago I knew I had to make this special recipe as well.  This simple creamy soup has forever endeared to me its warm and comforting nature, just like my student Annette did as well as many other students I've had over the years.
Chestnut Soup really is easy to love, as it's perfectly nutty and smooth, and with a little cream and bacon on top, what's not to love. It's simple to make as well, with just a few ingredients and a few easy steps.  If you can't find a celery root (like the gnarly brown root I found above) you can just use celery although I do think that celery root, being naturally creamy when it's cooked adds to the creaminess of the soup without having to add as much cream. Also, you can top the soup with bacon, cream, or sage, or all of the above.  You may also adjust the spiciness but adding or eliminating the cayenne pepper. Of course, I added more!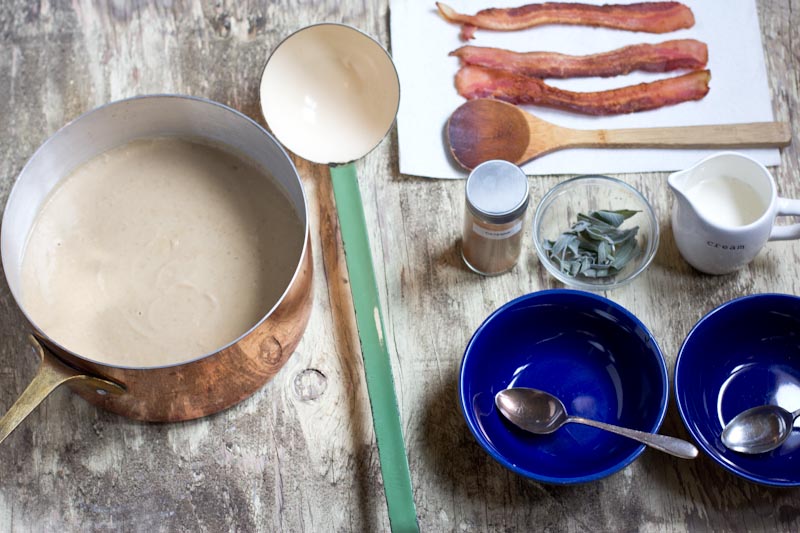 I wish I knew more of the story behind this soup, like if it's popular in Germany or if its common to eat around a certain time of year but all I know is that I associate it with Annette and that makes me happy every time I've made it!  I think of our coffee dates together and our many cross cultural laughs, or how she was the only European in a sea of Asian women the semester she was in my class, yet she made many friends!   Recipes that call for reminicing are always the best recipes.  I hope you'll try this one out and make your own fond memories surrounding it.
Ingredients
1 Tbsp. butter
1 cup celery root, diced (or celery stalks cut in pieces)
20 ounces chestnuts (fresh, canned or frozen) or 1 can chestnut puree
2 ½ cups chicken broth or stock
1 bay leaf
Salt and pepper to taste
1 pinch cayenne pepper (if you like it spicy, use more)
½ cup whipping cream
8 slices bacon (if you like)
¼ cup whipped cream (if you like)
Instructions
If you have fresh chestnuts, first prepare them:

Cut an X in the flat side of each chestnut. Place the chestnuts into a large pot filled with water and bring to a boil. Cook for 10 minutes, then remove chestnuts from the pot. Allow to cool slightly, then peel outer shell and brown skin (brown skin can't be peeled when too cold).

for the soup

Heat the butter in a skillet.
Sauté the celery dices for a minute, add the chestnuts and sauté together another minute or two.
Add the broth, bay leaf, some pepper and cayenne pepper.
Simmer on low heat for 25 minutes, until celery and chestnuts are tender.
In the meantime cut bacon in small pieces and fry them until crumbly.
After 25 min. remove the bay leaf, add ½ cup cream to the soup.
Puree the soup and add salt, pepper and cayenne pepper to taste.
Fill the soup in soup bowls, add 1 Tbsp. whipped cream on each and sprinkle with bacon.
Notes
** this recipe was copied from an email from my friend Annette, her words not mine 🙂 Here's her note to me regarding the recipe and her knowledge of my tendency towards spice - It is not necessary to follow this recipe by the letter. Celery or cream may be a little more or less, whipped cream can be left away, and if you don't like bacon just add more salt to the soup and forget the bacon. For hot Texans use more cayenne pepper, for kids and people with sensitive tongues use less.
https://www.thevintagemixer.com/chestnut-soup-recipe/
https://www.thevintagemixer.com